A teacher and students at LDS College in Suva, Fiji are building crutches that will be donated and distributed throughout the islands of the Pacific.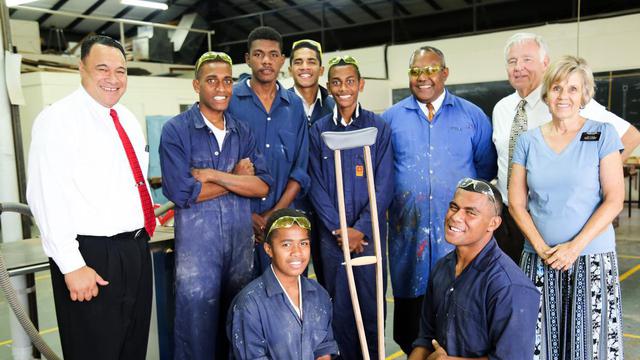 When a prosthetist was having to use his time to build crutches instead of prosthetics, Elder Dean Clark—a podiatrist serving as a missionary with his wife, Sister Joyce Clark, with The Church of Jesus Christ of Latter-day Saints in Fiji—set out to find a solution.
Knowing that LDS College had a wood working class, he took a crutch to the instructor, Neori Kete, and asked if he could reproduce it in his classroom.
Mr. Kete thought it over and replied, "I can make it and I can make it better."
A wooden crutch in Fiji is normally manufactured by a process where wood is steamed, molded and dried into shape.  
The "LDS College Crutch" is being made from marine ply-wood which is durable and flexible with no steam or molding required.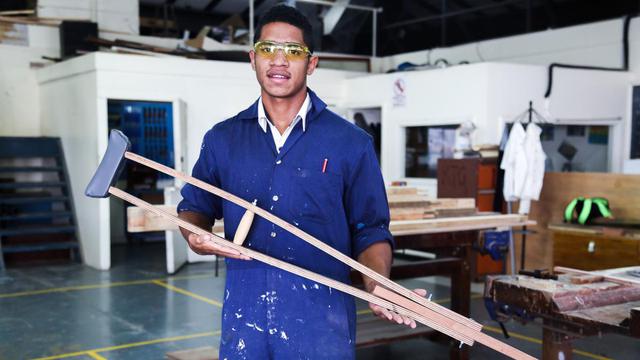 Together, the instructor and class drew a design for a prototype and went to work making the first crutch.  LDS Charities (the welfare arm of The Church of Jesus Christ of Latter-day Saints) provided enough wood for 60 crutches or 30 pairs.
Up to this point, students in wood working class were working on individual projects.  Now, under the guidance of their instructor, they are learning the elements of mass production.
Each student spends time working on each phase of construction, so that in the end, each one can make the crutch on their own.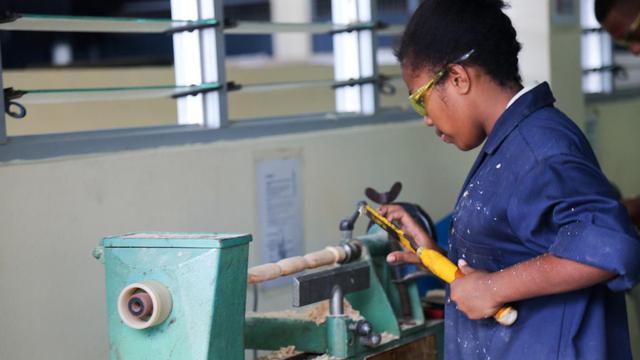 One student commented that he had now learned a skill that could be applied to a business opportunity in the future.
Mr. Kete said that the students give up their lunch hours (by choice) to work on this worthwhile endeavour—and sometimes he has to "make them go home" in the evening because of their enthusiasm for the project.
One student expressed joy that because of their efforts in wood working class, some of the crutches would go to Tuvalu and other islands.