Elder Kazuhiko Yamashita and Sister Tazuko Yamashita were welcomed to New Zealand today at a special devotional at The Church of Jesus Christ of Latter-day Saints' Pacific Administration Office in Takapuna, Auckland.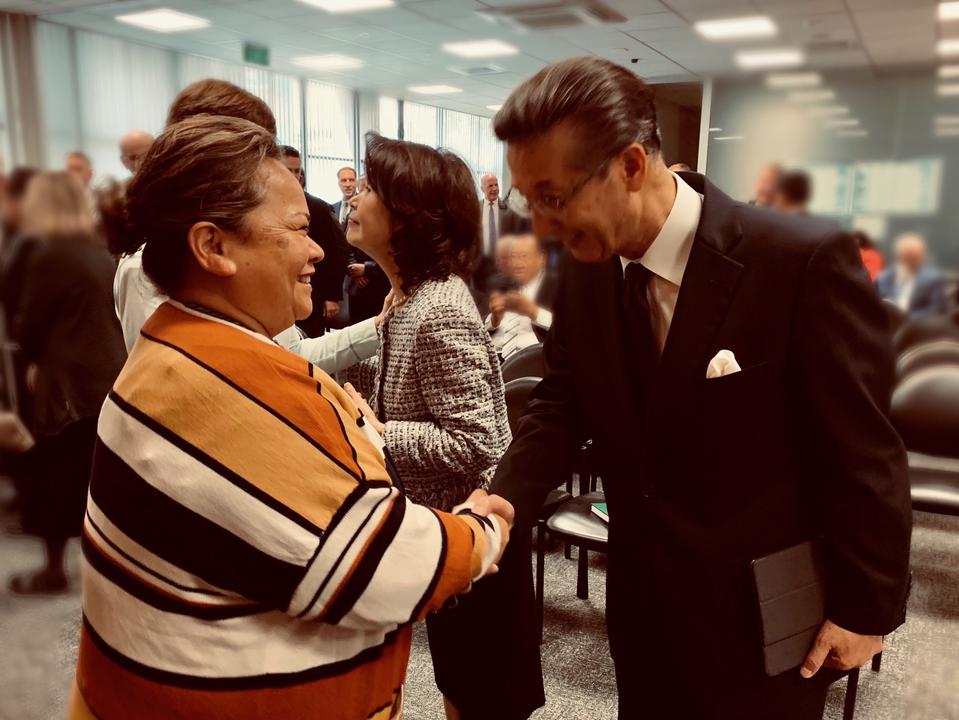 Elder Yamashita was serving in the presidency of the Church's Asia North Area in his home country of Japan up until the beginning of this month.
Elder Yamashita was sustained as a General Authority Seventy of the Church on April 2, 2011. He has now been assigned to serve in the Area Presidency of the Church's Pacific Area, along with Elder Ian S. Ardern and Elder K. Brett Nattress.
Elder and Sister Yamashita were welcomed by Elder Ardern at the devotional, before the couple shared remarks with a group of staff and missionaries based at the Church's Area office.
Elder Yamashita expressed his gratitude for serving with Elder Ardern and Elder Nattress.
"They are incredible Church leaders," said Elder Yamashita.
"I am so happy to serve here. Let us move forward and let us work hard," he said.
He encouraged those gathered to love and serve others as part of their work. He invited Church employees and volunteers to take advantage of the "many opportunities to minister in your work."
Elder Yamashita is a teacher by profession. He has taught in universities in Japan.
The Yamashitas have six children and 16 grandchildren. One of their daughters and five of their grandchildren live in New Zealand.
They both expressed their delight and gratitude for this opportunity to come to New Zealand.
Sister Yamashita commented how impressed she is of the beauty of New Zealand. "It's like heaven to be here," she said.
Sister Yamashita became a member of the Church while she was a college student. She wanted to know why we are here on earth and where we are going.
She met missionaries from the Church, studied, and then joined the Church.
Two years later she was serving as a volunteer full-time missionary for the Church in the Tokyo North Mission.
Three years after she was baptized, her mother and brother were also baptized. Then, 40 years later, just three months ago, her 95-year-old father was also baptized as a member of the Church.