An undersea volcanic eruption near the Kingdom of Tonga Saturday afternoon (15 January) triggered tsunami waves, flooding, and falling rocks and ash from the sky. Communication is very limited. Ongoing updates will be provided.
26 January Update
Church donations of water, face masks, satellite phones and other emergency items left on an Air New Zealand flight this morning bound for Tonga.
Church facilities on Tongatapu and Vava'u are undamaged except for a boundary fence at Kanokupolu. Work is being done to clean the facilities and grounds which are heavily coated with volcanic ash.
A letter from the First Presidency of The Church of Jesus Christ of Latter-day Saints to members of the Church in Tonga, dated 21 January 2022, follows: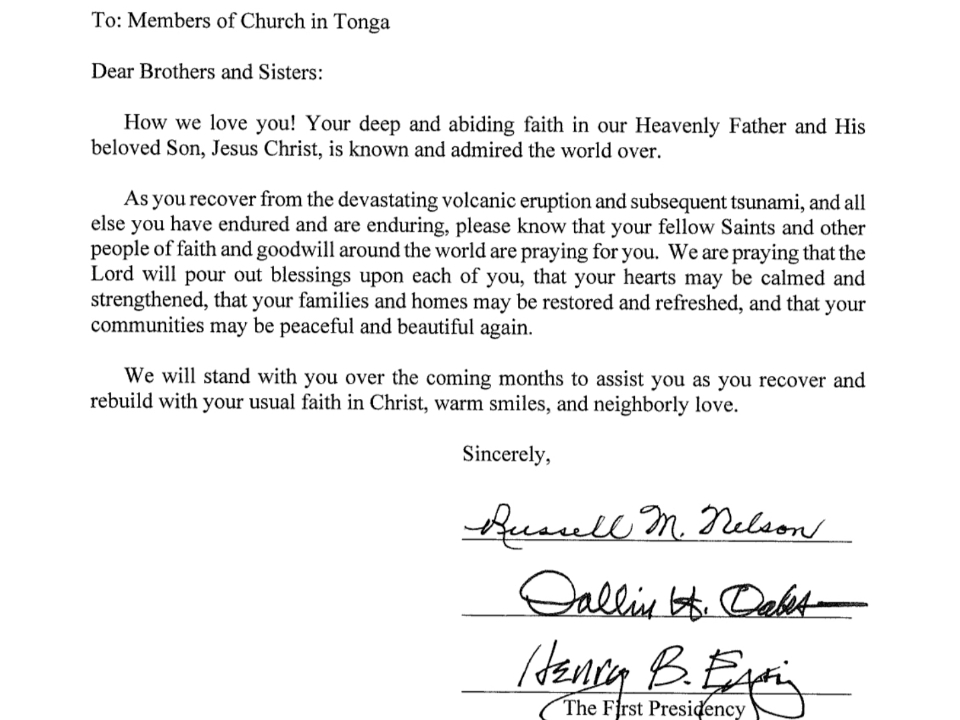 24 January Update
New photos received today of the situation in Tonga showing the damage to structures and to city areas.
22 January Update

Email, text and phone contact has been made with Church leaders in Tonga in the last 24 hours. This will help Church leaders in New Zealand to understand the exact needs of communities in the days and weeks ahead.
The Church will send humanitarian supplies to Tonga next week, in coordination with the New Zealand and Tonga government, and other aid organisations.
A letter from the First Presidency of the Church is being delivered to Tongan leaders to pass on to the King and Queen. A second letter was sent by the First Presidency yesterday to Tongan Latter-day Saints, published on Pacific Newsroom.
A boat carrying 30 tonnes of cargo consisting of food, clothes, water, and other household supplies left for Ha'apai Luluga this morning. This represented 50% of what has been donated by Latter-day Saints in Tongatapu congregations. The remaining 50% of the items will be sent on the ferry to outer islands next Wednesday.
Donated supplies were also sent to communities on the western side of Nuku'alofa as well as the island of Eua, other areas hit hard by the tsunami.
35 returned missionaries are on board the boat to Ha'apai to help unload the shipment along with the Church's Tonga Outer Islands Mission leaders. They are carrying with them the satellite phone that was removed from Eua as their phone coverage is now back to normal. They should arrive in that region this afternoon.
12 drums of fuel were also on the ship to Ha'apai to power the mission boats that will be used to distribute donated items to smaller islands in Luluga and Haapai region.
Local stores in Tonga remain open and still have stock, but are running out fast in some essential food items.
Government and New Zealand Defence staff are working on clearing shipping channels into Nuku'alofa so large vessels can dock at the wharf when they arrive in Tonga.
Domestic flights to Vaava'u started yesterday and Ha'apai will begin today.
15 families remain on the Liahona campus as they don't have anywhere to live. Other families in Nuku'alofa are being housed by families and Church members. The 15 families at Liahona High School may move into Kolovai and Kanukupolu chapels so the school can start cleaning up ready for the school year.
Those who wish to support the people of Tonga may choose to donate to the Church's humanitarian fund. 
21 January Update
All members and missionaries of The Church of Jesus Christ of Latter-day Saints have been contacted and all are safe. President Sitiveni Fehoko, of the Tonga Outer Islands Mission, is continuing his visits to the outer islands of the Ha'apai group to assess needs and offer love and support.
Liahona High school is still being used by members and friends of the Church for emergency accommodation. On Wednesday night 317 people stayed at the school, down from a high of 1,250 people after the disaster.
Limited communication (G2) has been restored. Voice contact remains difficult and data transmission is weak at best.
Forty percent of the government supplied tap water is not potable, so other sources are being used. The outer islands of Lulunga and Ha'apai need water and food. Church leaders have hired a half share of a sizeable boat to take water from the tanks at Liahona High School, food and other items to these islands on Saturday, weather permitting. The outer Islands are entirely dependent on rainwater collected in tanks and that has been contaminated so urgent action is needed. It is understood that there is sufficient water for the people on Tongatapu as a water purification unit from New Zealand will cater to the immediate needs, and there is also bore water.
The New Zealand Air Force has landed a plane and dropped emergency supplies and it has all been done without making contact with Tongans, in order to preserve their strict Covid-19 mandates. An Australian Air Force plane also delivered aid yesterday.
"We are calmly, yet with urgency, working through different options to quickly get needed water and other needs into Tonga," Elder Ian S. Ardern said on Thursday evening. "The food and other supplies for the outer islands will come from the local members…it is the Tongan way."
Church leaders continue to coordinate assessments and aid delivery with governments and other organisations.
BBC News reported on Thursday evening on the emergency and some of the involvement of members of The Church of Jesus Christ of Latter-day Saints.
Update 19 January 2022:
In coordination with the New Zealand Government and other organisations, The Church of Jesus Christ of Latter-day Saints is organising an air cargo shipment of essential materials to be sent in the coming days. This includes drinking water and masks for protection from the volcanic ash. It will also include a number of satellite phones for use by Church leaders and government officials.
The Church continues to gather information about the status of missionaries and members in Tonga. All missionaries and members on the main island of Tongatapu have been accounted for and reports continue to come in from the outer islands. So far, all have been confirmed safe but there are still some islands that have not been reached. Two Tongan government vessels have been visiting these areas and are bringing food and water. Their progress has been hampered by damage to landing facilities in many places. It is hoped they can reach the most distant areas by tomorrow.
Update 18 January 2022
According to the Church's senior ecclesiastical leader in Tonga, Elder Inoke Kupu, local Latter-day Saint leaders continue to assist government and navy personnel in confirming the status of all Tongans across the kingdom, including in outer islands where communication has not yet been re-established.
A Tongan naval vessel left Nuku'alofa on Monday afternoon for the outer islands. Mission president for the Church's Outer Islands Mission, President Sitiveni Fehoko, will travel with naval personnel on a second ship today. The Church has 135 missionaries in the Outer Islands Mission with whom contact has not yet been made.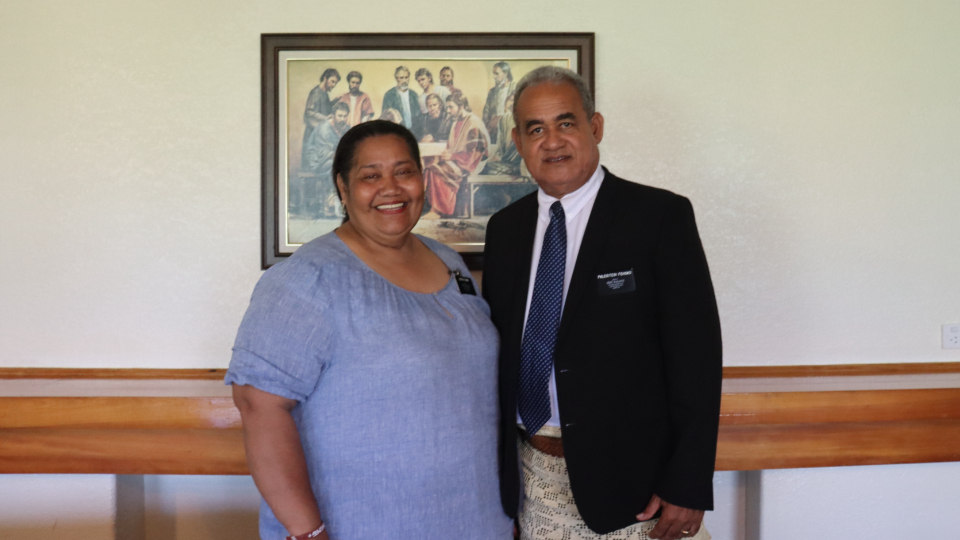 A near total communication blackout with Tonga remains. It is now thought that the Southern Cross Cable Network optic communications cable is damaged approximately 30 kilometres off shore, and news reports suggest that it will take a minimum of two weeks to repair.
Tongan Latter-day Saint leaders are identifying individual and family needs and organising accommodation, food, water and other support.
The water tanks at the Church's Liahona High School are being checked today by government employees to determine if the water is potable.
The school had 1,200 people who stayed on the campus on Sunday evening. Monday evening that number dropped to 850. The people are away from the campus during the day, cleaning and repairing their homes, and return to Liahona at night. A number of Latter-day Saint meetinghouses are also being used for temporary accommodation, as is the Church's camp site.
Missionaries on Tongatapu are engaged in the clean-up, assisting Church members and the wider community.
Church services this coming Sunday will be home-based and Latter-day Saints will be invited to fast and pray, to give thanks for the many lives which have been preserved, and to plea for a return to normality.
No Latter-day Saint buildings have been structurally damaged, although they will require extensive cleaning from the ash that has fallen. A thick layer of ash remains blanketed over the capital Nuku'alofa.
Elder Ian S. Ardern, Pacific Area President of the Church, is leading the Church's effort to support Tongan Latter-day Saint leaders, members, missionaries and others in need—in coordination with governments and other groups.
"With our combined faith and prayers, we will work our way through this issue and enjoy a bright future," he said. "Onward and forward we go."
Update 17 January 2022:
Elder Ian S. Ardern, Pacific Area President of The Church of Jesus Christ of Latter-day Saints, said today (17 January), "We are praying earnestly for our brothers and sisters in Tonga, and for their loved ones across the world who are waiting for news. We are working with government and other officials in the region to identify urgent needs and how we can support efforts to alleviate suffering and help communities get back on their feet after this disaster. It is in times such as these that we are grateful for the generosity of members of the Church who donate to the Church Humanitarian fund for there will be a need of temporal assistance in Tonga."
Church leaders in Tonga are not aware of any loss of life on Tongatapu, Tonga's main island. Reports from outer islands are still being sought but communication lines being down and rough seas are hampering efforts, although the Tongan Navy has now been able to put to sea to gather further information.
Missionaries serving in the Tonga Nuku'alofa Mission are safe. Due to communication channels being down to outer islands, no contact has been made, to this point, with missionaries in Tonga's second mission, the Tonga Outer Islands Mission.
There is significant water damage to foreshore homes and businesses on Tongatapu. There is phone communication on Tongatapu but not internationally or between the Islands of Tonga. The International phone lines are not functioning due to what is suspected to be issues with the underwater communication cable.
The New Zealand Government reported on the weekend that it plans to send a surveillance flight on Monday, circumstances permitting. At the moment, volcanic ash is preventing flights.
Ash has stopped falling as of early Sunday afternoon (Tonga time) but has left a film of black volcanic ash across the Island. In the words of local Church leader, Elder Inoke Kupu, "There is only one colour in Tonga right now, and that is a dark dust."
The Church will assist in the distribution of 50,000 donated masks, already in Tonga, sent previously for pandemic purposes. The masks are being distributed to prevent the inhaling of the volcanic dust.
Church leaders continue to liaise with government officials so the Church can support humanitarian efforts in the coming days and weeks.
Drinking water is the immediate need. The Church will support the provision of water to communities, as needed, as assessments by government authorities continue.
The Church's Liahona High School and some Latter-day Saint chapels are in use by those evacuated from coastal areas.
The Church has an emergency supplies container in Tonga which is being used.
There are 174 congregations of The Church of Jesus Christ of Latter-day Saints in Tonga. A temple is located in Nuku'alofa and a second temple is being constructed on the island of Vava'u.
The Church owns 116 meetinghouses for worship services and other activities, and runs six schools.
Read more about the Church in Tonga here.
This video was taken by Lua Langi, Church communication director at her home near Nuku'alofa. Volcanic explosions can be heard along with the sound of ash and small rocks hitting the roof.