In worship services in three Auckland meetinghouses of The Church of Jesus Christ of Latter-day Saints on Sunday 12 March, visiting and area leaders from the Church participated in the ordinance of the sacrament with local members.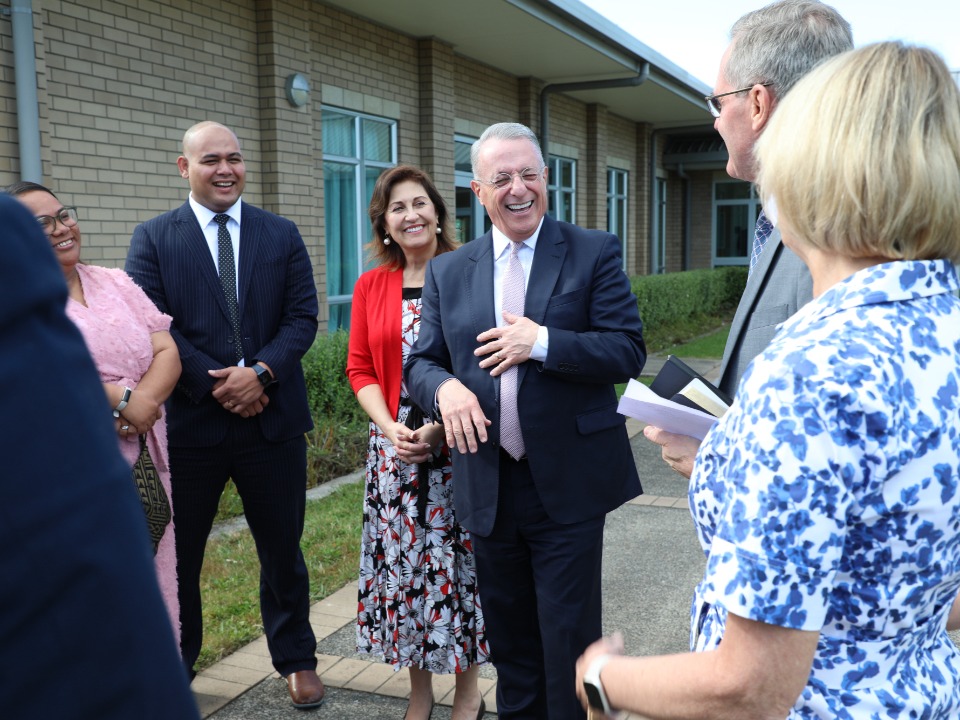 At the Church's Alfriston meetinghouse in Auckland's south, Elder Ulisses Soares of the Quorum of the Twelve Apostles shared a message with fellow worshippers. He was accompanied by Sister Rosana Soares.
Elder Peter F. Meurs of the Pacific Area Presidency of the Church and Sister Maxine Meurs also attended the meeting.
Elder Soares said, "As we partake of the sacrament every Sunday, we have the opportunity to turn our heart to the Saviour, to repent, and ask for help to become like a little child — meek, submissive and humble. At this sacred weekly moment, our mind and our heart should be connected with Jesus Christ. At that moment, we covenant with our Heavenly Father that we will do all we can to be a little bit better, a little more like the Saviour each day."
He continued, "I believe that we can feel the intensity of God's love for us as we honour our covenants and renew our commitment with Him every week through the sacrament. God will do all He can to help us to fulfill our covenants with Him without interfering in our agency.
"As we exercise our agency in righteousness, God will give us power to overcome our weaknesses and imperfections. This way, our beloved Heavenly Father will empower us to become a little better each day. He does that because the covenant path is a path of love. God will lift our spirits and multiply our blessings as we make and keep our covenants."
Sister Soares said, "We must keep trying even if we keep struggling with the same challenges."
Elder Meurs said, "What a joy it is to be with you today and to partake of the sacrament together. What a beautiful spirit we felt today as we remembered our Saviour Jesus Christ."
Sister Meurs said, "Today, we have an apostle of Jesus Christ, Elder Ulisses Soares, here with us. He teaches and testifies of Jesus Christ throughout the world."
Elder Patrick Kearon, Senior President in the Presidency of the Seventy, worshipped at the Sunset Road meetinghouse on Auckland's North Shore. He was accompanied by Sister Jennifer Kearon.
Elder K. Brett Nattress, Pacific Area President of the Church, and Sister Shawna Nattress also attended the service.
Elder Kearon said, "I imagine that to some degree we are all feeling the same this morning—the wonderful blessing of peace and comfort and warmth. Thank you for the sweetness of this moment."
He continued, "There are things that we must hang onto and bind ourselves to very deliberately—our covenants, the sacrament, and a temple recommend. At the same time, there needs to be some letting go. There are things that we need to let go of so that we can more energetically hold onto the good things."
Sister Kearon said, "The Saviour has broken the bands of death and sin. He is our perfect Saviour and our perfect Healer. Because of His atoning sacrifice in the Garden of Gethsemane and on the
cross of Calvary, we, too will have the bands of death broken for us."
Elder Nattress taught that imperfect people can have perfect moments. "These perfect moments come in and through the Saviour Jesus Christ," he said. He then expressed gratitude to the young men of the Aaronic priesthood who humbly and reverently administered the emblems of the Sacrament.
Elder Nattress then shared an experience where young men lovingly ministered to an elderly Church member who had just one desire: "She wanted to partake of the Sacrament in remembrance of the Saviour... to covenant one last time to always remember Him."
He added, "Our young people have great potential to do so much good."
Sister Nattress said, "If I could only use one word to describe the Saviour, the first one that comes to my mind is Healer. His healing is available to us all. He knows what we are going through. He has healed me spiritually, mentally, and physically."
Kim Jonilaye Thomson attended the sacrament meeting today in Sunnynook. She has had seven strokes and has difficulty getting dressed. She got up at 4 am this morning so she could be dressed and ready to come to this special sacrament meeting. She arrived at 9:00 am so that she could find a suitable place to sit in her wheelchair, before the 10am start. She says she felt especially blessed that she was greeted personally by both Elder Kearon and Elder Nattress. She said she felt her burdens lifted by the joy and the Spirit she felt during the worship service.
Another worshipper, Jennifer Larsen, said, "The reminder that Jesus is our healer is just what I needed to hear today."
15 year old twins, Emily and Elise Cuff were very teary eyed and emotional as they explained what a spiritual lift the experience was for them. Emily said, "I had a really tough week and I felt spiritually down. Being here today made my testimony stronger and I feel like my relationship with my Saviour is back on track. I felt the Spirit so strongly today."
Elder Taniela B. Wakolo of the Pacific Area Presidency and Sister Anita Wakolo attended sacrament meeting in the Auckland suburb of Tamaki. 
In his remarks, Elder Wakolo said, "The source of eternal truth is our Saviour, Jesus Christ. So many today are looking for eternal truth. That was what Joseph Smith wanted to know—eternal truth. Today, so many are looking for eternal truth but can't seem to find it. But they will find it if they look to our Saviour, Jesus Christ."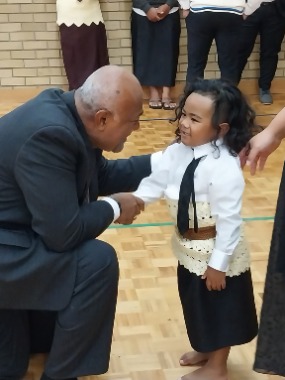 He added, "The messenger of eternal truth to all of us is the Holy Ghost. He brings us that truth. But the ultimate source of all eternal truth is our Father in Heaven."
Elder and Sister Soares, and Elder and Sister Kearon—accompanied by members of the Pacific Area Presidency and their wives—are visiting members and friends of the Church in Australia, New Zealand, Tonga and Fiji.