Retired Couple Serves Tasmanian Families by Restoring Cemetery Markers
Retired couple, Peter and Phyllis McLennan are helping Tasmanian communities and families by cleaning, painting and restoring markers in cemeteries in the state's northeast.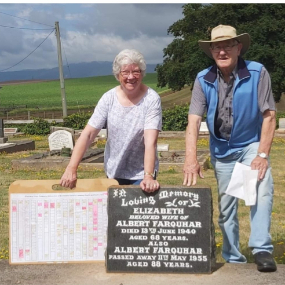 Awarded the Australian Citizen of the Year award by the Dorset Area Council, this Scottsdale couple tells how a local cemetery with hundreds of unmarked graves sparked a desire to honor the pioneers who gave life to this Tasmanian community.
The McLennan's often visited the cemetery in Scottsdale where Peter's ancestors are buried. They discovered through plot maps dating back to the 1850s, hundreds of infants' unmarked graves in the grassy areas between headstones.
"We thought of the pioneers who had settled their community, forging the path for others to follow. They had no doctors, no services. It was normal for a family to have four or five children who didn't live more than a year or two," Peter laments. Yet, here they lay without so much as a marker to be remembered by. "We thought it was sad that these people weren't recognized."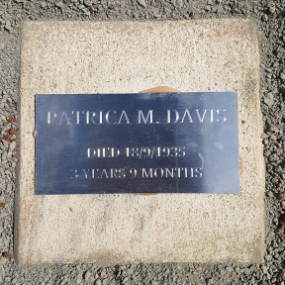 The McLennan's approached the Council, who, in time, saw the validity of the project. "It's something we do together," explains Phyllis. With a grant, the McLennan's proceeded to create plaques for these plots to mark the graves.
They begin with a concrete paver onto which is mounted a stainless-steel plaque with the name, birthdate, and death date of the deceased. The pavers are then recessed in the lawn so gardeners can mow over the top.  Roger McLennan (Peter's brother) of the Historical Society comes up with the birth and death certificates to verify the dates.
The McLennan's also use their own funds to restore headstones in need of cleaning and repairs. After receiving  permission from relatives, they have a system to brighten the lettering to make it legible.
ABC Television recently interviewed the couple in the above link.
Phyllis and Peter have worked on this project in six different cemeteries for two years and will continue to volunteer their time and means to this work. "There are a couple more cemeteries further out that need work on headstones."
At age 76, Peter and Phyllis have been members of The Church of Jesus Christ of Latter-day Saints http://www.churchofjesuschrist.org for nearly 48 years. Phyllis serves as the Church Organist in the Tamar Congregation of the Devonport Stake (Diocese).
"We are very close," says Peter. "We've been told we're joined at the hip. Not that we have to keep an eye on each other!"
When asked what this project has meant to them, Peter says that they "had the ability, time, and means to do something lasting and important.