More than 1550 local leaders in the Young Women and Primary organizations of The Church of Jesus Christ of Latter-day Saints gathered in the Church-owned Liahona High School hall in Tonga on Thursday night to hear inspired messages from Sister Bonnie H. Cordon and Sister Joy D. Jones, the general presidents of those two organizations.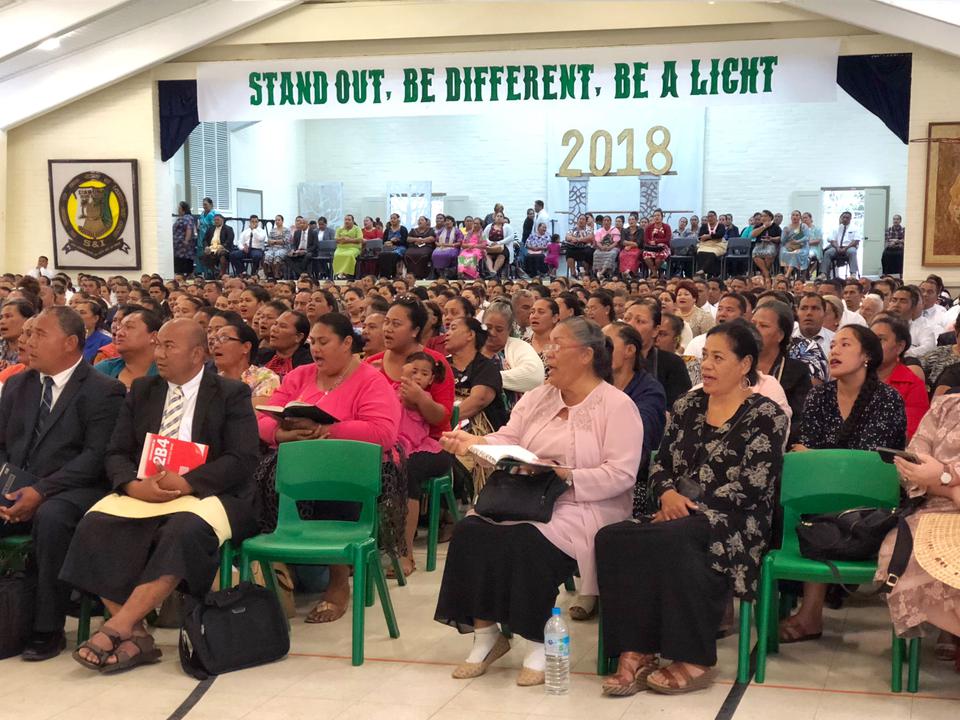 Elder K. Brett Nattress of the Seventy and a member of the Pacific Area Presidency presided over the meeting and Area Seventy, Elder Aisake Tukuafu facilitated the meeting. Both ecclesiastical leaders also addressed the audience.
Elder Tukuafu spoke of the blessing and honour it is for the Tongan Saints to have these general leaders visit their country. He encouraged members to continue extending a simple invitation to the children of God to be baptized. He encouraged members to extend such an invitation in natural settings and conversations. The Church believes that every person is a child of God.
Attendees split at this point with Sister Jones and the Primary leaders moving into the cafeteria area.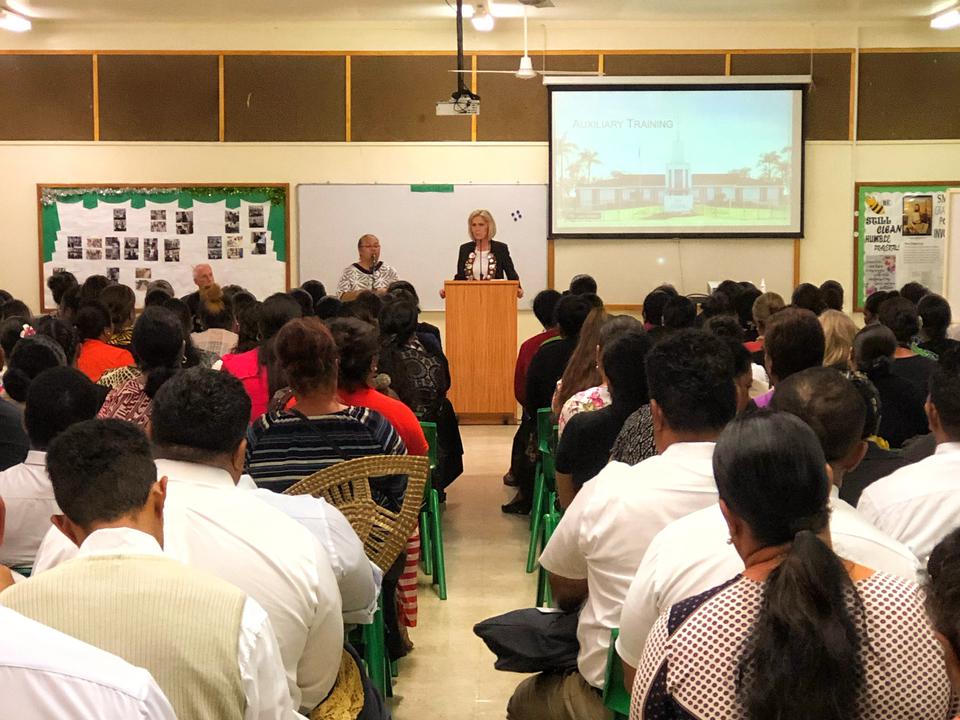 Using interactive examples of unified efforts to achieve greater results, Sister Cordon demonstrated how counselling together is more effective than working alone. She emphasized that everyone should have a voice in a council if it is to be totally successful. Equally vital is that everyone listens to the other members in that council. No council member should hold back in expressing their thoughts.
Sister Cordon encouraged Young Women presidencies to counsel with Primary presidencies to better attend to those young girls advancing to the Young Women programme. Young Women presidencies should also counsel with Relief Society presidencies to consider how best to assist young women as they transition into Relief Society.
She said it is the purpose of a leader to motivate and train people so they can magnify their callings in their own Church service.
"If you motivate me, but don't train me, you frustrate me," said Sister Cordon.
She added: "Once a leader knows how to do something, they have a responsibility to train others."
Sister Jones met separately with local leaders working with children in the Primary organization.
She assured them the new Come, Follow Me curriculum manuals have more materials than they can use. She testified that as teachers prepare spiritually each week, the Spirit of the Lord will guide them to know which ideas and teaching methods to use in their class.
In answer to questions from the floor Sister Jones confirmed there will be "no more Sharing Time" with the new structure of the programme, which begins in January 2019. "But we would never want to give up our Primary sacrament presentation. That's one of the most favourite meetings of the year!"
The reduction from two hours to a one hour programme on Sundays means the bishop will no longer have time to speak in Primary, however, the bishopric members are always welcome to participate in Primary, she said, "and perhaps they can teach the children a new Primary song."

Sister Jones shared that President Russell M. Nelson, whom Latter-day Saints look to as a prophet of God, said that it is very important for the children to sing Primary songs.
These songs teach children basic doctrines and principles of the Church and touch their hearts in such a way they feel the love of their Father in Heaven. Those feelings stay with them throughout their lives and can bring comfort and healing in difficult times.
The new Primary curriculum will feature songs each week that reinforce the scripture studies for that week but leaders may elect to sing more than the three suggested songs.

A new children's songbook is being developed, she said. It may take a couple of years to create but Sister Jones assured the group ". . . it will be worth the wait!"

Sister Jones reminded attendees that Primary guidelines for the new curriculum and resources can be found on the Church's website.

Elder Nattress issued a call to action and invited every person to ". . . write down two things you need to do" from the things they learned in their meetings.
He said, "Service is the measuring stick of love—make sure people feel the love of the Saviour."