What began as a little family Christmas project became an ambitious church and community undertaking that culminated on Wednesday, 21 December. 
Members of The Church of Jesus Christ of Latter-day Saints and many friends in the Auckland community joined the Eddie Uele family at a Church meetinghouse to box and pack up donated food, essentials and toys which they delivered to over 70 needy families living in emergency housing. 
The Uele family's motivation to reach outward to alleviate the pain and suffering of others was a profound and Christ-like response to their own unbearable pain and suffering.
Last January, the unthinkable happened in the life of Sala-Marlene and Eddie Uele. Their beautiful 18 month old boy, Kamaukiterangi, passed tragically in their backyard. As faithful members of The Church of Jesus Christ of Latter-day Saints, the Ueles turned to the Saviour to help them cope with their grief. 
As they fasted and prayed over the ensuing months, Sala-Marlene had a little idea that began to grow.  
She was inspired to do a family project that would honour their son and help them get through their first Christmas without him. 
The family started collecting toys to give to children in need to make other families' Christmas brighter. The Ueles called it "The Giving Project."
Sala-Marlene mentioned her family project on social media and suggested that if anyone wanted to help, they could drop toys off at her mother's house. The response was so generous that the little spark of an idea became a great big idea—much too big for the Ueles to do alone. 
They appealed to and received help from fellow members of their Papatoetoe New Zealand Stake (a group of congregations of The Church of Jesus Christ of Latter-day Saints).
The idea of assisting the Uele family, who were serving others through such a horrific loss, also drew in the Auckland, New Zealand community. It seems people were looking for a way to help others and The Giving Project provided it. 
Donations started pouring in from people and businesses all over Auckland. And not only toys, but food and other essentials began to show up on the porch.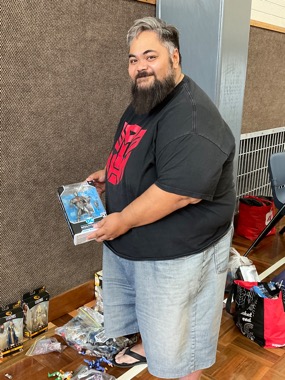 Shiblon Lameko, a member of the Ueles' congregation, heard that the family was collecting toys for Christmas and that gave him an inspired idea.
Shiblon called the organisers of a retro-toy event happening at a local stadium to ask if he could set up a table to collect toy donations. It turned out to be the favourite table at the event.  
People loved stopping by to donate a toy for kids in need. So much so, that event planners offered to give him a donation table at the event for life.
Shiblon was able to collect over 200 toys in one day as strangers happily contributed to The Giving Project.
"My wife started crying after the third person dropped off a toy," he said. "She was overwhelmed with the generosity of strangers. It was more fulfilling than I could have imagined.
All the donations were taken on Wednesday evening to the Church meetinghouse where volunteers gathered to fill boxes and bags to overflowing with food, essential items and lots of toys. 
Each of the food boxes was packed with a picture of the Saviour Jesus Christ in it to remind the receivers of His love and His message of hope and healing. The food and toys were delivered to grateful families that evening.
Mary Richard, a social worker, came because she heard about The Giving Project at her office and just wanted to be a part of the giving. 
She said, "I feel like I was meant to be here. It is all about Christians coming together.  I love how your church looks out and shares the love of Christ with others."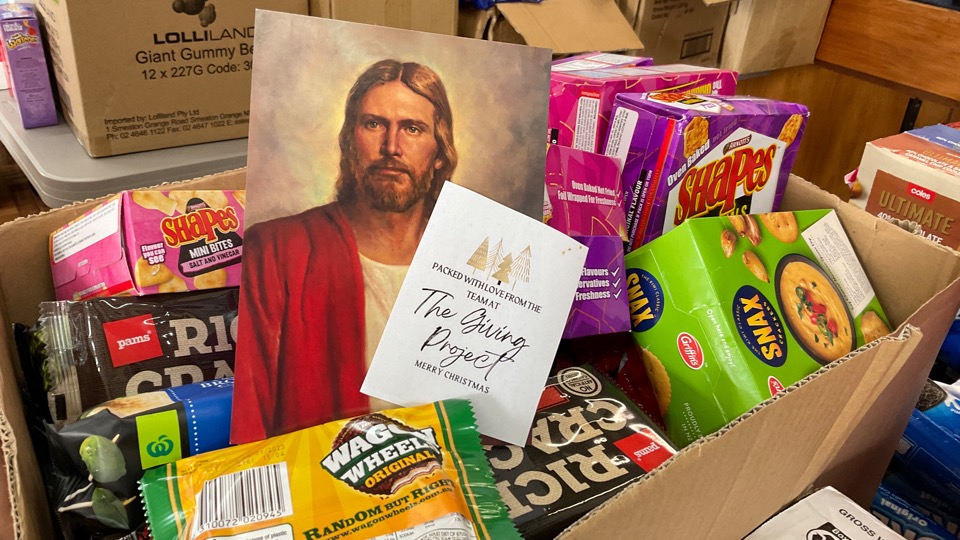 Another project supporter said, after delivering the boxes, "This was such a special project to be a part of.  We take loads for granted and we sometimes forget about those in need… Yes, I cried today and, honestly, I would do this over again in a heartbeat."
Local church leader, Abinadi Lameko, said he considered it a privilege to have the opportunity to serve the community.  
"As we delivered the parcels to the families, it was such a delight seeing the families' smiles," he said. 
"We loved hearing their expressions of gratitude as children received long awaited toys, mothers received bags of nappies, and a box full of not only staple foods, but goodies and treats in the spirit of Christmas."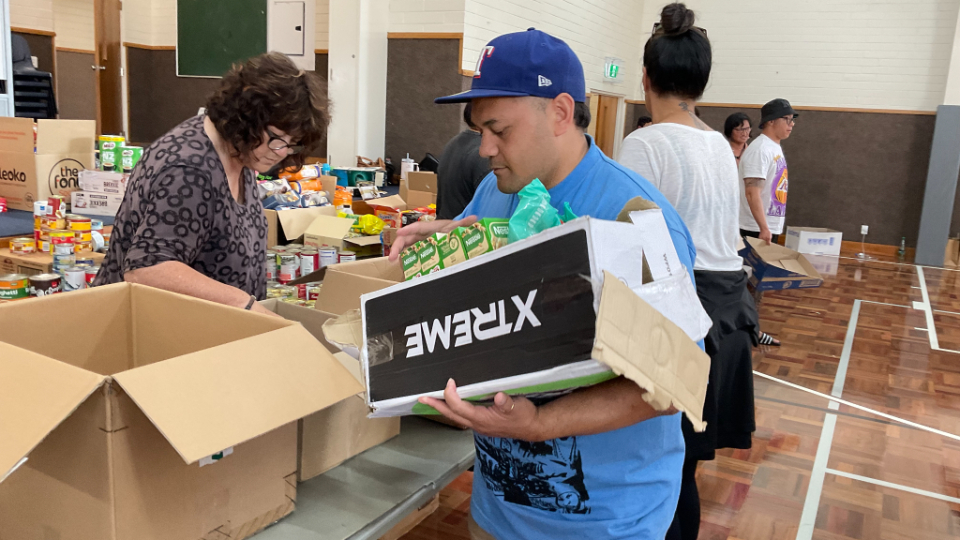 Sala-Marlene and Eddie's extended family have been supporting The Giving Project since its inception.
Her mother, Puawai Reupene, said,"This service is healing the pain for all of us." 
Her sister, Peta Seba, agrees. "This has been great for all of us. I feel like the spirit of my little nephew, Kamau, is cheering us on from the other side… we will do this again next year."
The Uele's noted the happiness they experienced as they served others.
"We saw our children find joy in helping others, especially kids their own ages," Sala-Marlene said. "Our conversations changed from 'What would you like for Christmas?' to 'What can we give for Christmas!'"
Boxes of food and toys made Christmas happier because of Sala-Marlene's little idea to serve through her own heartache to lift others.