In recent years, members of the Hebersham Stake of The Church of Jesus Christ of Latter-day Saints have become very aware of the challenges of many Australian farmers.
The Church members decided to help by raising funds which were donated to Australian farming charity, Rural Aid.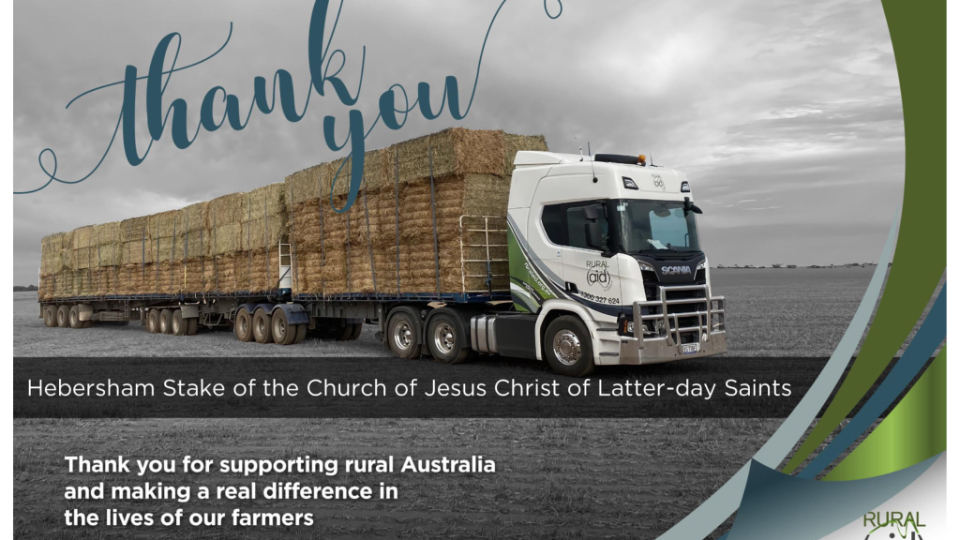 Rural Aid provides critical support including water, fodder (hay), financial and counselling assistance to help farmers and rural communities to rebuild, repair and thrive both during and after natural disasters. 
In transferring the donations received, David Harper, a local Latter-day Saint leader in the Hebersham area of Sydney, said, "Our members are very appreciative of our farmers, and the resilience and strength that they show every day through all kinds of extremes, from drought, to fire and floods.
The Hebersham Stake recently received a certificate of appreciation from Rural Aid.
Accompanying the certificate was a letter, which, in part, said, "Thank you so much for the generous donation from the members of Hebersham Stake of The Church of Jesus Christ of Latter-day Saints. Your community's support will make an incredible difference in the lives of our farming families, and a lasting impact in rural Australia."
President Harper said, "We thank all of our members for their help with this project, and so many other community service opportunities that they support. As followers of Jesus Christ, and especially in these difficult times, we continue to look for opportunities to serve those in need."