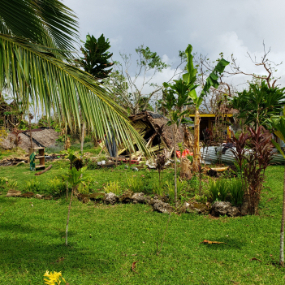 A sturdy 40 foot container set in an unobtrusive spot in the back corner of the grounds of a Port Vila meetinghouse of The Church of Jesus Christ of Latter-day Saints turned out to be a godsend for the local people of Vanuatu recently. 
When two devastating cyclones smashed into the islands just days apart last March, the Church was ready to help the Vanuatu people because of the emergency supplies that had already been prepared and stored in that container for such an event.
The container on Church property is carefully and prayerfully organized with supplies that are the most useful in crisis situations.
24 emergency containers situated throughout the South Pacific are currently filled and standing ready. When disasters come, there is no lag time as the Church is able to share the propositioned emergency supplies immediately.
When the two cyclones wreaked havoc upon Vanuatu, impossible to find items such as chainsaws, generators, portable water containers, wheelbarrows, hammers, nails, ladders, and machetes were ready to share with those needing ways to clear debris and rebuild their homes and lives.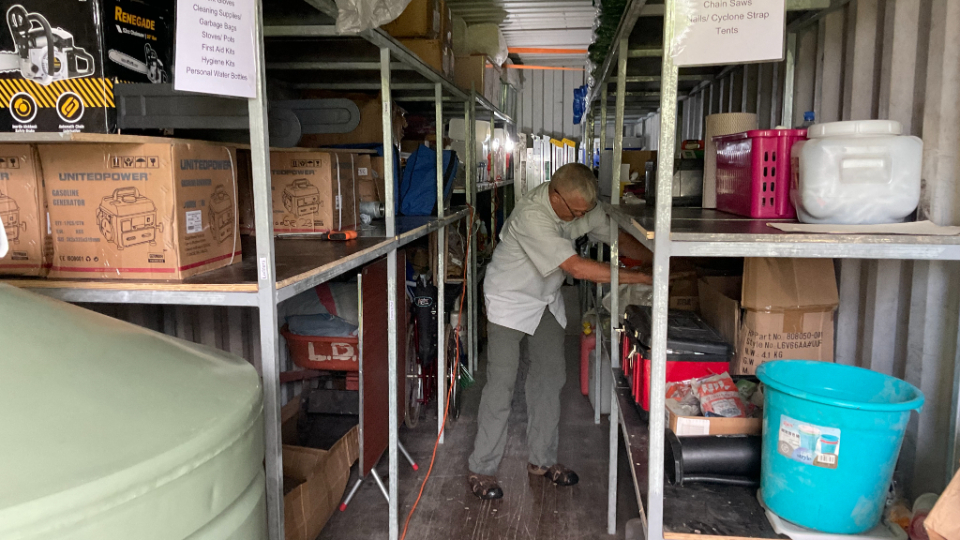 The container also has a 1,000 litre water tank able to fit in a truck for water distribution as well as first aid kits. 650 hygiene kits were given away with personal items such as a toothbrush, toothpaste, a comb, shampoo, soap, a washrag, deodorant and other simple necessities.
Senior missionary couples, volunteers who pay their own way to offer time and talents to serve in the countries to which they are assigned, administer funds used to supply the emergency containers. The missionaries consider what will be most beneficial to the local needs if and when calamities strike, and they keep the containers organized and stocked with relief supplies.
Mike and Teresa Goodin are currently serving as humanitarian services missionaries in Vanuatu. When they first arrived in the country, the container needed to be cleaned and filled. They talked to locals about what would be most useful in Vanuatu and looked at other containers in the Pacific before they ordered supplies. Little did they know that just weeks after getting the emergency tools and equipment into the container, two category 4 cyclones would barrel through Vanuatu, destroying roughly a third of the homes on Efate Island alone.
"When we were ordering the supplies, we felt impressed to double the normal amount of tarps in the container," they said, "and we are glad we did." Tarps can be used as makeshift shelters and can also be used to keep the contents of roofless homes dry.
Mission president, Mark Messick, leads the missionaries serving in Vanuatu, New Caledonia, and Solomon Islands. His missionaries were put to work helping people recover after the cyclone. He marveled, saying, "Everything we wished we had, we found stocked in the container. We would say, we need tarps or we wish we had garbage bags, and there they were ready to go."
One of the challenging problems encountered after the cyclones was being able to recharge phones for communication purposes. Eight generators were distributed to help mitigate that issue.
The Goodins had about 50 pre-made kits prepared to hand out to people who were displaced from their homes. The kits contained a tarp, nails, a shovel, a handsaw, a hammer, rope and tie wire. When they delivered the kits to uprooted families sheltering in temporary evacuation centres, the people were able to repair their homes and leave sooner.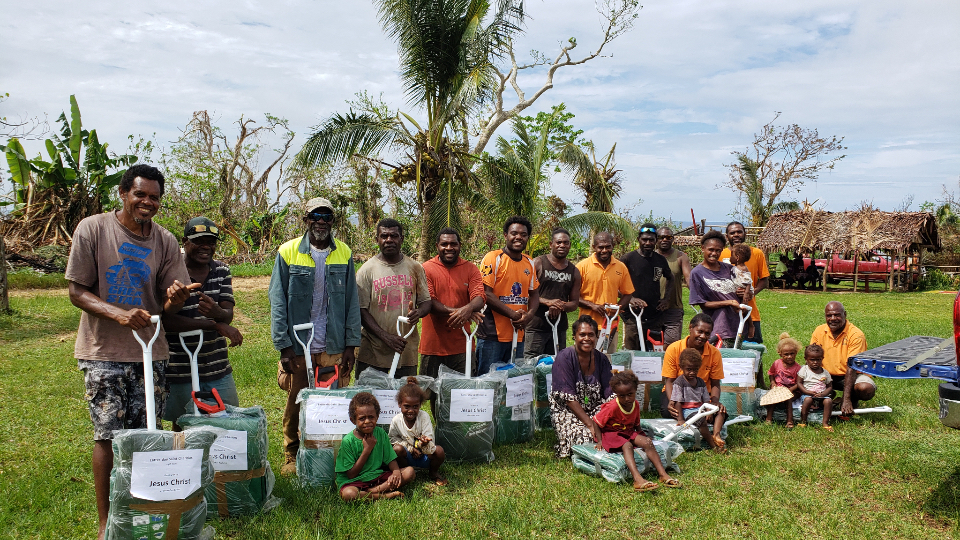 "We went to a shelter and gave away the kits to the families there. The people were so excited because they now had a way to fix their homes. They just kept showing each other their hammers - just a simple hammer. It made me cry because of their joy over something so simple. The people here are just so good and so grateful for anything they are given. It is overwhelming to them that you are giving them something that is so valuable to them."
Sister Goodin teared up saying, "My heart makes it hard to speak. I wanted to be able to relieve their suffering in any way we could. What we gave them was simple. It was just a tarp and a shovel and some tools, but we gave them a way to replace their houses. They had no way of going to the store to make a purchase. They have very little money and the store shelves were bare. It gave them the capability to take care of their families. It gave them back the pride we feel when we can take care of ourselves. It gave them that ability."
Also noted was the generosity the Vanuatu people showed towards each other. One member of The Church borrowed a chain saw to help with the recovery. When it was time to return it, he asked if he could keep it just a little longer to clean up his own property. He had used the chain saw for several days to take care of all his neighbours in his community first, without thought for himself.
Being prepared for the personal setbacks and disasters that are an inevitable part of life has always been impressed upon members of The Church of Jesus Christ of Latter-day Saints. Adherents to the faith are lovingly encouraged to be as self-reliant as possible and prepared for unexpected emergencies that crop up. The Church practices what it preaches by also being prepared and able to help when needed.