Members of the Pacific Area Presidency of The Church of Jesus Christ of Latter-day Saints—Elder O. Vincent Haleck, Elder S. Gifford Nielsen and Elder Craig A. Cardon—released a new video this month, aimed at helping members of the Church in the Pacific Area to set and achieve personal and family goals in 2017.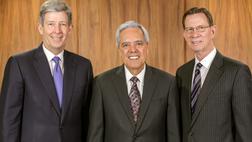 In the video the Pacific Latter-day Saint leaders invite members of the Church to do what they can throughout the year to: "Strengthen families and individuals by increasing faith and trust in Heavenly Father and in Jesus Christ and His Atonement."
Specific priorities mentioned by Elders Haleck, Nielsen and Cardon are to: 
• Honour the Sabbath
• Increase spiritual and temporal self-reliance
• Hasten the work of salvation; and
• Seek the blessings of the temple.
Watch the 10 minutes long video here:
Read more about the Latter-day Saints' Pacific Area Plan for 2017 here.
The Maiwiriwiri family of Fiji welcomed the invitation from the Latter-day Saint leaders.
"For our family," Salote Maiwiriwiri said, "we strive for a balanced approach."
"We have made Sunday our 'Family Day,' to attend worship services and do family, Christ-centred activities," she said.
Last year the family took part in self-reliance courses, made available by the Church, with focuses on education, employment and starting a small business. 
With respect to sharing the gospel of Jesus Christ with others—what Latter-day Saints refer to as the work of salvation—the Maiwiriwiri family have an annual tradition of gifting a set of scriptures to another family.
At a recent family reunion the Maiwiriwiri's talked with their relatives about some of their common ancestors, and gave them information they had researched at genealogical website familysearch.org and at their local Latter-day Saint family history centre.
Salote Maiwiriwiri says they did this to "assist our family to come together in support of one another."