Expert and novice genealogists from across New Zealand, and some from overseas, took part in last weekend's New Zealand Society of Genealogists' (NZSG) annual conference at Alexandra Park Convention Centre in Auckland.
For 50 years the NZSG has brought people together to share new resources and tips for family history enthusiasts.
This year was no exception. Among the various presenters and other participants were several members of The Church of Jesus Christ of Latter-day Saints.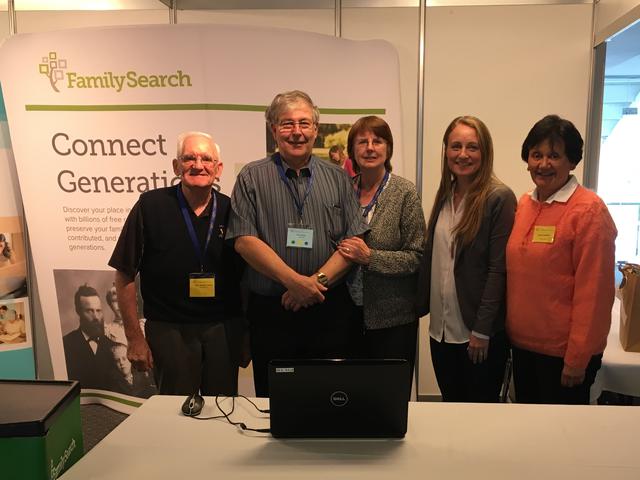 Keynote speaker at the event, Ian Waller, flew in from the United Kingdom to give five presentations on topics as far ranging as "child adoptions and poorhouses," to "shoemakers and cordwainers."
The former chairman of the Association of Genealogists and Researchers in Archives (UK) also shed light on many of the English dialects and sayings, and how understanding these helps researchers.
Mr Waller has written a number of books, including, "My Ancestor was in the Royal Navy," and "My Ancestor was a Leather Worker."
Diahan Southard, from the United States, spoke about ways DNA research can assist genealogists fill in the blanks in their family histories. She is a microbiology graduate from Brigham Young University and has spent the last 15 years in the genetic genealogy industry.
Ms Southard is an author and feature writer for prominent genealogy publications and is also a sought after speaker. Her four talks on Saturday progressively took participants through the DNA process and advantages for those wanting to get a greater understanding of where and who they came from.
George Harvey, from Wellington, shared some of the latest resources and features available on the FamilySearch.org website.
Mr Harvey, who is currently serving an 18 months family history mission with his wife, Elaine, gave suggestions on using FamilySearch's vast database collection of records more effectively in tracing ancestors. He emphasised the "powerful combination" of FamilySearch's wiki and catalogue.  
The Harveys and another New Zealand couple, Art and Heather Schwenke, helped conference attendees who visited the FamilySearch booth.
They assisted one visitor who was looking for information about a particular ancestor by referring her to shipping lists of passengers travelling between the UK and New Zealand. The woman was delighted to walk away with a flash drive with new information about her family tree.
The next NZSG conference will be held in Christchurch in 2018.
Read more about the NZSG at its Facebook page.