Elder Craig A. Cardon and Elder Aisake Tukuafu, both leaders in The Church of Jesus Christ of Latter-day Saints, met with His Eminence Soane Patita Paini Cardinal Mafi, Bishop of Tonga, earlier this week in Nuku'alofa.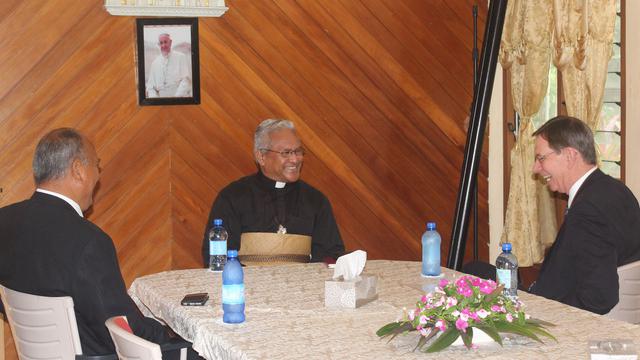 Elder Cardon is a member of the Seventy and a counsellor in the Pacific Area Presidency of The Church of Jesus Christ of Latter-day Saints. Elder Tukuafu is an Area Seventy in the Church, and resides in Tonga.
Cardinal Mafi is the fourth Roman Catholic Bishop of Tonga, and the first Cardinal from the island nation.
During their meeting on Monday 5 June, the leaders discussed ways Catholics and Latter-day Saints are helping Tongan individuals, families and communities.
One focus they shared was finding ways for faith leaders to encourage congregants to eat more nutritious food and exercise more, to reduce the incidence of diabetes and other diseases.
Elder Cardon noted, "Cardinal Mafi is a respected leader among the people of Tonga and has done much to foster greater interfaith and community dialogue and understanding. We look forward to working with him and others in Tonga on important matters of common interest such as religious liberty, physical health, strengthening families, and developing leadership among the rising generation."
Elder Cardon presented His Eminence with a framed copy of The Family: A Proclamation to the World, which outlines Latter-day Saint teachings regarding marriage and family.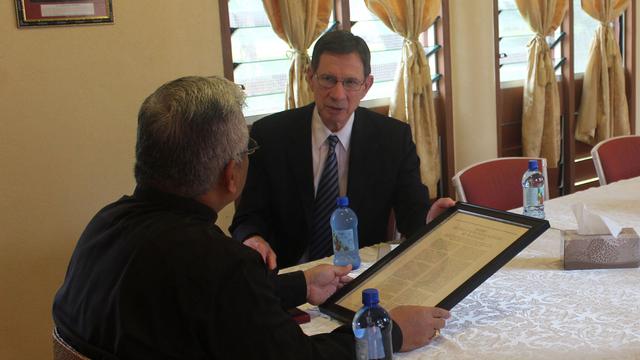 Catholics and Latter-day Saints work together on many initiatives worldwide such as humanitarian and disaster relief efforts. They also share similar focuses on defending religious freedom, traditional marriage and family, and helping people lift themselves out of poverty through education and other support.