Days after the arrival in Vanuatu of Matthias and Petra Leben, welfare missionaries from Germany for The Church of Jesus Christ of Latter-day Saints, much of the remote island country was levelled by Cyclone Pam.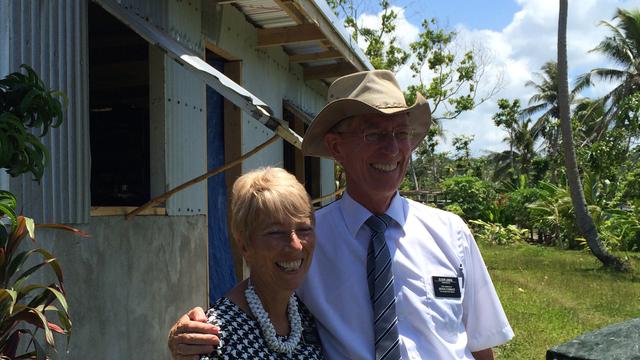 It's been 16 months since the cyclone – one of the most powerful on record – ripped through the country located roughly 1,000 miles east of Australia's famed barrier reef. It destroyed or seriously damaged 9,500 homes, and obliterated 90 percent of all the buildings in the hardest hit areas.
Thankfully only 24 people were killed and nearly 3,500 displaced.
Sister Leben, a retired school teacher, and Elder Leben, a retired paediatrician, arrived in Vanuatu planning to serve in an important, yet different way than they did professionally.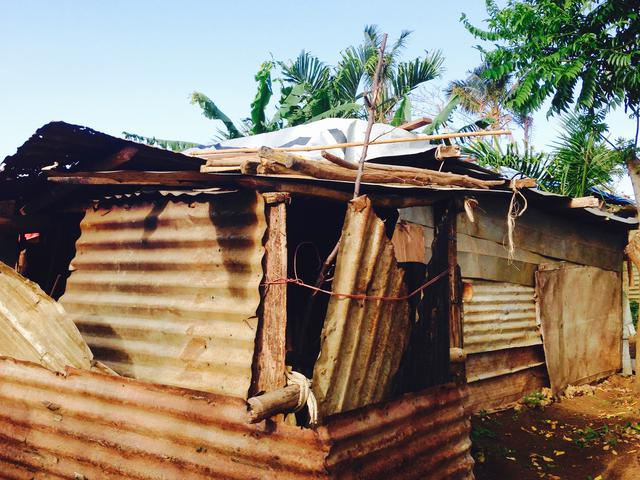 They never dreamed how different.
Welfare missionaries for the Church in the Pacific, through LDS Charities, usually focus on providing wheelchairs for the disabled, training medical professionals on neonatal resuscitation and other pressing health needs, providing eye glasses to the vision impaired, educating islanders on diabetes prevention, and bringing clean water to remote villages – services for which the Lebens are ideally suited.
In the immediate aftermath of Cyclone Pam, Latter-day Saints throughout the Pacific were at the forefront delivering disaster relief to include food, water, shelter, medical services and much needed hygiene supplies. Dr Leben was on the front lines providing medical care.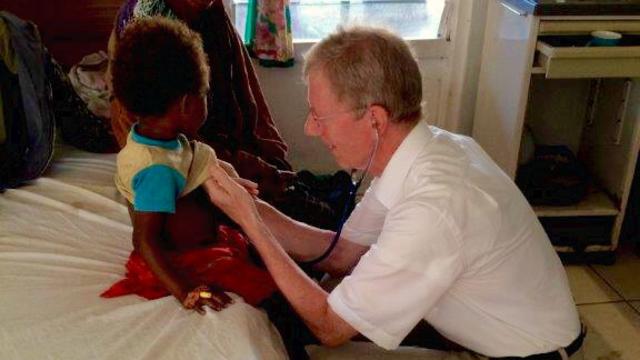 After the initial emergency response efforts subsided, the Church joined with other humanitarian groups in developing a recovery plan.
"Our part was water, others had housing, seeds, and food," said Elder Leben. "As a few months passed the team became smaller, and the remaining need was housing."
"Cyclone Pam hit Vanuatu four days after our arrival," said Sister Leben. "The next day we took a walk and were [overwhelmed] by the damage to nature and houses, but even more so by the attitude of the people. They went to work straight away repairing their shelters.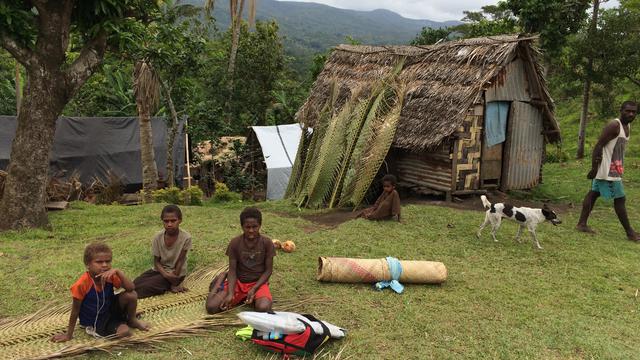 "We knew then, for sure, that we were sent here for a purpose," she said.
The Lebens came to Vanuatu from Germany to serve the Ni-Vanuatu, and someone needed to focus on housing.
"So we weren't asked, we rather grew into it," said Sister Leben.
When they attended their first shelter cluster meeting with representatives from other organizations they were asked for their plan.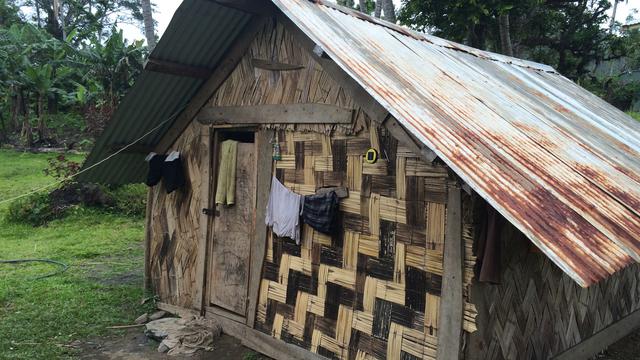 "We said we were preparing for the rebuild of around 500 private houses," said Elder Leben.  "'How many?' they asked unbelievingly. They probably thought we were crazy – two greenhorns from Germany who had no idea of housing!"
From then on, according to the Lebens, the doctor and school teacher had a lot to learn. But they moved forward with faith.
"To get things moving [in Vanuatu] is tough. Phone connections are often not reliable. Everything takes so much time. A lot of determination and blessings are needed," said Elder Leben. 
"The Lord helped us to meet the right people at the right time. Sometimes we happen to see them on the street.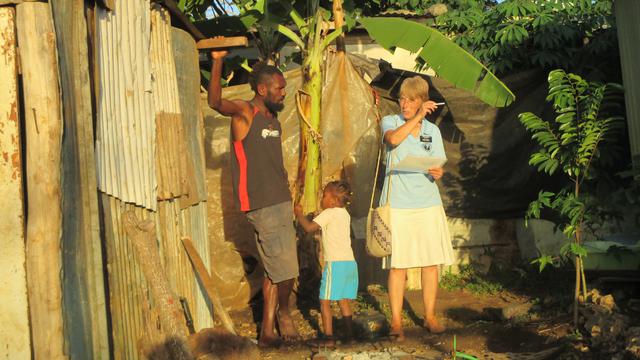 "Sometimes things function better than you could ever expect, but the hand of the Lord is there even when things don't run smoothly."
The Lebens spent months conducting assessments of damaged homes in villages on Efate and Tanna and negotiating with village chiefs for access to determine which homes needed rebuilding and which needed substantial repairs.
There are nearly 8,000 Church members in Vanuatu, but determinations were made without regard to Church membership – everyone was treated equally.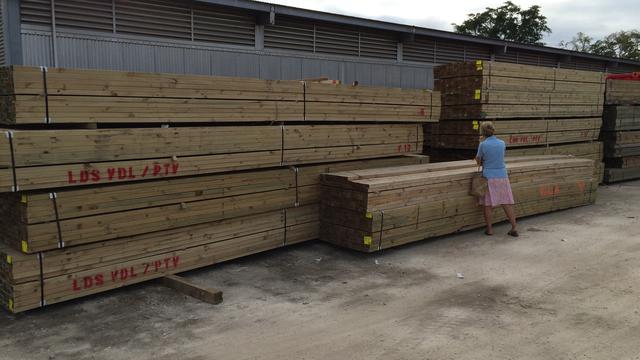 More months were spent obtaining governmental approvals, establishing building guidelines, sourcing building materials, and finding enough qualified builders.
The lack of qualified builders was remedied by the Church sponsoring "Building Back Safer" courses at the Church's meetinghouses in Port Vila and on Tanna at the Lume Rural Training Center under the direction of Principal Jimmy Tom.  
So far over 50 men have joined the classes. They included Church members as well as others in the community.
Upon completion of the courses, accredited by the Vanuatu Qualification Authority, LDS Charities donated each graduate the tools they need to build homes.
The typical home in Vanuatu consists of a small, one-room "big house" used primarily for sleeping, an outdoor detached cooking area usually covered by a roof or lean-to, and a detached covered toilet called the "small house."
Prior to the battering by Cyclone Pam most Ni-Vanuatu homes were constructed with tree branches, limbs and palm prone roofs. Many of those that were constructed with modern building materials were not built to withstand a cyclone.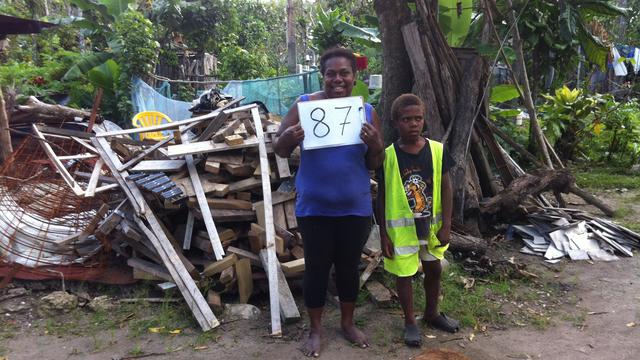 In keeping with a guiding principle of The Church of Jesus Christ of Latter-day Saints welfare efforts – to foster self-reliance and help others help themselves – aid recipients are responsible to help build their homes, and not given everything they need to complete construction. 
Generally they receive the materials to construct a block foundation, a cement floor, lumber and fasteners and nails to frame the outer walls and a roof, basic electrical wiring, and assistance constructing the home to meet modern, cyclone-proof standards. 
Items they are responsible for providing include outside wall sheeting, a door and windows, if desired.
The building effort guided by Elder and Sister Leben is gaining momentum. Currently 150 homes have been approved and funded for construction by LDS Charities, 45 are completed and 30 are in various stages of construction.
Another 350 homes should receive funding shortly, according to Hans T. Sorensen, Pacific Area Welfare Manager for the Church.
A revised LDS Charities proposal outlines plans to construct or repair, in 3-phases, a total of 900 homes, nearly 10 percent of those destroyed or severely damaged.  They are primarily located in and around the capital of Port Vila on the island of Efate and on the island of Tanna where the greatest damage occurred.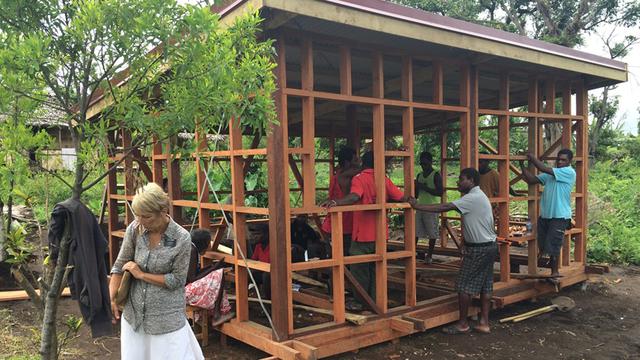 "We had a lot to learn, yet the rebuilding project gradually developed to its present design and size," said Sister Leben.
Recently Joe and Lillian DeLong, an experienced missionary couple from Ogden, Utah, arrived in Tanna to add to what the Lebens have put in place. They led a similar house rebuilding and repair initiative for the Church in Tonga after Cyclone Ian in 2014.
In two months, when the Lebens return to their home in Hanover, Germany, many lives and homes in Vanuatu will be rebuilt or repaired.  They will also leave behind a solid foundation for the impressive project, which is well on its way to improving the temporal and spiritual lives of many Ni-Vanuatu.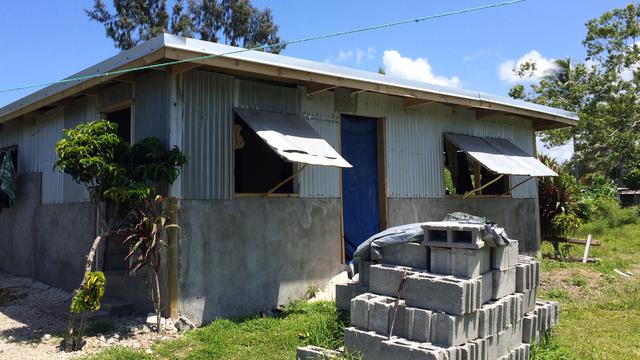 "Originally we hoped to finish the project ourselves, but it took a long time of learning and preparation until the project was finally approved," said Elder Leben. "Now it starts running, but time does too."
Sister Leben said, "We appreciate we could at least get started and can see that the help provided is a great blessing for many. We are happy that another senior [missionary] couple will carry on with the work."
In addition to leading the housing recovery efforts for LDS Charities in Vanuatu, the Lebens enjoy lifting and strengthening local Latter-day Saints, and sharing goodwill in the community.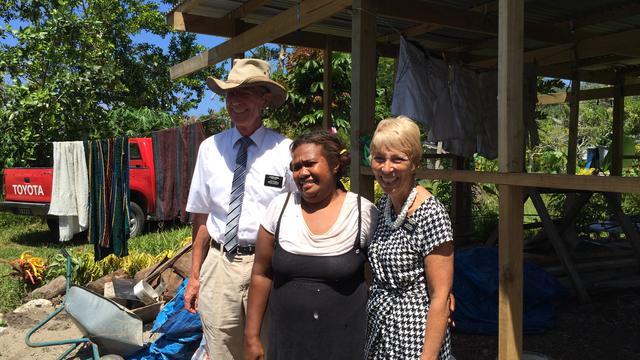 Their service includes loving and mentoring new church members, providing needed transportation, volunteering in the Lenakel Hospital, heading a project to provide wheelchairs for the needy, and teaching English.  These services and their home rebuilding efforts were made easier because they learned Bislama, the most commonly spoken language in Vanuatu. 
Speaking of their warm feelings for the Ni-Vanuatu, Elder Leben said, "The Ni-Vans have a different way of thinking. They look at things much more relaxed and are always helpful.
"The traffic functions without traffic lights and signs because they are considerate of each other. They are cheerful and you hear them laugh often. We can learn a lot from them.
"And it's important to remember, that the continuous help and support by some of them has been vital to the success of the rebuilding project."
Sister Leben concluded, "They are absolutely lovable. Meeting with the people is the best, and most rewarding, part of our service."