The Hon. Prime Minister of the Republic of Fiji, Rear Admiral J.V. Bainimarama, toured the Suva Fiji Temple of The Church of Jesus Christ of Latter-day Saints yesterday.
He was accompanied by other senior governmental leaders and hosted by members of the Pacific Area Presidency and other Church leaders.
A number of Cabinet ministers and other senior leaders attended the special temple open house tour along with the Prime Minister.
Among those present included the Hon. Attorney General, Aiyaz Sayed-Khaiyum, Minister for Justice, Finance, Public Enterprises and Public Service; the Hon. Jone Usamate, Minister for Health and Medical Services; the Hon. Laisenia Bale Tuitubou, Minister of Youth and Sports; the Hon. Faiyaz Koya, Minister of Trade and Tourism; the Hon. Semi Koroilavesau, Minister of Labour and Industrial Relations; the Hon. Osea Naiqamu, Minister of Fisheries and Forests; and Acting Police Commissioner, Brigadier Sitiveni Qiliho.
The dignitaries were greeted by the Pacific Area Presidency of The Church of Jesus Christ of Latter-day Saints, Elders Kevin W. Pearson, O. Vincent Haleck and S. Gifford Nielsen; Elder Kent F. Richards, Executive Director of the Church's Temple Department; and Elder Adolf Johansson, Pacific Area Seventy. The guests were also hosted by Elder Pearson's wife, June Pearson; Elder Haleck's wife, Peggy Haleck; and Elder Nielsen's wife, Wendy Nielsen.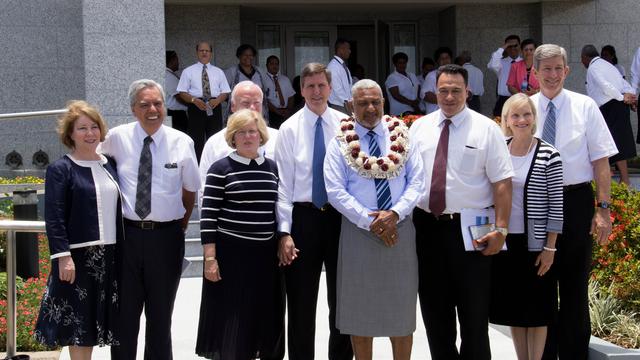 After the tour the Prime Minister commented that the temple was "very exquisite." When asked if he would recommend the Fijian people come and tour inside the temple during the two-week public open house which starts next Monday, he said, "I'd love everyone to come and have a look at what you have here."
View photographs of the Prime Minister's visit yesterday on the Fiji Government's Facebook page.
The Suva Fiji Temple has been closed for over a year while extensive renovations have been undertaken. After the public open house there will be a cultural celebration on Saturday 20 February, the day before the temple's re-dedication on Sunday 21 February. The temple was originally dedicated and opened in 2000.
Image credits: Tessa Dewsbury, Kim Woodbury, Lincon Reid.