Under the direction of the First Presidency of The Church of Jesus Christ of Latter-day Saints, Elder Dieter F. Uchtdorf of the Quorum of the Twelve Apostles rededicated the Hamilton New Zealand Temple on Sunday 16 October.
Members of the Church attended three sessions in person in the temple, and thousands of others joined by broadcast in dozens of Church buildings across New Zealand, Cook Islands, Niue and New Caledonia.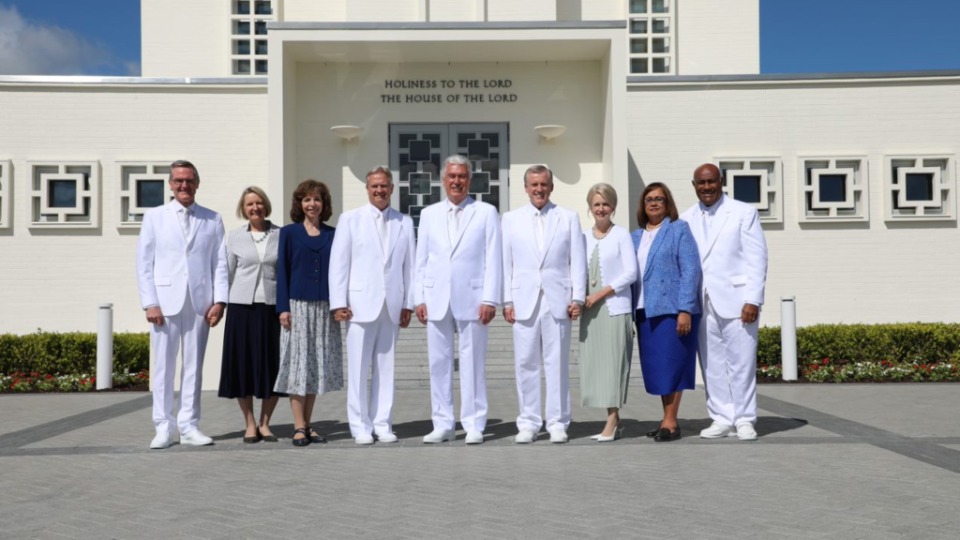 Elder K. Brett Nattress, Pacific Area President of the Church, conducted the first session. A 19 voice choir sang 'High on a Mountain Top,' 'I Know That My Redeemer Lives,' 'This is the Christ,' 'Hosanna Anthem,' and 'The Spirit of God.'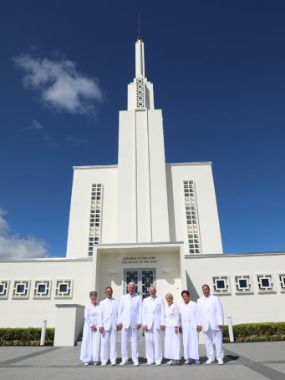 Russell M. Nelson, President of The Church of Jesus Christ of Latter-day Saints, shared a message via technology to those assembled.
President Nelson said that when each temple is dedicated, it strengthens the Saints, adds light to the world, and lessens the power of the adversary.
He said that temples provide sacred space to separate ourselves from the world, obtain a respite, spiritual healing and enlightenment that increase our eternal perspective. He added that temples provide us access to the greatest power on earth—the powers of heaven.
Two local members of the Church then shared comments, followed by the temple president, Michael Roberts, and matron, Christine Roberts.
Elder Kevin R. Duncan, Executive Director of the Temple Department, gave remarks, followed by Elder Uchtdorf.
Elder Uchtdorf described the day as a "glorious day of thanksgiving and celebration, in honour of those who came before us and those who made this day possible in our day as well."
He recounted his own experience as a 15 year-old travelling to the Swiss Temple, reminiscent of stories shared by others of traveling to the temple, anxious to be the first to see the light of the temple spire, and having fun on the journey.
"This is a day to remember, a rare and sacred spiritual day to write about and tell our families and posterity, a day of new beginning and celebration," Elder Uchtdorf said.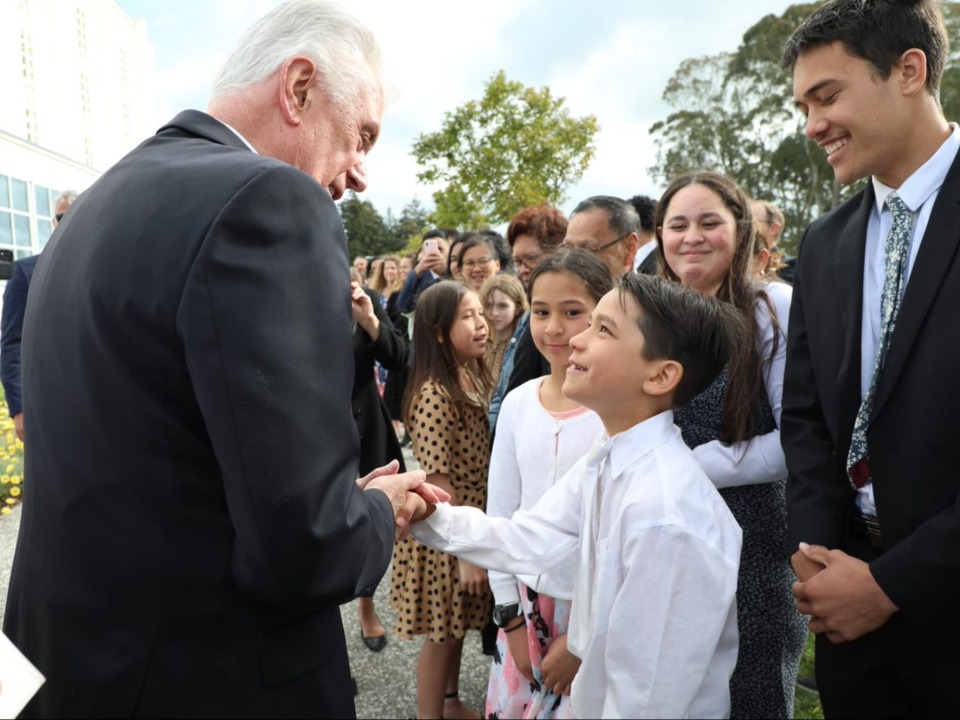 He said that there are currently 299 other temples – 173 operating, 55 in construction and 72 announced or in design. The Hamilton New Zealand Temple was the 11th in the world, he said, "and now it is coming back on line after four long years."
"This is one of the habitations of God on earth," Elder Uchtdorf said.
He told the story of visions in 1830 by Māori elders of the coming the Gospel of Jesus Christ to their people.
"In 1881 at a Hui Tau (convention) of Māori they wanted to know which religion to adopt so they would be unified," Elder Uchtdorf said. "The wisest chief was asked. He pondered for three days and came back with one word 'taihoa' (wait). He told the people that the Church was not yet with them, but would be soon."
"The missionaries who came to bring the news would come in pairs, come from the East, teach them in their homes and learn to speak their language. Months later the first missionaries from The Church of Jesus Christ of Latter-day Saints arrived, as prophesied."
"Now 141 years later with over 100,000 members in 30 stakes in New Zealand alone, we are still connected to that past and look forward to a bright future, centred on the temples—of which there will soon be three in New Zealand."
"Like those in the 1880s, today we are igniting a spark that will bring further light to this land. The spiritual work done in the temple is much greater and more long-lasting than all earlier work."
He bore personal testimony of Jesus Christ and urged those in attendance to "love and honour Heavenly Father and Jesus Christ, at our core."
Elder Uchtdorf offered counsel and an apostolic blessing. He encouraged members of the Church to not neglect the youth and young adults, and to make families strong, "centering your lives in the temple."
He blessed the people that we will "walk before God with courage and humility, and miracles will attend us."
After he spoke, Elder Uchtdorf offered a beautiful dedicatory prayer, which began: "O God, our Eternal Father, our humble hearts are filled with gratitude and love for Thee on this sacred and blessed day of dedication. We ask for Thy Holy Spirit to attend us during the re-dedication of the Hamilton New Zealand Temple. We rejoice in this day of celebration, and our hearts are filled with praise to Thee."
Elder Uchtdorf petitioned the Lord to: "strengthen families and individual lives. Comfort and bless them in their unique circumstances; make them equal to the challenges of this generation. Bless them with courage, humility, and charity. Bless them with the desire to make their homes and places of congregation havens of peace, spirituality, love, and unity."
Additionally, he prayed: "May Thy Holy Spirit dwell here always and be felt by all who come to worship Thee. May a mantle of holiness come upon this sacred edifice. May it stand as a beacon of everlasting truth and light and as an invitation to come unto Thee. Wilt Thou protect this temple from any harm or defilement. May all who enter do so worthily. Wilt Thou seal upon them an endowment of righteousness that will become a guardian throughout their lives. Bless the youth of Thy church that they will receive an understanding of the eternity and divinity of Thy work. May they come often to this temple and be true and faithful to their covenants through word and deed."
After the dedicatory prayer, Elder Nattress led the Hosanna Shout, followed by the choir singing the Hosanna Anthem, and those in attendance singing 'The Spirit of God.'
Read the full dedicatory prayer here.
The Hamilton New Zealand Temple—the first in the southern hemisphere—was originally dedicated by former Church president, David O. McKay in 1958.
It has been closed for the last four years for major renovations.
In August and September over 55,000 members and friends of the Church toured the interior of the temple during a public open house.
Taylor and Cairo Tarawhiti attended the first of three re-dedication sessions on Sunday.
"I was here in 1958 raking the gardens getting ready for the original dedication," Taylor said. "I was 16 years old."
Cairo added, "I shed tears today because of the Spirit there, and listening to the talks, it was just wonderful."
Lanae Dennison from Gisborne, New Zealand, said she was excited to have the chance to come back to the temple with her family.
Her 12-year-old son, Rhodes, said, "I'm pretty happy that we can get the temple dedicated now because it's been closed for a lot of years. I'm excited to be able to go into the temple."