A devotional introducing Elder Ian S. Ardern and his wife Sister Paula Ardern was held yesterday at the Pacific Area Administration Office of The Church of Jesus Christ of Latter-day Saints in Auckland, New Zealand.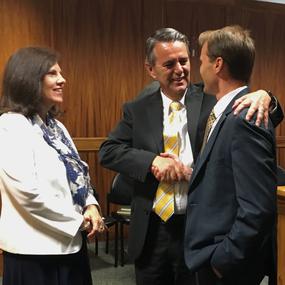 President of the Pacific Area of the Church, Elder O. Vincent Haleck, welcomed the Arderns and introduced them during the devotional. Elder Ardern will serve as Second Counselor in the Pacific Area Presidency.
First Counselor in the Pacific Area Presidency, Elder Craig A. Cardon, also attended the devotional.
Elder Haleck and Elder Cardon were accompanied by their wives, Sister Peggy Haleck and Sister Deborah Cardon.
Originally from the Waikato region of New Zealand, Elder and Sister Ardern have spent nine of the last 12 years serving in Church leadership positions in Fiji, the Philippines and the United States.
In her remarks yesterday, Sister Ardern expressed deep gratitude for her "noble pioneer ancestors" who "came by land and sea" to New Zealand in the 1800's.
Referring to their faith, sacrifice and service, she said, "They taught me that I too can do hard things."
Elder Ardern expressed appreciation for the opportunity to "walk arm in arm to the beat of the same drum" with the other members of the Pacific Area Presidency.
Elder Ardern shared some of his personal history and taught principles of the restored gospel of Jesus Christ in his remarks.
He encouraged those in attendance to be malleable to "the touch of the Master Potter's hands," and to "let Him shape our lives."
He went on to say, "A successful journey in life requires the Potter's kind and gentle hand of refining."
Read more about Elder and Sister Ardern in this article.
Watch a video featuring Elder Ardern speaking to a worldwide audience at the October 2011 general conference: