Five church leaders in New Caledonia recently organized a multi-faith broadcast to pray for relief from the recent arrival of the COVID-19 pandemic in the South Pacific territory. 
Georgie Guidi, the president of the Noumea Stake of The Church of Jesus Christ of Latter-day Saints, invited his fellow leaders to do the broadcast from the stake centre in central Noumea.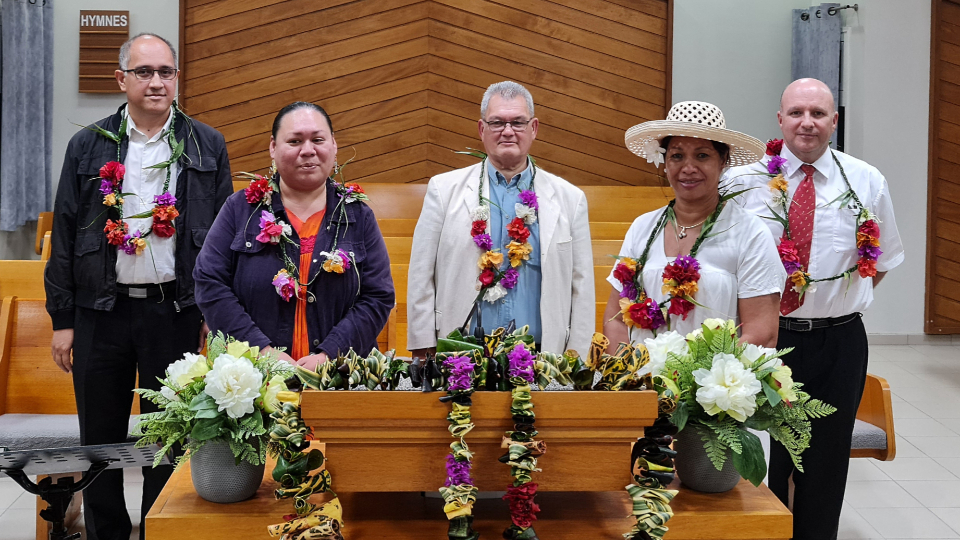 Originally planned to be an in-person event with an attendance of 800, the most recent outbreak of COVID in New Caledonia resulted in a 14 day lockdown being put in place, making the in-person meeting impossible. New Caledonia now has over 1,150 cases with four people dying since 6 September.
President Guidi was joined by Pastor Moerea Flores from the Protestant Church, Pastor Eric Mohori from the Seventh-day Adventist Church, Father Georges Sao from the Catholic Church and Pastor Dylaila Tetumu from the Community of Christ. 
During the 60 minutes broadcast, each leader shared a message encouraging love, sharing and support for one other. 
The leaders were responding to a message from President Edouard Fritch in a French Polynesia broadcast last week. He called on all people of faith in the Pacific to unite in prayer during a multi-faith service to honour the more than 400 who have died there from COVID. 
"I was very pleased to join with these faith leaders here in Noumea," said President Guidi. "There was a wonderful feeling of unity and love among us as we met to give messages of hope and love from our Saviour Jesus Christ to those who are suffering, and afflicted with worry."
Pastor Tetumu was impressed by the peaceful atmosphere of the chapel. "We really felt the Spirit during the meeting. It is so lovely to be able to gather for such an occasion. I wish we could do this more often."