Sitiveni and Kilisitina Fehoko have been called to lead the new Tonga Outer Island Mission for The Church of Jesus Christ of Latter-day Saints. 
The Tonga Nuku'alofa Mission was divided recently to enable local missionaries to serve in Tonga while overseas assignments are not possible due to the pandemic. 
The Fehokos previously served a successful three-year assignment as mission leaders of the Papua New Guinea Lae Mission from 2016 - 2019.  
Their new leadership assignment commenced July 1st, 2021.
"We feel a deep sense of gratitude," President Fehoko said. "We know the Lord loves us and we are extremely humbled to serve again. We want to help others and invite them to come unto Christ."  
Sister Fehoko added, "The moment we were called, we dropped everything to serve the Lord. I'm grateful my husband and I can be instruments to bring about the Lord's work."  
In 2019, shortly after their return to Tonga from Papua New Guinea, their daughter, Ana Siale, passed away. Many joined the Fehokos in mourning the sudden loss of their beloved daughter.  
President Fehoko continued his work as a master carver, and in April of 2020 launched the Matamoana ─ an intricately shaped whale-vessel at Nuku'alofa's Faua wharf.  His most recent project was a 55-foot voyaging canoe.  
He is a certified master trainer in wood carving, accredited by the Tongan National Qualifications and Accreditation Board (TNQAB).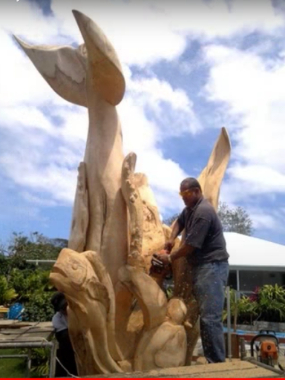 He was commissioned as the Royal Artist by the King of Tonga and foreign dignitaries, to create wood carvings presented as royal gifts and recognized by the United Nations Educational Scientific and Cultural Organization (UNESCO) for spearheading the Tongan National Canoe Festival aimed at teaching the youth of Tonga the lost art of canoe building.  
As director and owner of the enterprise, Art of Tonga, President Fehoko has inspired many of his students to use their skill to start their own business.  
In speaking of his artistry, President Fehoko explains, "There is nothing more beautiful than taking a scrap of wood that others may deem worthless, and shaping it into a beautiful work of art." 
Despite all his accomplishments as a master carver, President Fehoko describes that "his greatest success and works of art have been to spiritually mould and shape young men and women to be better disciples of Jesus Christ."  
President and Sister Fehoko are members of the Va'epopua 1st Ward in the Nuku'alofa Tonga Stake. He has previously served as stake communication director, bishop, stake president, and counselor to a mission president. He was born in Ha'ano, Ha'apai, Tonga to Tevita 'Uluakivalu Fehoko and Mele Mosimani Pomale Fehoko. 
Sister Fehoko has previously served as a Primary president, ward Relief Society president, and stake Relief Society president. She was born in Kolofo'ou, Tongatapu,Tonga to Sione Havea Hikule'o Langi and Mele Peti Langi. They are the parents of seven children.  
Follow their journey on Facebook at Tonga Outer Island Mission.