Members of The Church of Jesus Christ of Latter-day Saints in Beenleigh, Queensland, recently donated food and fuel vouchers, sourced from local businesses, as well as mowing and gardening equipment, to Nightlight Outreach, a local charity organisation that provides compassion and caring to individuals and families going through difficult times.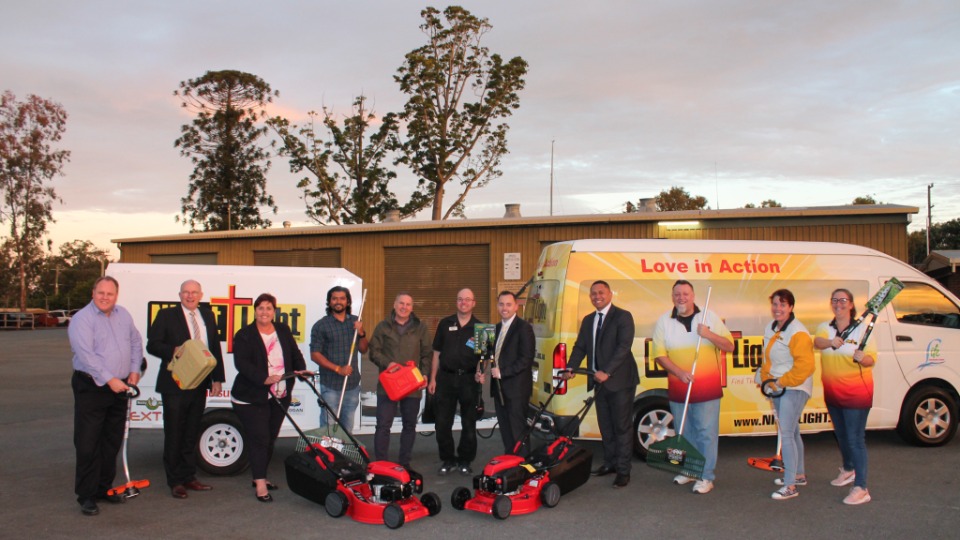 Latter-day Saint leaders from the Beenleigh Stake (group of congregations) met with the Nightlight officials at their office facility, handing over 50 pizza family meal vouchers, 50 vouchers for a local butcher, and 50 gift cards for fuel.
Co-founder of Nightlight, Michaela Porter, said, "The petrol vouchers and the food vouchers will help people access our services because a lot of times they might have a car, but they don't have petrol to come to the Thursday night BBQ to get a feed."
Naomi Koetsier-Bakker, Nightlight volunteer, said, "The vouchers will also drastically improve the nutrition of their recipients and even provide a little indulgence, a luxury not found living on the streets.
"We can do all of the dry goods, but we don't have meat, the protein that these people need. And it is nice to be able to say, 'here's a pizza voucher, go and actually give yourself a treat.'"
Along with the vouchers, the Church purchased mowing and gardening equipment to assist Nightlight in helping those who cannot mow their own lawns or assist those who may need to borrow equipment temporarily.
Porter said, "The mowing equipment will also allow Nightlight to help people who don't have the ability to mow their own lawns feel proud of their dwelling, to have a clean house, and dignity through well-kept lawns, giving them some sort of self-worth.
"They might have a disability, or they might be a single [parent] who's got five kids and works a 9 to 5 and just doesn't have the time."
Church leader, James Stone, who oversaw this project, noted, "The Church is committed to supporting like-minded organisations, like Nightlight, which are also dedicated to serving Jesus Christ through serving our fellow men."
"We try to follow Jesus Christ's example, who was the ultimate giver of service. We can think of no better cause than to support organisations like this that do some great things for members of our community. They embody the words of Matthew in the New Testament who said, 'For I was an hungered, and ye gave me meat: I was thirsty, and ye gave me drink: I was a stranger, and ye took me in (Matthew 25:35).'"
The Brisbane Australia Beenleigh Stake has collaborated with and supported Nightlight Outreach on several projects in the past year and plans to continue working together on more service to the community.