The Church of Jesus Christ of Latter-day Saints and Manukau Institute of Technology signed a memorandum of understanding on Friday 6 May, enabling the two organisations to assist more Tongan and Samoan students.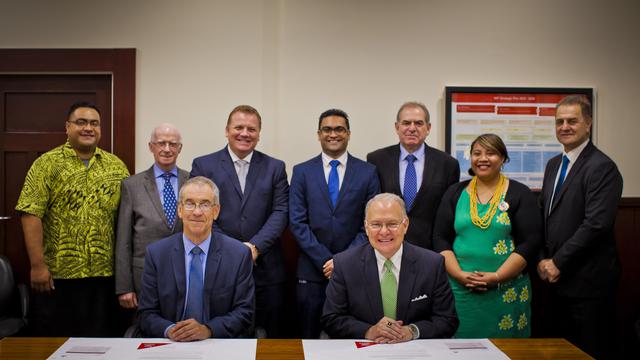 The memorandum states that "Manukau Institute of Technology (MIT) and The Church of Jesus Christ of Latter-day Saints Trust Board (LDS Church) are committed to promoting the development of relationships which will promote and enhance education and training pathways for Tongan communities in the Kingdom of Tonga; Samoan communities in the Pacific nation of Samoa, and their respective communities in Auckland, New Zealand."
The agreement will enable students in Tonga, Samoa and Auckland to qualify for MIT Pacific Islands Secondary Tertiary Development Project, Level 2 Certification; and Level 3 Certification in Engineering and Trades, Consumer Services, and Business and Information Technology programmes.
The project may be expanded in the future to include students in Fiji and Kiribati.
Attendees at the signing from The Church of Jesus Christ of Latter-day Saints included: Brent Buckner, Director for Temporal Affairs, Pacific; Michael Carthew, Director of Church Schools, Pacific; Ameet Kumar, Technical and Vocational Education and Training Manager, Pacific; and Auckland Self-Reliance Manager, Moses Armstrong.
Representatives from MIT included: Dr Peter Brothers, Chief Executive; and Stuart Middleton, Director External Relations.
Watch a short video on Latter-day Saints and education: