Over 5,000 people streamed into the 'Atele Stadium Tuesday night to see the acclaimed Brigham Young University "Living Legends" perform their second and final concert in Nuku'alofa this week.
On the front row of the audience were Tonga's Crown Prince, Tupouto'a Ulukalala, his wife, Princess Sinaitakala, and their young son, Prince Taufa'ahau.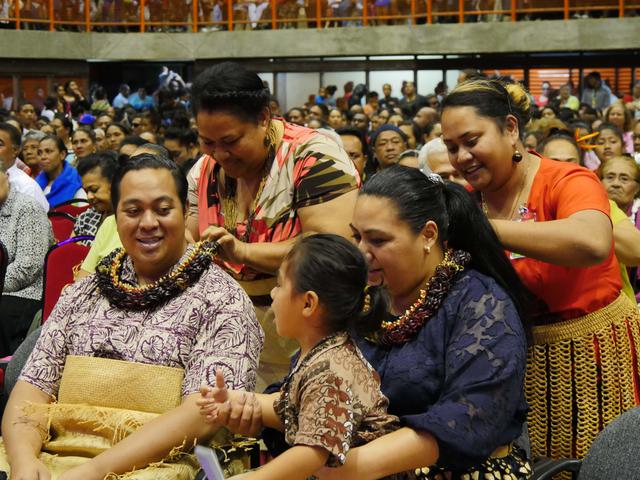 Brigham Young University is a private school owned and operated by The Church of Jesus Christ of Latter-day Saints with students from more than 110 countries.
"Living Legends" cast members are chosen for their talent as well as their heritage from the countries represented in the show. 
The students conducted two outreach visits in addition to their two shows at the stadium performing at the 'Alonga Centre for the Disabled and at Liahona High School.
According to one of the BYU students, they enjoy sharing their talents and providing service for those who may not be in a situation to see the shows. 
Tuesday night, from the haunting opening notes, the overflow audience's attention was riveted on the brightly costumed, fast-paced, musical spectacle entitled "Seasons."
Audible "ohhhhs" rippled through the crowd as performers appeared for each number in the stunning costumes uniqe to each culture.
As the lights went up after the show, Aisake Tukuafu, local Latter-day Saint leader said, "I am speechless. They have exceeded our high level of expectation."
Alternating from Native American to Latin American to Polynesian numbers, while telling the interwoven stories of the three ancient cultures, the performers delivered to the audience a dazzling night of entertainment.
Even more notable, as they lingered after the final encore, attendees spoke of the messages of joy, love of native cultures and peoples, and recognition of divine influence that made the performance profoundly touching and memorable.
When asked what they thought of the show, four teenage girls exclaimed: "It was Wow! Beautiful, wonderful, tremendous, fantastic, unbelievable…and very cool."
Following the performance Prince Tupouto'a said, "It was a fantastic show. A family show for everyone."
In a rare move the Prince and Princess walked onto the stage to personally meet, congratulate, and thank every member of the troupe, shaking each of their hands as they queued by.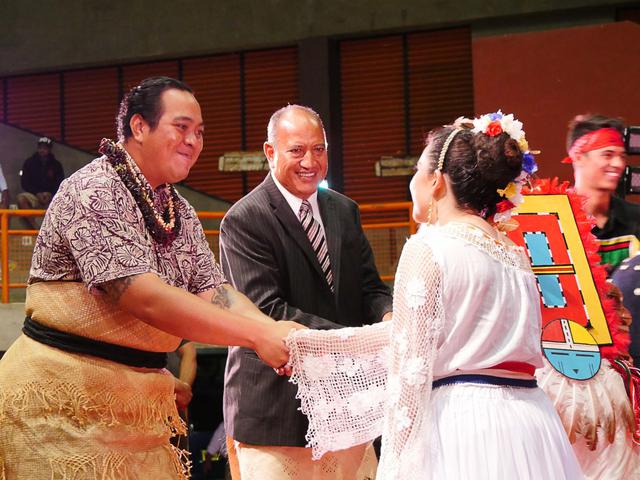 Image credits: Barry Preator.