Elder Ulisses Soares, a member of the Quorum of the Twelve Apostles of The Church of Jesus Christ of Latter-day Saints, just completed a visit to Australia and New Zealand.
The last evening in Australia, he and his wife, Sister Rosana Soares, spoke at a devotional in Sydney. Elder Brent H. Nielson and Sister Marcia Nielson also spoke.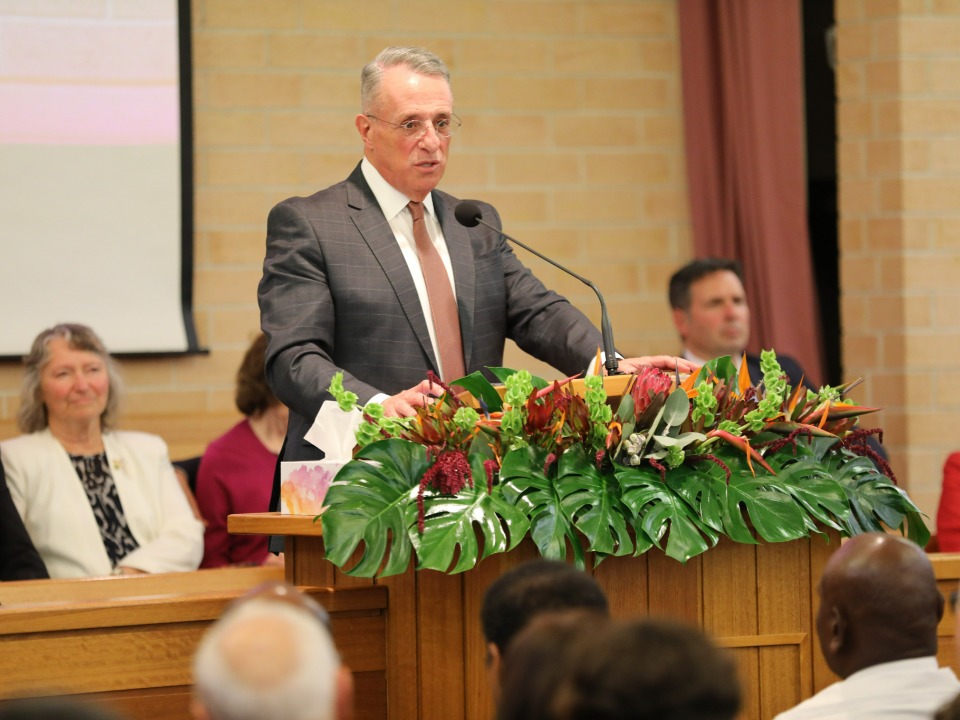 The following Church members shared their feelings about the devotional:
Kai Smith (age 9): "After seeing Elder Soares in the Friend to Friend broadcast in 2021, I prayed that he could come to Australia. I was so excited to see him in person! I felt so happy. I loved his story about the miracle that his family had before they moved to Portugal."
Benjamin MacVean: "The devotional was wonderful. We could feel the genuine love of Elder Soares and his associates for us as they spoke. Each shared personal experiences that encouraged us to trust God as a 'God of miracles' and to develop our ability to Hear God's voice. We are deeply grateful for the chance to share a night with an Apostle."
Janet Fenunuti: "It was definitely a spirit filled and revelatory devotional with Elder Ulisses Soares. Miracles do occur and will not cease for it is available to all. As we act in faith with humility the Lord can make the impossible possible. With His perfect love, in His time and by His will, we can be instruments in hastening His work."
Hei Sun Ma: "As I listened to Sister Marcia Nielsen's experience in Atlanta, Georgia's airport, her closing thought struck something within me. Just like the old couple in her story that shared a unique whistle that allowed them to quickly identify each other in the crowds of the airport, my Heavenly Father too, has a unique way of communicating with me. It then got me thinking. Perhaps right now in my life, His plan for me is to learn how to identify His voice more consistently, as opposed to trying to figure out what the future holds for me in His plan. It made sense, because after all, it will be difficult for Him to communicate His plans for me if I cannot readily identify His promptings when they come."