Elder Ulisses Soares, a member of the Quorum of the Twelve Apostles of The Church of Jesus Christ of Latter-day Saints, and his wife, Sister Rosana Soares, have just completed a ministering visit to New Zealand and Australia. Their final engagement was a devotional in Sydney on Saturday evening, 28 May, which was broadcast to members and friends of the Church throughout Australia.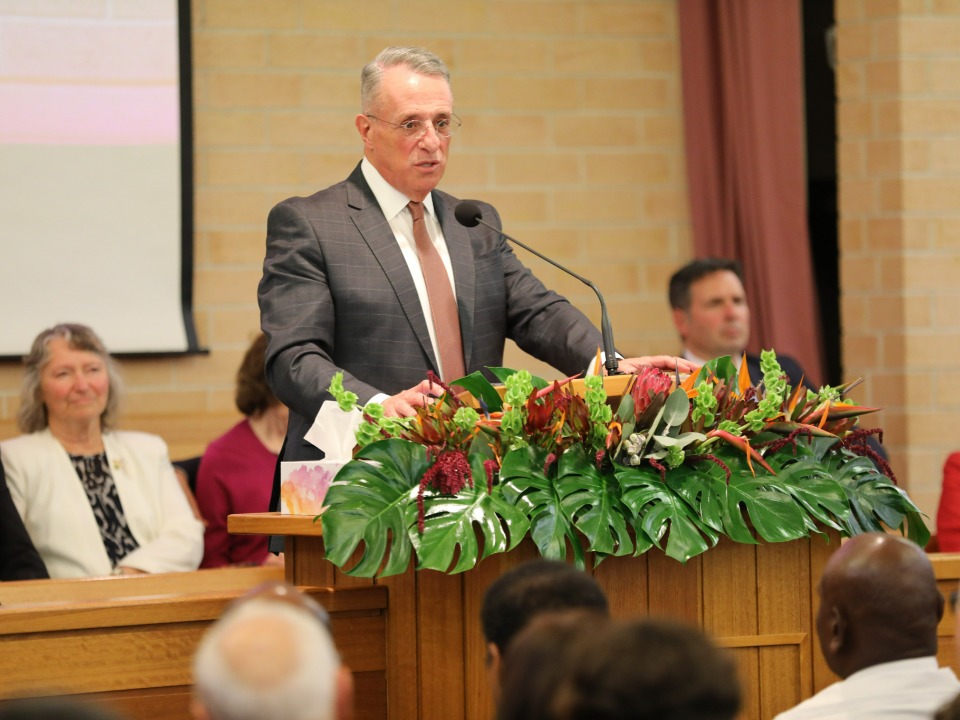 Over the last ten days, Elder and Sister Soares have visited with Latter-day Saints in Auckland, Hamilton, Brisbane and Sydney. Some of the meetings they attended were also broadcast to meetinghouses in other parts of New Zealand and Australia, as well as several Pacific Island nations and territories.
Elder and Sister Soares are being accompanied by Elder Brent H. Nielson of the Presidency of the Seventy, and Sister Marcia Nielson, and hosted by Members of the Pacific Area Presidency of the Church, and their wives — Elder Ian S. Ardern and Sister Paula Ardern; Elder K. Brett Nattress and Sister Shawna Nattress; and Elder Kazuhiko Yamashita and Sister Tazuko Yamashita.
"I feel like I am at home, among friends," Elder Soares told the Australian saints. "My wife and I have loved this experience this week."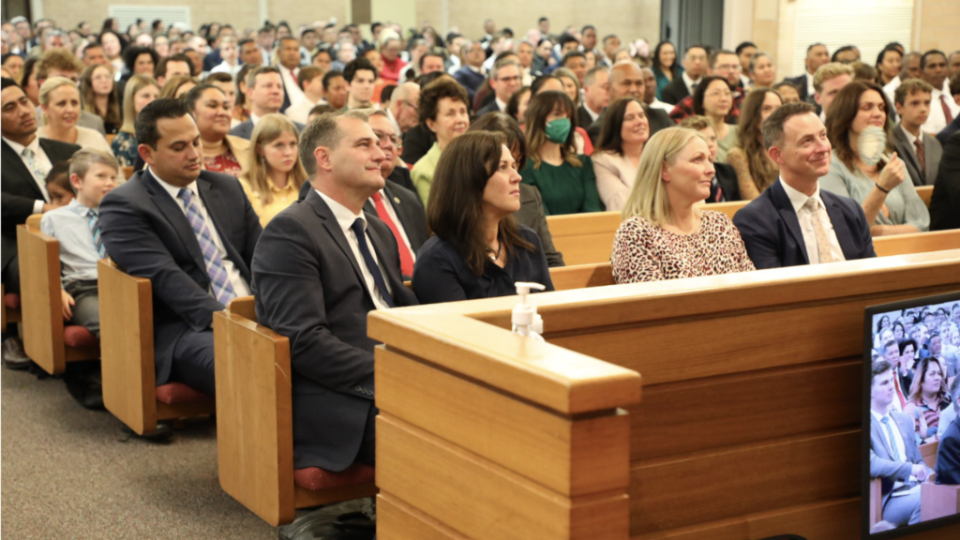 Speaking of a visit to Brisbane earlier in the week, he said, "The conversion stories I heard from some of the senior members of the Church there strengthened my faith."
He said that when they arrived at the meetinghouse on Saturday evening he felt closer to His Saviour, through the faith of everyone gathered for the meeting.
Elder Soares encouraged the members of the Church to continue to gather together to worship, especially as countries and communities open up after the lockdowns and other restrictions caused by the pandemic.
"President Nelson asked me to express his greetings and his love to you," he said.
Referring to a musical item at the devotional by a family vocal group, titled, "Joseph Smith's First Prayer," he said, "I too know that Joseph Smith is a prophet of God."
Elder Soares said, "We are living in the last days in preparation for the second coming of Jesus Christ. If we are not careful we can lose sight of the promises of our Father in Heaven, we can dim our light, and become fearful. The gospel of Jesus Christ is the only enduring way to peace."
Referring to an address by President Russell M. Nelson in April, Elder Soares encouraged Australian Latter-day Saints to "ignite their positive, spiritual momentum."
"Do the spiritual work to see miracles," he encouraged. "God continues to be a God of miracles. Faith is necessary to see miracles. When we don't know God, it's hard to see the miracles in our life."
He continued, "My dear brothers and sisters, miracles are available, if we believe, if we cry out to the Lord, if we do our part.
"We should focus our lives on Jesus Christ, follow Him, live by His teachings, become more like Him, and let His light shine in our lives. As we strive to draw closer to the Saviour, we will hear Him more clearly, and become more like Him. As we try to be closer to Christ, we need to listen more intently to His prophet."
He said, "God loves us, with a perfect love. Jesus is the Christ, He is our Saviour. Never forget to cry out for His love and mercy. I know He lives, He leads His Church through prophets. We can be protected and blessed as we heed the words of prophets, and follow the Lord Jesus Christ."
Sister Soares shared the story of a mother who read the scriptures every day to her son. The mother told her boy: "The prophet said that if I read to you from the scriptures every day, I will never lose you. And I don't want to lose you." She said this story was about Elder K. Brett Nattress and his mother.
"I read the scriptures so I can receive revelation from God," Sister Soares said. She urged the Australian Latter-day Saints to "turn the TV and social media off for a moment, and turn to Christ."
Elder Nielson told the Australian saints that13 years ago they had an assignment in the Pacific Area. "We have visited many cities in Australia, and we love the country and the people," he said.
Elder Nielson shared an experience from his youth when a teacher read to him Moroni 10:3-5:
3 Behold, I would exhort you that when ye shall read these things, if it be wisdom in God that ye should read them, that ye would remember how merciful the Lord hath been unto the children of men, from the creation of Adam even down until the time that ye shall receive these things, and ponder it in your hearts.
4 And when ye shall receive these things, I would exhort you that ye would ask God, the Eternal Father, in the name of Christ, if these things are not true; and if ye shall ask with a sincere heart, with real intent, having faith in Christ, he will manifest the truth of it unto you, by the power of the Holy Ghost.
5 And by the power of the Holy Ghost ye may know the truth of all things.
At age 14 he followed this counsel. "That feeling from that moment when I prayed to know if the Book of Mormon is true, has stayed with me until this day."
Elder Nielson continued, "If you want love, healing, help and hope, you will find these things in the Book of Mormon."
In her remarks, Sister Nielson said, "No matter what land or culture we are in, we have the blessing of being able to hear the words of President Russell M. Nelson. He is asking us to do all we can to hear the voice of our Heavenly Father. Our Heavenly Father has many things He wants to say to us."
The devotional was conducted by Elder Robert H. Simpson, Area Seventy.