Elder Brent H. Nielson and Sister Marcia Nielson visited Adelaide, Australia on Thursday and Friday this week (26-27 May).
Elder Nielson is a member of the Presidency of the Seventy of The Church of Jesus Christ of Latter-day Saints. He and Sister Nielson are travelling in New Zealand and Australia with Elder Ulisses Soares of the Quorum of the Twelve Apostles and Sister Rosana Soares.
From 2009 to 2011, the Nielsons served together in the South Pacific region while Elder Nielson was a member of the Pacific Area Presidency. They were then assigned to the Philippines Area for three more years.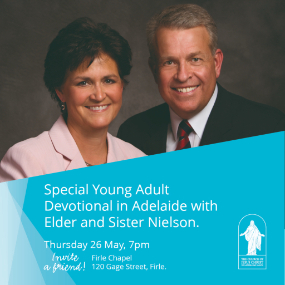 During this time, they recall, they traveled all over the region and "came to really know and love Church members."
Elder Nielson also has family ties to the South Pacific, as his father was stationed in Darwin and Townsville and then in Papua New Guinea and the Philippines during his military service in World War II.
During a special meeting for young adults in Adelaide on Thursday, their messages were focused on helping young people gain a deeper love for and relationship with Jesus Christ.
"We can strengthen our faith and find peace in our trials, by realising that the works of God are manifest in them, and we become who we need to become through them," Elder Nielson said.
He also encouraged everyone to learn to forgive themselves. "It's important to remember that Jesus Christ atoned for our sins. He wants us to move on and not even remember them anymore."
Elder Nielson recalled the story of Lot's wife in the Old Testament. "When we repent, remember Lot's wife: Don't look back."
To young people struggling to take the next step in their life, Sister Nielson advised: "My counsel is to listen and seek to hear Him [the Lord]. God hears us and we can hear Him."
"The young people here are so faithful and had great questions and comments. We were both really inspired by them," Sister Nielson said.
The devotional was conducted by Elder Craig Raeside, Area Seventy.
Elder and Sister Nielsen also visited the Adelaide Australia Temple and were accompanied by Temple President David Crosley and Temple Matron  Sister Susan Crosley before they left Adelaide for further meetings in Sydney including a devotional which will be broadcast across the country on Saturday night.