United States Consul General to Auckland, Sarah Nelson, and some of her consulate colleagues paid a visit to the campus of The Church of Jesus Christ of Latter-day Saints in Temple View, the site of the Hamilton New Zealand Temple, on Thursday 27 January.
As she neared the temple, Consul General Nelson remarked that it felt like "a special place." She and other members of the group viewed the exterior of the temple, noting the beauty of the gardens and the renovated building.
Consul General Nelson came to Hamilton to speak at the United Nations Internatioal Holocaust Remembrance Day event being held at the Waikato Museum. The Consul General also requested a stop in Temple View to learn more about the temple and how it came to be located in the Waikato region.
That story is told well at the Matthew Cowley Pacific Church History Centre where they were greeted by Elder Hori and Sister Jo-Ena Elkington, the Centre Directors.
The centre staff gave them a warm greeting led by kaumatua Ken Williams, in the Māori tradition.
They then told the guests the story of Temple View through a new exhibit that recounts the story of the construction of the temple and the Church College of New Zealand. Young volunteers, called "labour missionaries," were at the heart of the building program.
The exhibit opened in May 2021. See news stories here and here about the exhibition.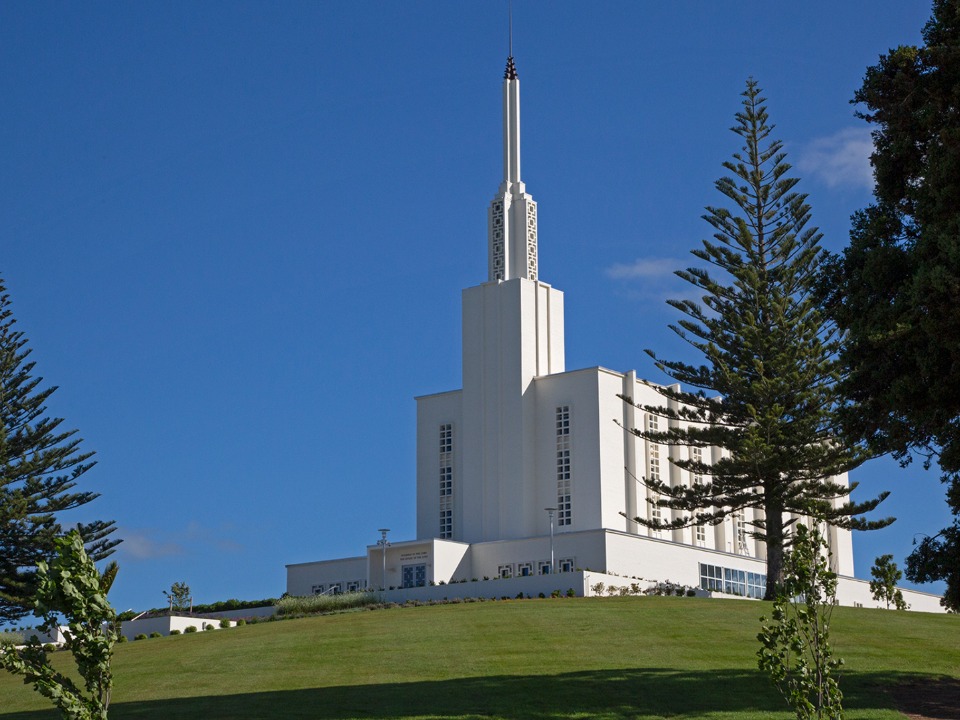 Consul General Nelson has worked in many of the islands of the Pacific including postings in the Marshall Islands and Papua New Guinea. She recounted her experiences while there when she and her staff partnered with the Church to help others.
"During my time in the islands, I have discovered the great partnership that we have with your organisation. Everywhere we have served, your church has been there working with us in many ways," she said.
She recounted her experiences last year when the pandemic outbreak required the repatriation of Americans out of the Pacific Islands, and the US State Department worked closely with the Church.
Michael and Christine Roberts, leaders in the Hamilton New Zealand Temple, greeted the guests and told them about the renovation project that has been underway since 2018.
"We hope you will come back during the upcoming open house when you can see and feel more of the temple and understand the eternal purposes for which it was built."
In explaining the purpose of the temple, they recalled the words of Church President Russell M. Nelson, when he said, "The temple is the house of the Lord. The basis for every temple ordinance and covenant – the heart of the plan of salvation – is the Atonement of Jesus Christ. Each holy temple stands as a symbol of our membership in the Church, as a sign of our faith in life after death, and as a sacred step toward eternal glory for us and our families."