The Church of Jesus Christ of Latter-day Saints' leadership in the Pacific region — Elder Ian S. Ardern, Elder K. Brett Nattress and Elder Kazuhiko Yamashita — are emphasising five points for Church members to consider focusing on in 2022.
They are to "Hear Him as you walk in the light of Christ," by seeking education, studying and living the doctrine of Jesus Christ, serving others, sharing the gospel, and attending the temple. "Hear Him" is a term used by Latter-day Saints referring to seeking to hear the voice of the Lord in one's life.
Across the South Pacific, Church members gathered in congregations on Sunday, 30 January to discuss the Church's "Pacific Area Focus," and make personal and family goals for the year.
Young people in a South Auckland congregation, ages 18-29, shared some thoughts on their discussion, and the goals they are making for this coming year.
One member of the congregation, TJ, reflected on the first point of the area focus to seek education. He said, "Education is more than getting a degree. It can be for upscaling in your current job, taking the opportunities to learn new things and grow, and can help you progress for the rest of your life. It helps you look for the best opportunities to grow and then to share what you know with other people."
Rosalina was touched by the area focus points to study and live the doctrine of Jesus Christ, and to serve others. "What better way to compare how we can serve people than to what Jesus Christ did. The scriptures talk about his whole life as a ministry. This is a simple way we can put some effort into serving. I love that we get to represent our Saviour in that way."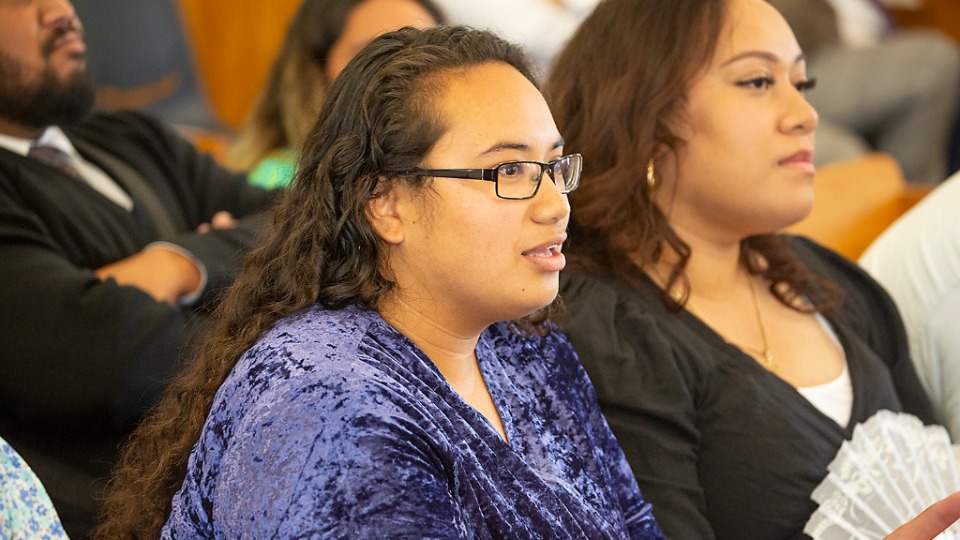 Cody said he likes the idea of doing service with the spirit. "When I think of service, I automatically think of gardening. But when we do service it's not always physical labour. We can be more creative than that. We have new tools and can reach out in other ways. The gift of the Spirit will help us," he said.
Nicholas said sharing the gospel stuck out to him during the lesson. "To me, sharing the gospel is not just teaching someone a lesson. It's sharing our testimonies, not just in words, but in actions amongst our family, our friends and other people we have around us."
During the discussion a video on the area focus was shown, which included a clip of Church president, Russell M. Nelson, encouraging individuals to help "gather Israel." The gathering of Israel comes from a biblical prophecy and is a phrase which often refers to the Church's mission to bring people together from across the world through the sharing of the gospel.
Nicholas said he is striving to be part of that gathering through sharing the gospel because he thinks it is one of the most important things members can do.
Sione Tuione, lay leader (bishop) of the South Auckland congregation, reflected on what members should do after hearing this lesson. "Let us do what the Saviour has invited us to do in The Book of Mormon: what ye see me do, you need to do. If we focus our life on Jesus Christ and then do and follow what he has invited us to do, every single day will help bless someone's life," he said.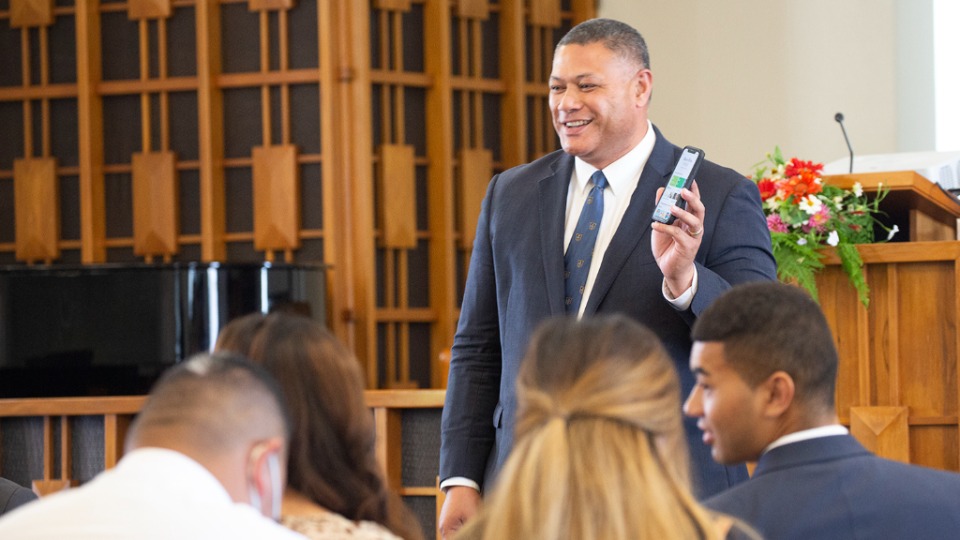 Church area leaders also encouraged members of the Pacific to download an app called "Walk in the Light of Christ." The app is intended for those in the Pacific, but has useful tools to help anyone through goal setting, scripture study and helping users take daily steps to come closer to Christ. The app can be downloaded on the Church's website or on the app store. The app also alerts users of new Church Newsroom articles.
Another young Auckland Latter-day Saint, Filemoni, said he downloaded the app and created a simple, realistic goal to study the gospel of Christ. "I will study the scriptures every morning and the "Come, Follow Me" booklet at night. That will keep me going, building and strengthening my spirituality and testimony."
Setting goals was a major component of the congregation's discussion. Camellia said, "My goal for 2022 is to deepen my understanding of the gospel of Jesus Christ by studying the scriptures with more intent, by watching and reading General Conference talks and to be able to seek revelation through them."
Dantzel said the thing that stood out to her during the discussion was the need to simplify goals. In reaction to this she made a simple goal to attend Institute, the Church's young adult education program, more regularly. "By making Institute a priority, I know I can feel the spirit more regularly and be reminded of my heritage as a daughter of God," she said.