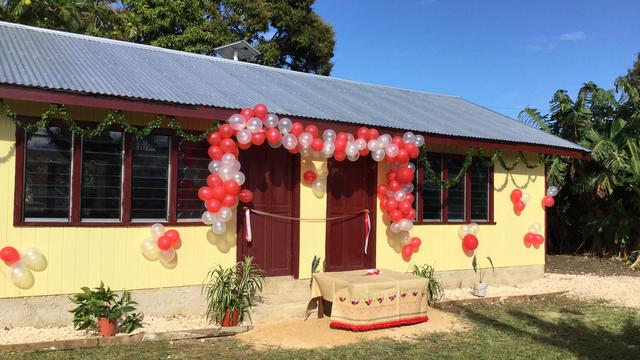 LDS Charities recently donated materials for the renovation of a building at the Fasi Government Primary School in Tonga.
The school community provided the necessary labour for the reconstruction project.
A special event was held last month at the school to mark the completion of the project.
Among guests at the event were Reverend Sangupo Mani from the Free Church of Tonga; Sione Tuione, president of the Tonga Nuku'alofa Mission of The Church of Jesus Christ of Latter-day Saints, and his wife, Moala; Faka'osilea Kaufusi, LDS Country Welfare Manager; Bishop Amanaki Kamisese of the Fasi Ward; Garrick Parr, manager of the LDS Service Centre and his wife, Susan; Chris and Becky Waddoups, LDS humanitarian service missionaries; Valeti Teumphenga, principal of Fasi GPS; and Vice-Principal Sioni Afu.
Before the two classrooms were renovated, the school was becoming very crowded. There are over 600 students in the school.
After many years of use, the deteriorating and unusable structure was brought to the attention of LDS Charities by Principal Valeti Teumohenga.
Latter-day Saint leader, President Tuione, an alumnus of Fasi GPS, was pleased that the building being renovated included the classroom he remembered attending as a young boy.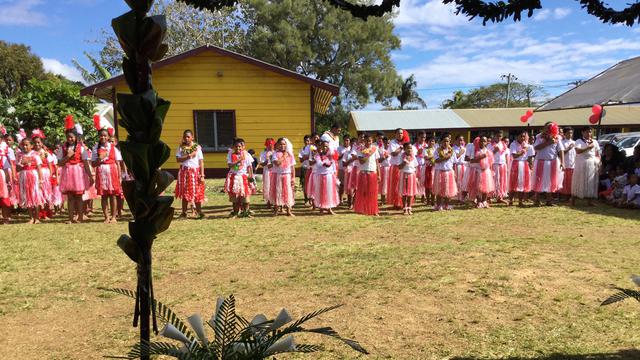 Items donated included bricks, windows, doors, floor cement and tiles, and roofing materials. The Fasi Parent Teacher Association also contributed funds towards roofing supplies that were raised by holding a student concert.
Furniture for both classrooms was provided by "Furniture for Schools" an NGO founded by John McLean and Callum Blair, both members of The Church of Jesus Christ of Latter-day Saints living in New Zealand.