Speaking at a devotional in Auckland on Sunday evening (6 August), the prime minister of New Zealand, Rt Hon Bill English, praised today's youth saying they are "more capable, more confident, more able to express themselves, more knowledgeable about the world, more well-rounded and more tolerant" than the youth of his generation.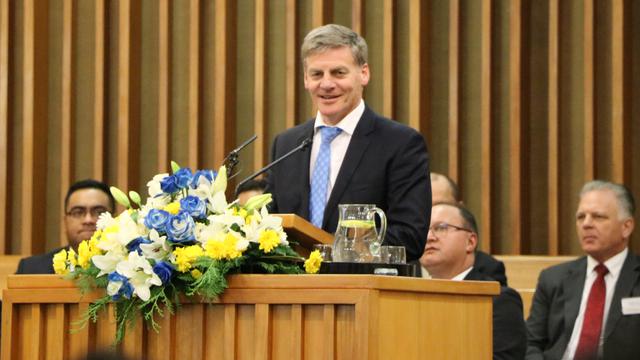 He also acknowledged they are "under greater pressure," but told them not to worry.  
Mr. English said it took him 26 years in politics to become prime minister.
"As one of my sons joked to me when I became Prime Minister, 'If you wait long enough, you'll get a turn,'" he said with a smile, suggesting that with patience and hard work, goals can become realities.
Mr English spoke of his background growing up on a farm as the second youngest of 12 children in his family.
As a young man he liked to go to church to hear gospel stories and parables, which, he said, "are full of complexity and speak to dilemmas that apply to us today."
Elder O. Vincent Haleck, president of the Pacific Area of The Church of Jesus Christ of Latter-days Saints, welcomed Mr. English, other special guests and the approximately 800 youth, young adults and parents who were in attendance.
In his remarks, Elder Haleck urged young people to: "Rise up, you are indeed the future of this country."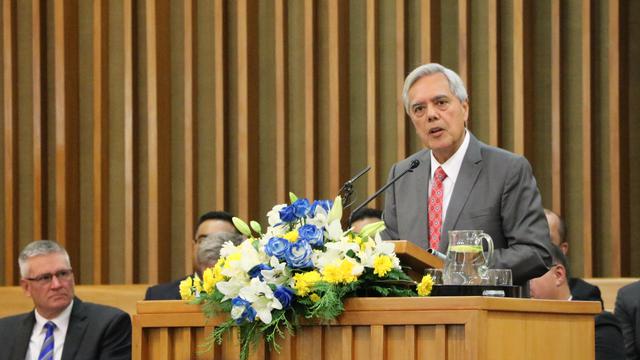 He continued, "There are many possibilities available here if you will work at it and get an education. Education, my young friends, is going to be the key."
Elder Haleck thanked Prime Minister English for "giving hope to our youth" and advised young people that "the road to success takes education, hard work and faith."
Citing Latter-day Saint scripture, Elder Haleck said: "Draw near unto me and I will draw near unto you; seek me diligently and ye shall find me; ask, and ye shall receive; knock, and it shall be opened unto you."
"If we ask, the Lord will be there to help us," Elder Haleck said.
Joining Elder Haleck were his wife, Sister Peggy Haleck; Elder Paul R. Coward, Area Seventy, and his wife, Sister Julie Coward; and President Anthony S. Wilson of the Auckland New Zealand Mt. Roskill Stake, and his wife, Sister Makere Wilson.
Leaders from Latter-day Saint congregations across Auckland also attended.
Jesse Armstrong, a young Latter-day Saint from Auckland, also spoke during Sunday's devotional.
He told the gathered young adults and teenagers that "success begins with vision," and suggested they should "begin with the end in mind."
He also said: "Success requires faith" and "All of my success in life came from God."
Among other guests at the devotional were Melissa Lee MP; Alfred Ngaro MP; Dr. Parmjeet Parmar MP; Denise Lee; and Theresa McNamara.
Alfred Ngaro said of the devotional: "I love that it was a meeting of young people of the Church who talk about their values and things that are really important. Jesse Armstrong told us about his faith and…how that was lived out in his life through…trust in God."
Melissa Lee said she was "privileged to be here" and was "blessed to hear Jesse Armstrong's story."
"I'm not a Mormon," she added, "but I felt welcome, and I felt I was here worshiping God. It's the same God."    
Theresa McNamara, Team Leader – Youth and Young Adult Ministry of the Auckland Catholic Diocese, said, "I find that the LDS community is one that is really open to collaboration. There are so many commonalities that we have and there's so many ways we can come together."
The Church of Jesus Christ of Latter-day Saints is politically neutral but teaches its members to be informed and contributing citizens in their communities and nations. Stories regarding devotionals with other New Zealand leaders can be seen here and here.