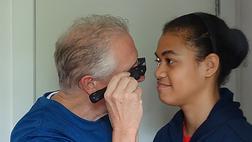 Rick and Ann Nielson recently returned home following a six-month, self-appointed humanitarian mission to the islands of Fiji. 
Now, some 4,500 islanders have new and improved eyesight, because the Nielsons took to heart the words of the Saviour found in the New Testament, "For unto whomsoever much is given, of him shall be much required." (Luke 12:48.)
Rick has a busy and successful optometric practice in Calgary Canada. He and his wife are the parents of four children, with 13 grandchildren, and are active members of The Church of Jesus Christ of Latter-day Saints.
In August 2014, a friend came to Rick for an eye exam. He described the work he and his wife had been doing over the past five years in Fiji, focused largely on alleviating the deadly effects of diabetes, a prevalent disease there. Theirs was also a self-appointed humanitarian mission.
When Rick heard his friend speak about his love for the Fijian people, how much he enjoyed his work there, and what a need there was for different kinds of service in Fiji, he began to think about what he and Ann could give.
As the Nielsons were discussing the possibility of going, Rick says, "A major part of the inspiration to make the decision to leave our comfortable home and family and travel to Fiji to provide humanitarian service came from reading an article in the September 2014 Ensign by [senior Church leader and successful business executive] Robert C. Gay."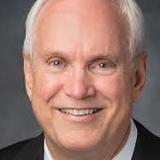 In "Your Journey of Giving," Gay said, "Everything we receive in this life is a blessing from a loving Father in Heaven. But with blessings comes responsibility.
"A fundamental question you should consider is this: 'What am I going to do with the blessings that have been bestowed upon me?' Will you rise like disciples to whom the Savior says, 'Unto whom much is given much is required?' Will you engage or be content on the sidelines? Will you lift others or think only of yourself?"
Gay continued, "Everyone has something to give. God asks that we act courageously in giving of ourselves and sharing the gifts and blessings He has given us. Take the talents and skills you have developed and go out and be a positive force for and on behalf of our Savior."
Rick says, "It felt like these words were directly speaking to us. We had been so blessed in our lives, and now it was time to give back to our needy brothers and sisters around the world."
A year of preparation went into making their dream a reality. Rick had to hire and train others to take over his responsibilities during his absence. In addition, there were many legal requirements to meet, travel and shipping arrangements to be made, and equipment and eyeglasses to obtain.
Through donations from patients, friends, and the community Lion's Club, the Nielsons were able to collect over 7,000 glasses.
"You can feel good knowing that you helped provide the gift of sight to people who would normally not have the opportunity to receive an eye exam and glasses," the Nielsons responded to their friends.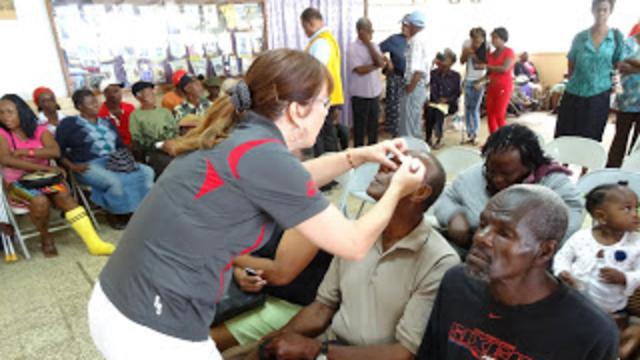 They also went on a 10 day trip to Jamaica with the charitable group, "Canadian Vision Care," to help provide eye care and glasses to the needy in that country. The experience helped them see how best to do their work outside a typical clinic. "We really enjoyed the experience and came to love the people there. It gave us just a small flavor of the joy that comes from helping others."
In early October 2015, having packed and shipped 16 boxes of eyeglasses to travel across the Pacific by boat—taking five weeks to arrive—the Nielsons said their goodbyes to family and friends and headed for Fiji.
Setting up their household, securing a car, and finalizing legal permissions took the better part of the first week. They wrote in their blog that there was some homesickness, but also many new friends to help them transition. They were excited to get started, and they let it be known there would be free eye exams beginning the next week.
Working as a team, during that first week of seeing patients, they examined 130 students and 35 faculty. By the end of the first three weeks they completed 752 eye exams, averaging 50 exams a day, and a couple of those days they did over 100 exams. 
During the next six months they gave eye exams to young and old, from village chiefs to the poor and needy, in cities and remote villages on several islands, in schools and churches of many denominations, an orphanage and a college, welcoming freely everyone they could fit into their ten-hour days.
People lined up early in the morning and waited patiently for hours for their turn. Nielsons found that many of the people had never had an eye exam and were badly in need of glasses. Some could hardly see and were delighted when Dr Nielson delivered their glasses and their lives were changed.
In February 2016, the Nielsons experienced category 5 Cyclone Winston, the worst ever to strike in the South Pacific. Winds reached 230 km/h (145 mph), inflicting extensive damage on many islands, with 44 dead and many injured. Roughly 40 percent of Fiji's population were significantly impacted. 
When the storm ended, the Nielsons interrupted their work to help cyclone victims recover. While their own home was not damaged, they had no electricity for two weeks, spoiling the food in their refrigerator and losing sleep with no relief from the humid heat.
Ann wrote, "Although we have suffered a little, we fully recognize that we have nothing to complain about, given the fact that so many others lost their homes, crops, and even some family members during the cyclone. We thank God for protecting us during Fiji's worst cyclone to ever hit. We truly feel blessed."
Three weeks later was their last full week of work in Fiji. In a rush to see as many patients as possible, they examined 854, more than any other week. Ann said, "We went to five different villages, examining adults in community halls and lots of children in different schools." That brought their total number of patients examined to 6,060, giving out 4,500 glasses to those who needed them.
The week of their planned return home, the Nielsons received news that their eight-year-old grandson had been hit by a truck and was in hospital with serious brain injuries and in a coma. [He has since been making a miraculous recovery, exceeding everyone's expectations.]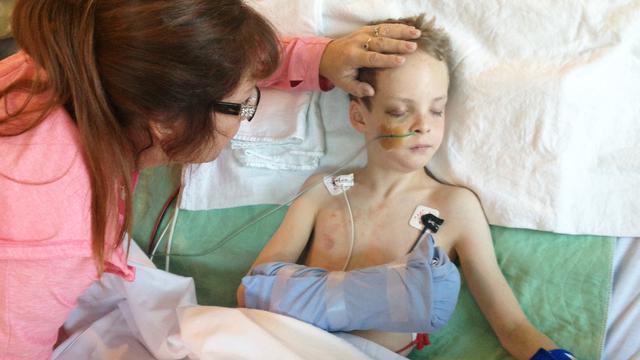 After a sleepless night, they decided to end their Fiji mission five days earlier than planned.
Ann said, "We took care of a long 'to-do' list, including emptying our apartment, returning our vehicle, giving away the remainder of our glasses, saying our goodbyes and cancelling our last couple of days of work. It was not the way we wanted to leave, it was hard, and it was sad!
"The ward [local congregation] arranged a farewell at the church for us. We were each asked to say a few parting words. It was difficult. We have grown to love these people, as we have come to know them so well. We had to fight back the tears as we spoke.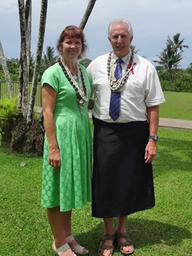 "It was very touching when the congregation sang to us, 'God Be With You 'Till We Meet Again," followed by the Fijian farewell song, 'Isa Lei.' During these songs, a number of our friends came up to the front and gave us a variety of different necklaces. There wasn't a dry eye in the room."
Ann said, "Now that we are home and I look back on our time and service in Fiji, I can see the Lord's hand in so many areas of our service.
"As I experienced some lengthy times of sickness, I felt the Lord blessed me to always be okay when we were actually out in the villages working among the people. We were also blessed with safety as we went through break-ins, cyclones, extreme heat, difficult travel, etc.
She continued, "We were blessed with being able to experience so many wonderful adventures, to meet and eat with chiefs of villages, getting onto islands where visitors were not welcome, helping cook for President Eyring and Elder Cook, being at the temple rededication, and simply working among such wonderful people.
"We were able to teach and associate with the youth of our ward and get close to the missionary couples, the mission president, and his wife who were serving in Suva and surrounding areas.
"I will always look back on this mission with fond memories and with friendships that will last forever. Being able to be part of a mission such as this has affected our lives for good, forever. There are so many things that we now do not take for granted, as we have seen how another part of the world lives, and have a new understanding and appreciation for our own blessings here."
Reflecting on their experience, Rick said, "During our six months in Fiji, it was a thrill to help provide many people with the gift of sight, most of whom had never had an eye exam before. Although it was often hard work, in some difficult and uncomfortably hot locations, it was still very rewarding to help our brothers and sisters in need.
"Our time in Fiji was the experience of a lifetime, and we are so glad we made the decision to do this. Although it's very difficult to leave our kids and grandkids, as well as our home, we look forward to serving future missions around the globe to help more of our brothers and sisters."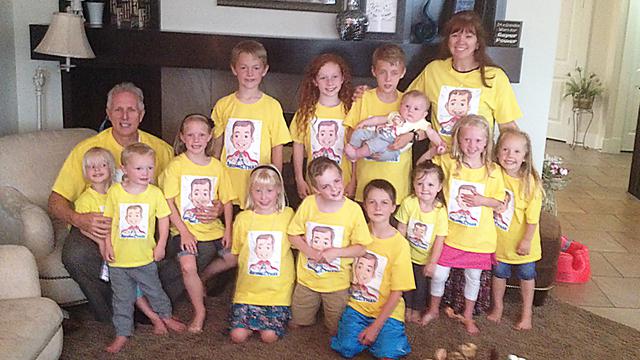 Dr. Rick and Ann Nielson back at home with all their grandchildren, including Ethan, and wearing t-shirts with a picture of Ethan and their motto: "I can do hard things." 
Story and photo credits: Rick and Ann Nielson.