Maclean Sauseru returned home to Solomon Islands last July determined to further his education.  Two years earlier, when he began serving a mission for his church, he had not completed secondary school. Today he has nearly finished his Foundation courses at University of the South Pacific (USP).  The key?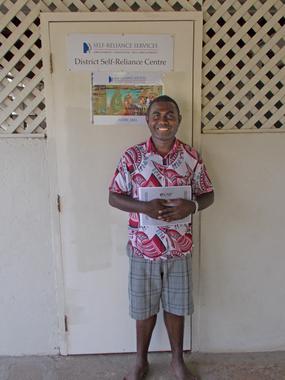 Maclean's dedication to a self-reliance initiative designed by The Church of Jesus Christ of Latter-day Saints (Mormons).
Towards the end of his mission, Maclean was contacted by self-reliance missionaries, David and Theresa Nish.  By email, they worked with him to ascertain his career needs.
Maclean was asked to describe a lifestyle he wanted (such as clean water, sufficient clothing, a modest home, etc.), then to identify an income level that would allow him to do those things.  From a Preferred Jobs list, he figured out how much money he needed and what type of jobs would bring in that income.  He figured out, for example, that to become a plumber, he would need to gain specific skills which, in turn, would require a certain level of education.
Maclean chose to study for a Diploma in Governance and Human Rights.
"My wife and I enrolled him in USP (University of the South Pacific) doing Foundation Courses," said Elder Nish.  "He wanted to start university courses by January 2016."
In fact, Maclean got home two days after the semester started and began studying immediately.
He also began meeting with an early morning Study Buddy group.
Study Buddy groups are part of the church-wide self-reliance initiative where members of the Church and their friends are encouraged to meet weekly to support each other in education, formal or otherwise.  The reason for meeting can be as simple as learning English together using hymnbooks.  Groups can be high school age or adults.  Basically a Study Buddy group can be started by any group of people with a common desire to improve their situation.
Renee Solomon, Self-reliance Manager for Solomon Islands for The Church of Jesus Christ of Latter-day Saints' Pacific Area Office in Auckland, New Zealand, observes, "The idea of Study Buddy groups is to encourage the group members to help one another.  Rather than waiting for a school or some other organisation to put study support in place, students can be moving forward on their own." 
In the Pacific area, Study Buddy groups are often students taking classes or doing distance learning at USP or elsewhere.  In most cases, each group member has already spent twelve weeks in an Education for Better Work group, working out a plan for education and focusing on a job search.  By deciding, "If I do this much schooling, I will be able to do that job," each member determines what they are going to study.
Study Buddy group members discuss assignments, go through readings, go over whatever they each are struggling with.  They might need to improve their English, for example.  The group helps each member to overcome obstacles. They help each other succeed. 
Maclean is a real go getter," observed Elder Nish.  "He found out that USP offered a Summer Flexi School during the December holidays and that they were running the course he needed to finish his Foundation Courses.  He begged, borrowed, and scraped together the funds to do this course."
"These programs help people to have hope," summed up Ms. Solomon.