With spring in the air, office staff from Takapuna's Pacific Area Headquarters of The Church of Jesus Christ of Latter-day Saints got into their gardening clothes and gumboots this week to help beautify Long Bay, north of Auckland.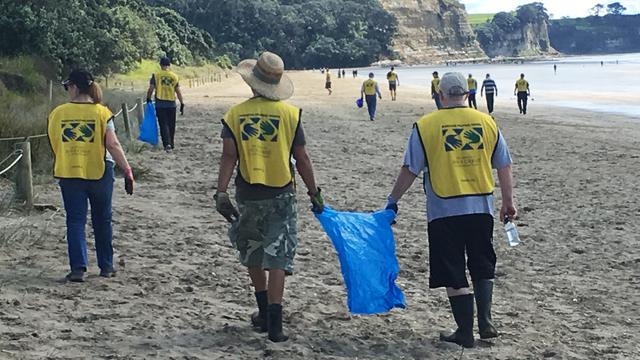 A group of 32 volunteers donned the distinctive yellow "Mormon Helping Hands" vests before setting out to plant trees, spread mulch and remove a run-down trail staircase.
Everyone who took part in the project enjoyed the experience. "It's great to see and participate in what goes on behind the scenes that keeps our beaches beautiful," said June Anderson, a Church employee and resident of Mairangi Bay.
The park rangers who oversaw the project were very grateful for the extra hands explaining that the group of LDS volunteers was able to accomplish more in a few hours than they could have done in several days' work.
In addition to the service provided at Long Bay, more than 50 volunteers from the Church also lent a hand at Auckland City Mission and Salvation Army—Community Ministries, an organisation that offers counseling, budgeting, food assistance and crisis accommodation to those in need.
The Mormon volunteer groups helped these organisations sort hundreds of donated clothing and household items, unload donation trucks and pack food boxes for needy families—service that is much needed in the Auckland area.
The volunteer projects were all part of an annual initiative by the Church to go out into the community and make a positive impact through service.

According to lds.org, "Service to others is an important characteristic of the followers of Jesus Christ. Mormon Helping Hands provides organized opportunities for Church members to give their time and talents to bless those in need. It also gives members the opportunity to beautify city streets, parks, schools, and recreational areas and to serve in other ways, showing that the Church is a friend to the community."

Latter-day Saints believe strongly in the command to "love thy neighbour" and strive to follow the example of the Saviour in serving their fellowman.

For more information on Mormon Helping Hands click here.