In Tahiti, surfing is practically a religion. And when someone is deeply committed to their faith, it can be very difficult to reconcile the two, especially when many high-level competitions are held on Sundays. 
But for Tuhiti Wong Pao-Sing, the choice has already been made. A faithful member of The Church of Jesus Christ of Latter-day Saints, his religion comes first. He chooses to keep the Sabbath day holy and therefore does not participate in any competitions on Sunday. 
He has won the respect and recognition of his peers, especially on the Taapuna surf spot. His choice to keep the Sabbath day holy has set him apart from other top Tahitian riders and athletes.
This has earned him coverage in Waaves magazine and its top-rated television show which are dedicated to the culture of surfing and features the key surf figures in French Polynesia. 
Each year, Tuhiti participates in the Taapuna Master, the flagship competition of local surfing, but he chooses to forgo the Sunday finals because of his religious convictions. Tuhuti has qualified for the final phase every year since he turned pro.  
He makes the most of each qualifying series. He savours every second and doesn't shy away from his pleasure in the 'repêchage' rounds, because he knows he won't defend his qualification on Sunday. When they call his name for the finals, everyone knows Tuhiti will not be there.  
His fellow competitors know about his religious beliefs and seem to respect them. "My friends in the circuit often ask me to pray for them," he says. 
He goes on: "Bodyboarding has been my greatest passion since I discovered it. This is my outlet, my decompression. From the outset, I always wanted to excel in it. To get to the best level, I practiced tirelessly, surfing all day whenever possible. I was focused on my goal to be the best DK (Drop Knee) rider.  In the past, I won two or three times in my Drop Knee category at the Taapuna Master as well as in other tournaments. 
"I like this sport so much. When I started, the competitions gave me a thrill and I wanted to show everyone how good I was. Soon I started getting offers from local and overseas sponsors even though at the time I was a father. I had to make a choice. 
"I often had arguments with my wife about the Sunday subject. She was right. Surfing was taking over too much. But I didn't want to lose my sponsors, which allowed me access to top-end, professional surf equipment that is so expensive." 
Wong Pao-Sing says his wife and children were his motivation to be an example of faith.
"They determine what I want to become," he says. "And of course, my personal faith and the upbringing I received from my parents and leaders as well as the example of top athletes who are [Church] members, who don't compete on Sundays, like Errol and Naea Bennett, have helped me make this decision." 
He says his passion was still there, but something was missing. His happy family.
"So, I decided to give priority to my responsibilities as a husband and a dad." 
"I stopped competing on Sunday in 2006 after winning the title. That year, the Master Taapuna competition was dedicated to my uncle Nelva Lee, my mom's little brother, who died after drowning while surfing on that spot. He was my mentor, the man who encouraged me to be the best in sport and saw to it that I was performing well." 
Tuhuti always thought that he had to compete on Sundays to keep his sponsors. 
"When I stopped to devote myself entirely on Sunday to the Lord, I met sponsors to whom I explained why I no longer surf on Sundays for the finals of the competitions and that my spiritual and family life takes precedence in my life. 
"They supported me in my choices despite everything and in return asked me to do photoshoots and surf videos while respecting Sunday. So, I have it all!" 
At the end of 2020, Tuhiti broke his leg while he was surfing. While recovering, he was out of the surfing circuit for seven months.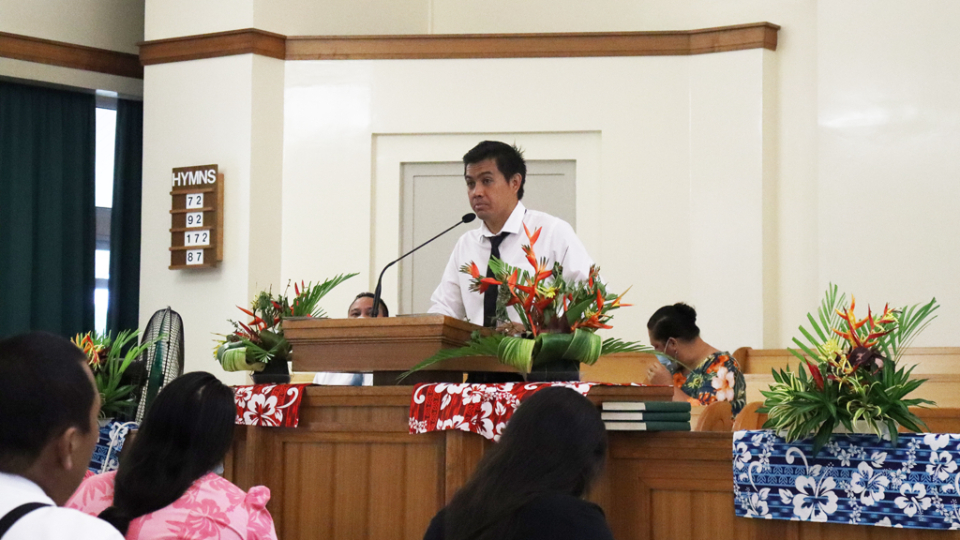 Around this time, Emile Tunutu, a Church leader in his area, was looking for a new bishop for the Papeari Ward (congregation). He told him during their interview, "I clearly received the answer that you are to be the new bishop. Your convalescence will help you settle into your new responsibilities. I know that your example as a devoted young man who endeavors to put the Lord first will inspire young people to walk the covenant path." 
Though Tuhiti is very talented, he accepts that he will never again win a major competition, as he chooses to respect the Sabbath.  
"I feel that my Heavenly Father is happy with my choice. And above all, nothing will ever compare with my family's happiness and the balance we have achieved together. " 
"I do not judge those who choose not to respect the Sabbath or some other principle. Everyone needs to be encouraged with love and compassion."  
Tuhuti recalled the words of Church President Russell M. Nelson:  
"How do we hallow the Sabbath day? In my much younger years, I studied the work of others who had compiled lists of things to do and things not to do on the Sabbath. It wasn't until later that I learned from the scriptures that my conduct and my attitude on the Sabbath constituted a sign between me and my Heavenly Father. With that understanding, I no longer needed lists of dos and don'ts. When I had to make a decision whether or not an activity was appropriate for the Sabbath, I simply asked myself, "What sign do I want to give to God?" 
"That question made my choices about the Sabbath day crystal clear."