In February this year The Church of Jesus Christ of Latter-day Saints donated a sawmill to the Tongan village of Makeke.   
Since then, a group of local men have been milling coconut trees into dimensional lumber for use in building a campsite and improving the homes of several families.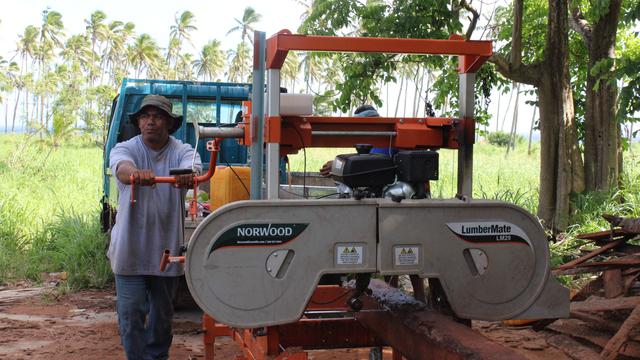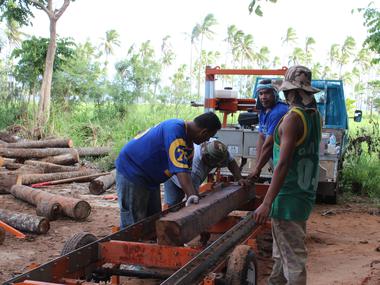 All of the men are donating their labour to the project, but the two who are operating the sawmill are donating their full time, five days a week.
Two hundred coconut trees have been cut down to clear a portion of the approximately 50 acres of land that will become a large welfare farm and campsite for the local Church and wider community.
Soon after, Elders Dale G. Renlund, Donald L. Hallstrom and Bishop Gerald Causse and their wives planted coconut trees to replace a portion of those that were cut down.
The trunks of the coconut trees that were cut down are being used to build facilities at the campsite and to complete improvements to the homes of several families. The campsite will include two large and 14 small pavilions, a rugby field and other recreational facilities for use by Church youth groups, families and guests. It is expected to be completed in August of this year.
President Etuate Toutai said, "The stake welfare committee identified and prioritized one hundred homes in the stake in need of improvement. Work is currently underway on three of those homes having the most critical need and will soon begin on six others."
"We will improve as many homes as we have lumber to do," he said.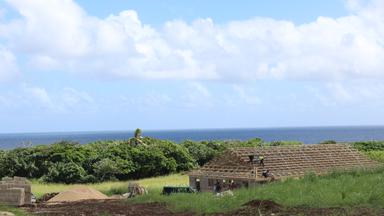 One of the homes being improved belongs to a 66-year-old widow, Tainana Finau. She, her three daughters and their husbands and six children have been constructing a new home, block-by-block, for the past five years.
With some of the lumber from the coconut trees, volunteer labour and other donated materials, a roof was built for the home. By mid-April a concrete floor will be poured and two bedrooms will be built inside. Tainana's daughters expressed gratitude for the assistance provided by the members of the Church.
The two other homes currently being worked on will provide improved housing for a husband, wife, grandfather and six children; and a husband, wife and their nine children.
As with Tainana's home, the improvements are being made with volunteer labour and donated materials. Each family being assisted is asked to perform as much of the work as they are capable of doing themselves.