Tony Roxburgh, Community Facilities Manager for Waipa County, has a vision for the Lake Ruatuna Reserve. Currently an overgrown site in desperate need of tidying up, he maintains that with the drains cleared, willow growth removed and native re-vegetation in place, Ruatuna Reserve could be a destination overnight camping venue.
This past weekend Tony Roxburgh's vision received a major boost from members of The Church of Jesus Christ of Latter-day Saints who converged on the site as part of a Mormon Helping Hands project. 
Over 150 volunteer men, women and children armed with shovels and rakes pulled privet and old growth, relocated mounds of earth and tore down broken fences.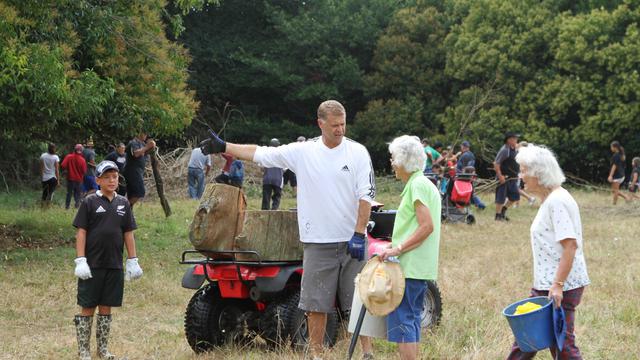 "Each year we identify a service opportunity in our area and mobilize our Church members for a few hours on a Saturday to give a helping hand," says John Kendall, president of the Church's Temple View New Zealand Stake. 
"It's a way of giving back to the community we come from," he says, "but it's also a reason to come together, make new friends and have a memorable afternoon."