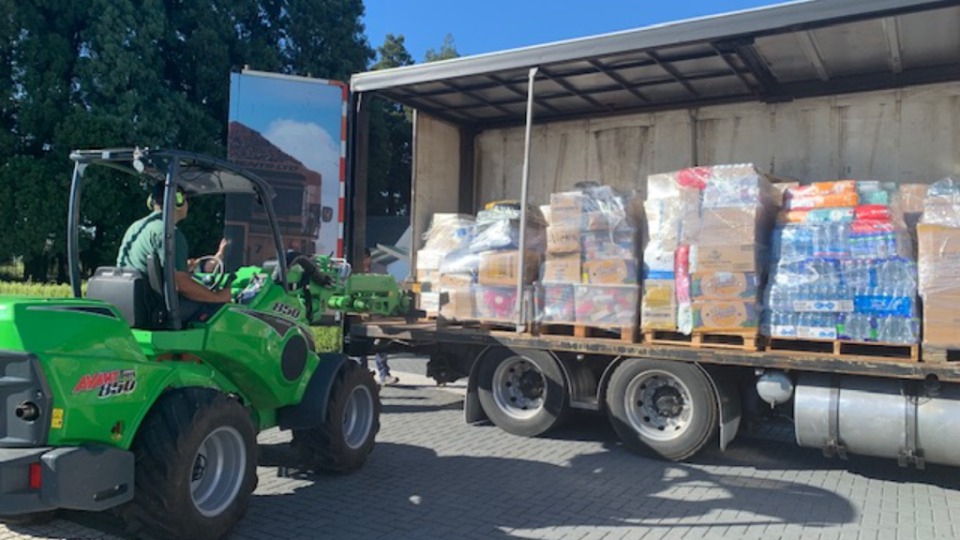 Members and friends of The Church of Jesus Christ of Latter-day Saints in the Hamilton suburb of Temple View recently sent a truck load of food and other essentials to communities recovering from Cyclone Gabrielle. The donation drive began on 18 February, and concluded on 26 February 2023.
Todd Miller, communication director for the Hamilton area of The Church of Jesus Christ of Latter-day Saints, said it was heart-warming to see friends and neighbours come together. "It has been difficult to view the devastation caused by the cyclone to individuals, whanau and the wider communities most affected," he said.
"The response by the Temple View Stake and friends is an expression of Christ-like love, and of a community working together to help and support the needs of our brothers and sisters."
The project was coordinated in consultation with community leaders in Hawke's Bay to ensure that supplies went to places with the greatest needs. Jane Eyre, who helped coordinate it, said 14 pallets of food, water and toiletries were shipped. 
"It took a small army of helpers to get those pallets packed and wrapped," Eyre said.
Additionally, donations of clothing and bedding were also made, which are being stored until there is an identified need for them. She thanked everyone who contributed to what she called "an epic campaign" for flood-stricken Gisborne and Hawke's Bay.
"Donations came in from far and wide, and it was truly an outpouring of generosity," she said. "A truck load of food, water and other essentials is on its way, and will be distributed by local Civil Defence once it arrives."
Eyre said Cambridge trucking company, CnR Developments, was instrumental in the effort by donating the haulage services. She thanked everyone else who lent a hand in any way to the effort.
"We're so grateful to have had so many willing helping hands," she said.
Members who would like to continue supporting the relief effort are encouraged to do so by making donations to the Church's Humanitarian Fund. Cash gifts can be made using the online form at churchofjesuschrist.org, or by manually filling out a form obtained from any meetinghouse.