After watching a worldwide online devotional for youth, Alvarez Achylle from Matiti, French Polynesia, said, "I learned that the Lord loves me and that He lives."
Teenagers like Alvarez gathered in Church meetinghouses across the island of Tahiti over the last few days to participate in a worldwide devotional broadcast featuring Elder Gerrit W. Gong of the Quorum of the Twelve Apostles of The Church of Jesus Christ of Latter-day Saints. Elder Gong was joined on stage by Young Women General President, Bonnie H. Cordon; Young Men General President, Steven J. Lund; and eight young members of the Church. 
The meeting originally aired online on Sunday, 29 January 2023.
Elder Gong introduced the 2023 Youth Theme, "I can do all things through Christ, which strengtheneth me,: (Philippians 4:13)
The symbol for this year's theme is a trail marker, which many hikers use to help those coming after them to know the best way to move forward on their journey.  Trail markers are made by placing small rocks on top of each other, next to a trail.
Elder Gong reminded the youth, "You'll find spiritual trail markers in many places. Friends and families, quorums and classes, bishops and other leaders, patriarchal blessings, scriptures, activities and service, the Holy House of the Lord and especially the promptings of the Holy Ghost that draw us to our Saviour Jesus Christ."
In addition to Alvarez Achylle, a number of other French Polynesian youth shared their thoughts about the new youth theme, and trail marker symbol, in the comments below:
Arnaud Alvarez from Takaroa
"Jesus Christ is the marker of my life. I will draw my strength from Him. I will prepare to receive my patriarchal blessing which can help guide my path and give me eternal perspective."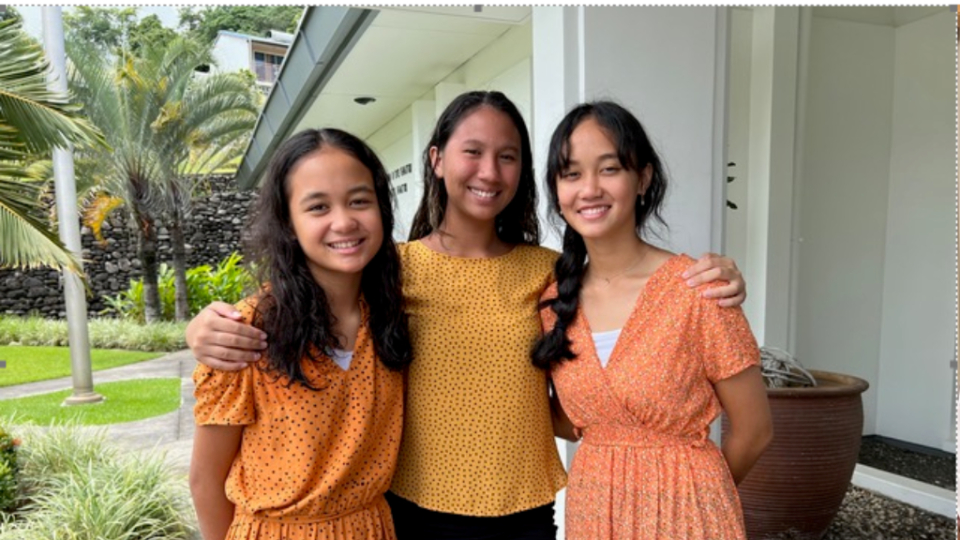 Beau Lacour from Vairai
"The meeting with Elder Gong and the testimonies of the youth have strengthened me. The youth theme reminds me of the importance of Christ in our lives and compels me to continue praying and reading my scriptures."
Ben Lagha Tearaitua from Vairai
"I'm going to improve my reading of the scriptures and go to the temple more often to draw even closer to God."
Takihei Atiu from Bora Bora Stake
"I liked it when we talked about the spiritual landmarks that help us find our way home. My spiritual landmarks are my patriarchal blessing, prayer, scriptures, help from church leaders and my parents love."
Teheipuarii Raumanu from Fa'a'ā Takaroa
"From the testimonies of the young people in this meeting, I was able to gain a better understanding of life.  Their testimonies of remind me that we are not expected to be perfect but to do our best."
Mondongue Teheituanui from Farahei
"It reminded me of the importance of my patriarchal blessing which serves to guide me."
Watch the worldwide youth devotional here;
The population of Tahiti is nearly 300,000 people.  Tahiti is the largest island in French Polynesia and is home to nearly 69% of the population of French Polynesia.  A temple is located in Papeete, Tahiti, the capital of French Polynesia.  There are almost 30,000 Latter-day Saints in French Polynesia, cared for in 97 congregations.