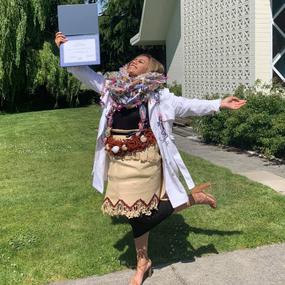 Alana Tuipulotu cannot contain her joy. She is the first person in her family to graduate from the four-year early morning Seminary program offered by The Church of Jesus Christ of Latter-day Saints.
In New Zealand, seminary is a block of time set aside before school to learn about the Saviour and study His teachings in the scriptures. It is usually taught at a local Latter-day Saint chapel.
Tuipulotu attends Marian College in Christchurch, New Zealand.
"It was a good start to my day," she says. "My spiritual daily dose before I went to school."
The purpose of Seminary is to help youth understand and rely on the teachings and Atonement of Jesus Christ, qualify for the blessings of the temple, and prepare themselves, their families, and others for eternal life with their Father in Heaven.
"The most common thing I hear students say," Auckland Seminary teacher, Derek Good, says, is, "My day always seems to go better when I start it with Seminary."
Good has been a volunteer early morning Seminary teacher for four years.
Many of the graduates go on to serve full-time missions with the Church.
Some countries require a Seminary graduation certificate as a prerequisite for obtaining visas for ecclesiastical service.
According to Good, one of his former students, now serving a full-time mission in the Philippines, said, "Seminary is what prepared me the most for my mission."
"From our 2017 graduating class, we had three young men and two young women who completed four years of seminary and all five are serving missions around the world," said Good.
"As a teacher, it is obvious that being involved in Seminary, the Lord just increases your capacity to do the other stuff you need to do. Sure, it takes time to prepare a daily lesson and to travel, teach and drop off kids after, but I never seem to run out of time," he said.
"The students show up expecting to be taught by the Spirit. I know that I teach one lesson but the Holy Ghost teaches 15-20 different lessons at the same time."