Volunteers from Humanitarian Services of The Church of Jesus Christ of Latter-day Saints have been on the ground in the remote Pacific island nation of Vanuatu since Cyclone Pam pounded the country in March of 2015.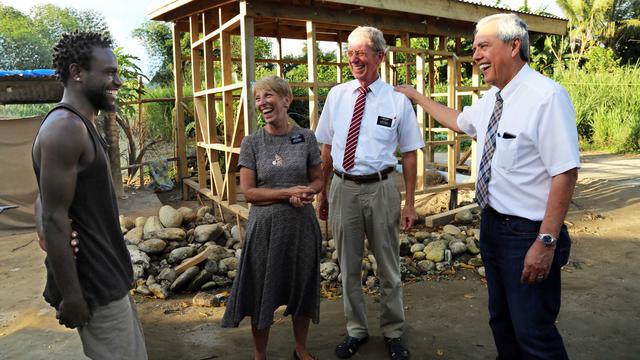 In the wake of the catastrophic damage caused by the storm, LDS missionaries continue to help locals rebuild their homes, and their lives.
The massive cyclone, one of the strongest on record, destroyed or seriously damaged 9,500 homes and obliterated 90 percent of buildings in the hardest hit areas on the islands of Efate and Tanna.
Twenty-four people lost their lives and nearly 3,500 were displaced.
The Church and its members throughout the South Pacific were at the forefront of initial relief efforts, providing food, water, shelter, medical services and much needed hygiene supplies.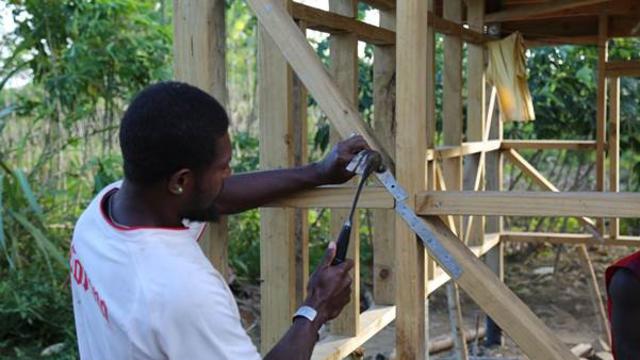 When the emergency needs of Ni-Vanuatu began to subside, Church leaders felt inspired to add to the list of Church's ongoing humanitarian projects in Vanuatu, a program to help needy families and individuals with long-term, safe housing. 
Since that time, a significant focus has been on helping Ni-Vanuatu repair and rebuild their homes.
In keeping with the spirit of "helping others help themselves," welfare and humanitarian services of The Church of Jesus Christ of Latter-day Saints and LDS Charites are providing building materials, design expertise, and construction oversight. A portable sawmill for cutting logs into lumber was also donated by LDS Charities on the isolated island of Tanna.
The work is being done by home-owners and local workers after completing "Building Back Safer" construction training courses provided with the assistance of LDS Charities at the Church's meetinghouses in the capital of Port Vila and on the island of Tanna.
To date more than half of the Church's goal to rebuild 330 houses has been reached.  "New homes constructed on Tanna now total 77, with another 98 completed on Efate," said Hans Sorensen who manages the welfare and humanitarian efforts of the Church in the Pacific Area.
"Many others have and will be repaired," he added.
Determinations as to who receives assistance rebuilding or repairing their home are made without regard to Church membership—everyone is treated equally.
At a recent news conference in Port Villa, when a reporter asked Elder O. Vincent Haleck, president of the Pacific Area of the Church, why the Church is "so involved in strengthening Ni-Vanuatu families and communities," his simple reply encapsulated the mission of the Church's humanitarian efforts in Vanuatu and around the world.
"It's due to our beliefs. We follow Jesus Christ."
There are nearly 8,000 members of The Church of Jesus Christ of Latter-day Saints in Vanuatu, organized into 32 congregations, worshiping together each Sunday in 17 meetinghouses. The first congregation was organized in 1973.
Watch a video featuring people building new homes to replace those damaged or destroyed during 2015's Cyclone Pam:
Watch a video about Elder Haleck's recent visit to Vanuatu: