One of the buildings in the Hamilton suburb of Temple View which will be dedicated this Saturday, 17 June, is the G.R. Biesinger Hall.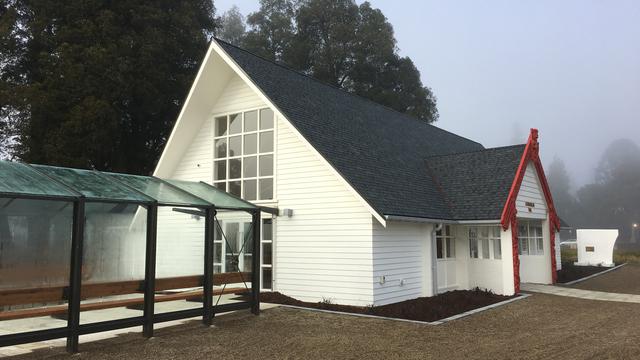 The historic building was constructed in 27 days by Latter-day Saint labour missionaries, without the knowledge of the American building supervisor for whom the hall was named.
In 1952, George Ross Biesinger was asked by leaders of The Church of Jesus Christ of Latter-day Saints to supervise the Church's building program in the South Pacific.
Young men from across New Zealand, supported by their families and home congregations, helped Biesinger construct many of the buildings in Temple View.
"He must have been a remarkable man, because he got the best out of the boys," says former labour missionary, Hoki Purcell.
"Elder B organized the boys into crews—a bricky crew, a joinery crew, a painters crew, a plumbing crew and fitters."
While Biesinger was travelling overseas, the labour missionaries designed and built the G.R. Biesinger Hall. They used donated materials and worked on the project when they weren't busy working on other construction sites in Temple View.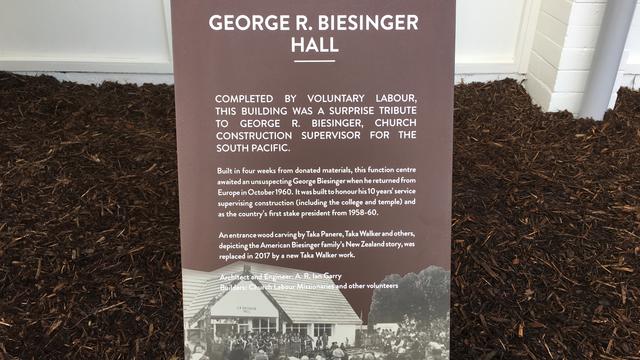 The GRB, as locals call it, was opened on 17 October 1960.
Over the years it has been used for funerals, weddings, reunions and many other activities.
"Nothing else could have honoured Elder B more than to build a hall," Mrs Purcell said.
Former Temple View project design manager, Don White, said, "To tie everything together, we started a concept to memorialize the labour missionaries."
"Ideally, we wanted it where it existed. On the north end we have these nice tall windows that go from floor to ceiling. And we wanted to do the same thing on the south end. By doing that you have the best view of the temple in Temple View. The side entry will still be maintained, but the north entry will be a new feature. There will be a covered area in the front of that with seating and a plaza."
The completed renovation and dedication of this building will not only be a tribute to George Biesinger, but also to the labour missionaries who constructed it.