When Brooks Haderlie worked as the University Archivist at BYU-Hawaii, he learnt about the rarity of the Hawaiian-language Book of Mormon, "Ka Buke a Moramona."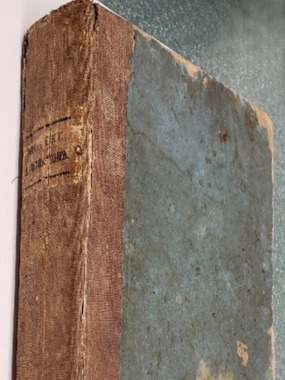 He thought there would be benefits to knowing how many copies are still around, if only to honour the efforts of those who had worked so diligently to make the Book of Mormon accessible to native speakers of Hawaiian in the mid-1800s.
Before serving as Church History missionaries in Australia, Elder Haderlie, with the help of his wife, Sister Laurie Haderlie, worked to inventory all public copies of each edition of Ka Buke a Moramona that are still in existence, particularly the 1855 first edition.
In 1820, Protestant missionaries worked to create the first written alphabet for the Hawaiian language. This eventually enabled the Bible to be translated and printed in Hawaiian by 1838.
By the mid-1800s, Elder George Q. Cannon first translated the Book of Mormon into Hawaiian with the help of Native Hawaiians Jonathan Nāpela and J. W. H. Kauwahi. Only a few hundred copies were bound before the remaining printed pages were destroyed in a fire.
With the loss of those sheets, additional copies couldn't be bound - making the Hawaiian first edition of the Book of Mormon extremely rare.
It has been included in lists of the most expensive Latter-day Saint books and is considered more valuable than an 1830 first edition English copy of the book.
As of 2021, Hawaiian speakers finally have access to the full standardized LDS Scriptures for the first time ever, through Gospel Library, an online source for scriptures and gospel study.
As of 2022, 15 libraries hold a total of only 22 copies of the 1855 first LDS edition.
"This information is valuable for others in the Pacific," Elder Haderlie says, "because the Hawaiian version of the Book of Mormon was only the fifth language that that book was translated into from English, and it was the first non-European language edition. Watching the evolution of the Hawaiian translation will enable other Pacific Islanders to appreciate the later translations of the Book of Mormon into their own languages, and perhaps stimulate them to look into how those translations came to be so that people could be taught in their own language."
He added, "Those who view the 1855 Hawaiian Book of Mormon in the Laie Hawaii Temple Visitors' Center can appreciate just what a treasure it is."
To learn more about the history of the first edition as well as later editions of the Book of Mormon in Hawaiian, printed copies are available here:  Brooks Haderlie, "A History and Survey of Ka Buke a Moramona, the Book of Mormon in Hawaiian," Latter-day Saint Historical Studies 23, no. 2 (Fall 2022): 61-91. Latter-day Saint Historical Studies, 99 West S. Temple, Suite 2800, SLC, Utah 84101