"The sudden passing of my dear wife was to me, the hardest, biggest, and I would say, the ultimate trial I have and will yet face in life.
The loss of our house to Cyclone Gita a few months prior to that, and the ongoing challenge of being a father to my children can be overwhelming. But the news of the prophet's visit alone, on the very month my wife passed last year; that alone replaces pain and sorrow with great hope.
I don't need to dwell on my trials because I am reminded that the Lord does not abandon us. He provides ways for us to feel peace and comfort so that we can overcome our trials as individuals and families. One of those ways is sending His servant to us." 
Mateo Lautaimi, Nuku'alofa Tonga Mu'a Stake.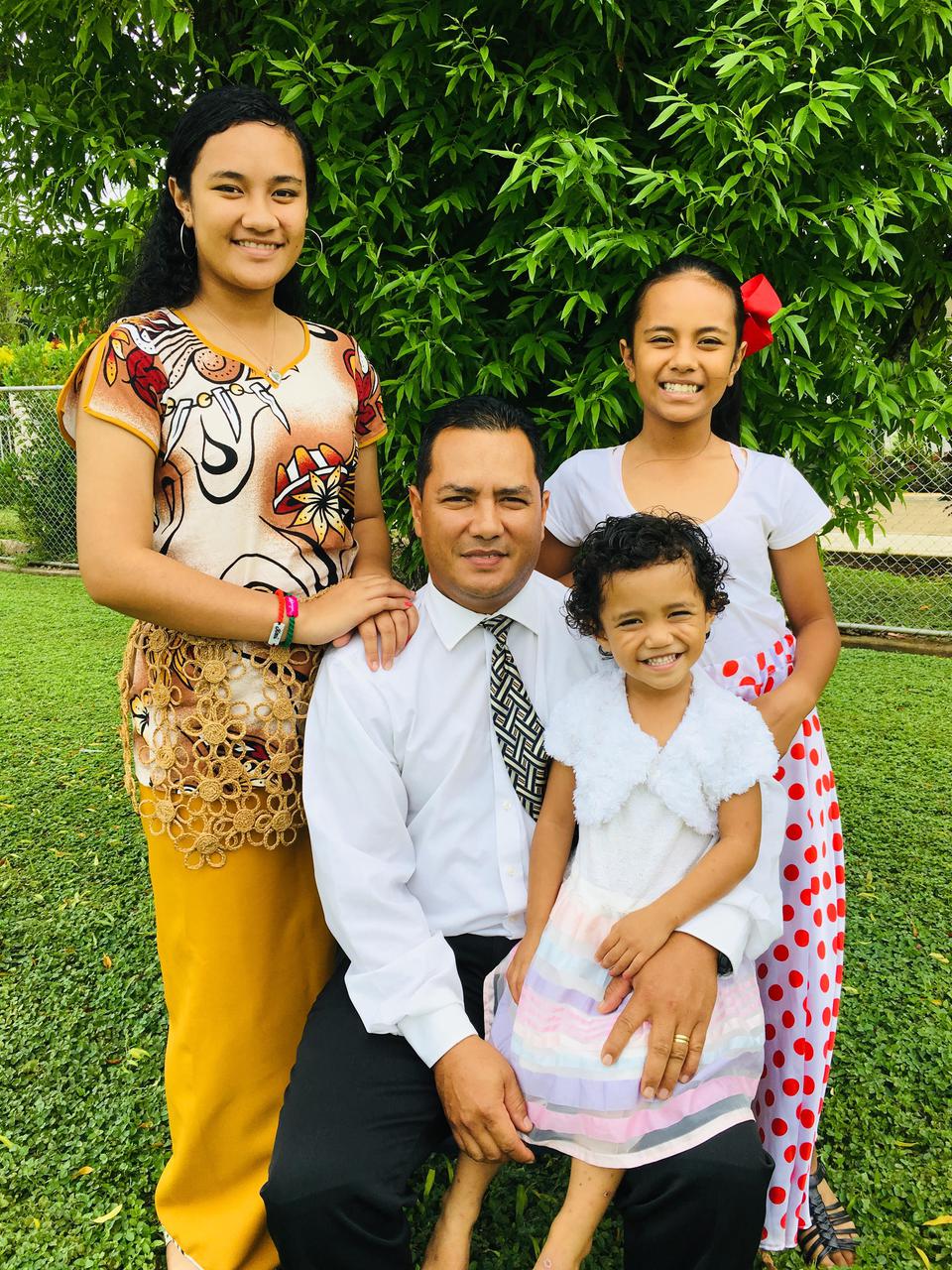 After the excitement following the news that President Russell M. Nelson—President of The Church of Jesus Christ of Latter-day Saints—will visit the Pacific islands, Tongan Latter-day Saints were asked what such a visit would mean to them personally.
This is what it means to the Lautaimi family.
Mateo Lautaimi—father of three daughters, who experienced the loss of his dear wife while he served as a stake president—explained just what a visit would mean.
"It is something very deep for me to try and explain how I felt when the official announcement came. I was very happy of course and since then, I have reflected on God's love and His great promises to the isles of the sea. It is truly a blessing for us to hear a prophet of God—the Lord's representative on earth—on our very own Tongan soil."
Brother Lautaimi's oldest daughter, 16-year-old Konisēnisi, expressed how she looks forward to see and hear President Nelson.
"I am really excited! If I ever get the chance to talk to him personally, I would ask him what he does every day. I sometimes wonder what every day feels like for a prophet of God. I would also ask him things that will help in my personal life…but then, I know he has all of Tonga to see so that might not be possible."
Bryanna Anita, who is 11 years old, is just as thrilled to see a prophet in person.
"It is exciting to be able to see him with my own eyes because he tells us what Heavenly Father wants us to do. I won't forget something like that."
Brother Lautaimi further described, as he held back tears, how the timing of the prophet's visit is of deep significance to his family.
"In May, we plan to commemorate a year since a part of me was lost. Last year, we experienced the loss of our house of residence, followed by the loss of our family's cornerstone so to speak. My dear wife Fakatoumafi's passing, who was primarily our family's gospel teacher and our children's nurturer, was such a huge loss.
"When I knew that the Prophet will come in the same month this year, it was a great manifestation to me personally of God's love and that He remembers us."
As this father went on to discuss the enthusiasm and eagerness Pacific islanders often show in welcoming important guests, Brother Lautaimi is also aware that there are wonderful saints around the Pacific who will not get to see President Nelson in person.
Upon acknowledging this he says, "I think wherever we are in the Pacific, in our own little corner or in any part of our small islands, we can all feel close to our prophet, and more importantly to our Father in Heaven, by keeping His commandments and living the gospel daily.
"It is important to remember amidst the excitement, and even in our trials, that we will not be saved by simply trying to shake hands with the Prophet or being in close proximity to him, as memorable as that may be. But we will be saved when we stay true our covenants and keep the commandments of God.
"If we all do that, regardless of where we are, I believe we will feel close to our prophet, even if we don't get to see him in person. In turn, we will also feel closer to our Heavenly Father and know that He remembers us always."
Brother Lautaimi concluded by encouraging Tongans and anyone on the isles of the sea, to pray for good health and the necessary strength for our prophet so that despite the frails associated with his age, he will still make it.
"With faith, hope, much prayer, and daily gospel living, this much-anticipated blessing and visit will surely come to pass," says Brother Lautaimi.
Newsroom contributor: Haitelenisia 'Uhila Angilau