More than 300 people received first doses of a COVID-19 vaccination at The Church of Jesus Christ of Latter-day Saints' meetinghouse in Porirua New Zealand, on Saturday, 24 July 2021.
The Church partnered with Capital and Coast District Health Board and Ora Toa health services, to host members of the community as part of Positively Pacific's "Festival Days" campaign aimed at increasing health equity for Pacific people.
The day began with a devotional, which included singing hymns and prayers.
Bishop Sianava Sianava, lay leader of the Porirua 3rd Ward (congregation), thanked the workers and volunteers for helping to keep the community safe.
Following the devotional, Bishop Sianava and another local Church leader, Bishop Penia-mina Fruean-Wesche, led the way by receiving their vaccinations.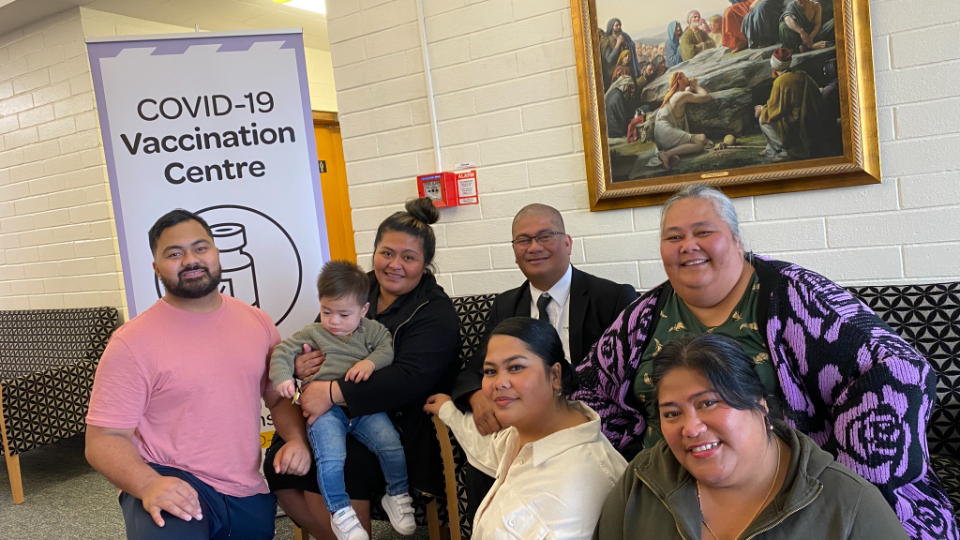 "It is important," said Bishop Sianava, "because I am helping to keep my family and the community safe."
Bishop Fruean-Wesche said he hoped his example would help his children and extended family also want to receive the vaccination.
Church volunteers ensured that all who came received health kits, fruit, water, and a take-away meal of chop suey and rice.
Dr Junior Ulu, Director of Pacific People's Health, Hutt Valley and Capital and Coast, thanked the Church for its support.
He said, "It's been rewarding working with church groups for the roll out of the Covid-19 vaccination."
He continued, "Places like our churches helps people to feel welcome and safe, and that's why they are so successful."
Read about senior Church leaders receiving COVID-19 vaccinations in January 2021.
Postively Pacific video retrieved 25 July 2021: https://fb.watch/6ZwXwmDP1S/ Produced by Storylens.