Over 100 members of The Church of Jesus Christ of Latter-day Saints from Panmure, Auckland spent Saturday [22 February] tidying gardens, weeding and spreading mulch at Howick Historical Village.
"It would have taken us six months or more to do what you did in just a few hours," caretaker Cory Gaudin said of the service provided by the volunteers. "Thank you so much."
Mormon Helping Hands volunteers are easily identified by the yellow vests worn during service projects such as this one.
The Panmure volunteers ignored the light rain that was falling as they cleaned gardens, pulled weeds, loaded mulch into wheelbarrows and then spread it in various gardens. They also cleaned a small pond, loading debris into large bags, among other tasks.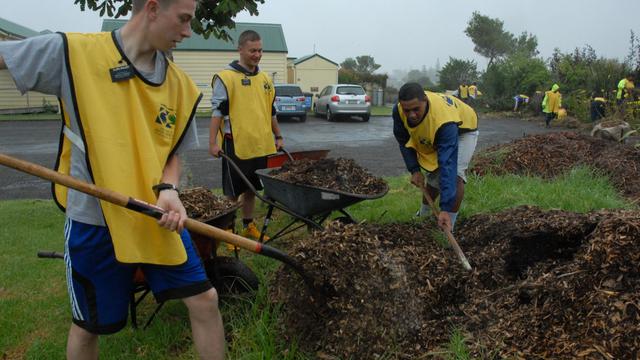 Walking through the village one could hear laughter, friendly conversation and even singing as volunteers worked side by side enjoying the moment and the good feelings that come through service.
Mark Westerlund, president of the Church's Panmure Stake, said, "We have had a close association with Howick Historical Village for almost 20 years."
"Working around those old buildings in the rain helped us realize what it must have been like for the early settlers who came to this area over 150 years ago."
The community service project was one of dozens across New Zealand on Saturday, part of the Church's annual Mormon Helping Hands Day.