Saturday 15 February was a busy day for New Zealand Member of Parliament Dr. Megan Woods, 200 "Mormon Helping Hands" volunteers, and representatives of the Christchurch City Council Graffiti Department who came together to find and paint over graffiti around the city.
"'Mormon Helping Hands' is one of the ways members of The Church of Jesus Christ of Latter-day Saints work with others in their communities to make the places they live in more beautiful and livable," says Jennifer Beck, volunteer coordinator for the Canterbury region. 
"This year, we were delighted to partner with the Christchurch City Council and Dr. Woods to get the job done."
The City Council provided the paint and equipment for the Mormon volunteers, who were divided into groups.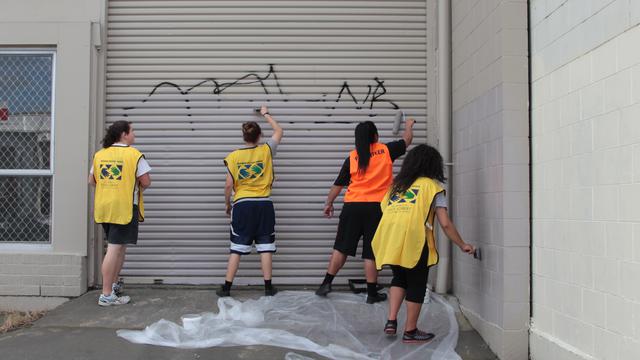 Youth, 17 and under, worked in teams of four with an adult driver.  They were assigned a specific community area where they drove the streets to spot and record graffiti. 
Once they found some they would stop and take a picture, write down the address and information and then it was turned into the City Council to be logged on their system and available for the police department.
Adult volunteers were provided with the equipment and specific coloured paint for pre-authorized buildings, fences and bleachers to clean and paint. 
Volunteers worked in Hornby, Richmond, Christchurch's central business district, Spreydon, and Linwood Park, among other areas.
Dr. Woods expressed gratitude for the volunteers' support. "Graffiti and vandalism costs Christchurch ratepayers in excess of $1 million annually," she said. "That is why the Council appreciates the community help."  
The volunteers enjoyed helping clean up the city and some of the streets they live on. According to Jennifer Beck, "The morning spent cleaning up the community has left our volunteers feeling great about helping the city they love and live in."
"A lot was accomplished by 200 or so people donating three hours each for the morning. We greatly appreciate everyone's time and dedication to keeping Christchurch beautiful."