Haylani Pearl Kuruppu, the reigning Miss Samoa, encouraged young men and women to "put the Lord first" during the closing devotional of the Apia Samoa Central Stake Youth Conference, held recently.
Born and raised in Australia, Kuruppu was candid in sharing the trials faced as a missionary for The Church of Jesus Christ of Latter-day Saints and as Miss Samoa, the country's tourism ambassador to the world.
Kuruppu gave service for 18-months as a full-time missionary for the Church in the Japan Nagoya Mission and spent part of her mission in the Australia Melbourne Mission, her home country.
Her time in Melbourne as a missionary was difficult, she said, because "God is not a priority" in everyone's lives.
Kuruppu shared how she and her missionary companions were sometimes mistreated by the people they approached.
"Life gets tough… [but] when you put the Lord first, everything falls into place," she said.
Wearing the crown and title of Miss Samoa has come with its own set of challenges.
Kuruppu shared that as a public figure she has been both supported online and harshly criticised.   
"You have to keep your chin up and face the trials," she told the young people.
Kuruppu reiterated, "Keep the Lord first and everything will fall into place."
She added, "I know that the Saviour loves us."
Kuruppu encouraged the youth to pray every day, to read the scriptures, and to serve as missionaries.
Kurrupu said that it was a scripture in The Book of Mormon that inspired her to enter the Miss Samoa competition in 2022.
"I came to Samoa because of one verse, Mosiah 2:17: 'when [you] are in the service of your fellow beings, ye are only in the service of your God'," Kuruppu said.
In her role as Miss Samoa, Kuruppu supports opportunities for young Samoan women and visits with Samoa's notable organisations highlighting important causes.
The youth conference was held on 1-5 February in Apia. The theme was "Jesus Christ is the Strength of Youth."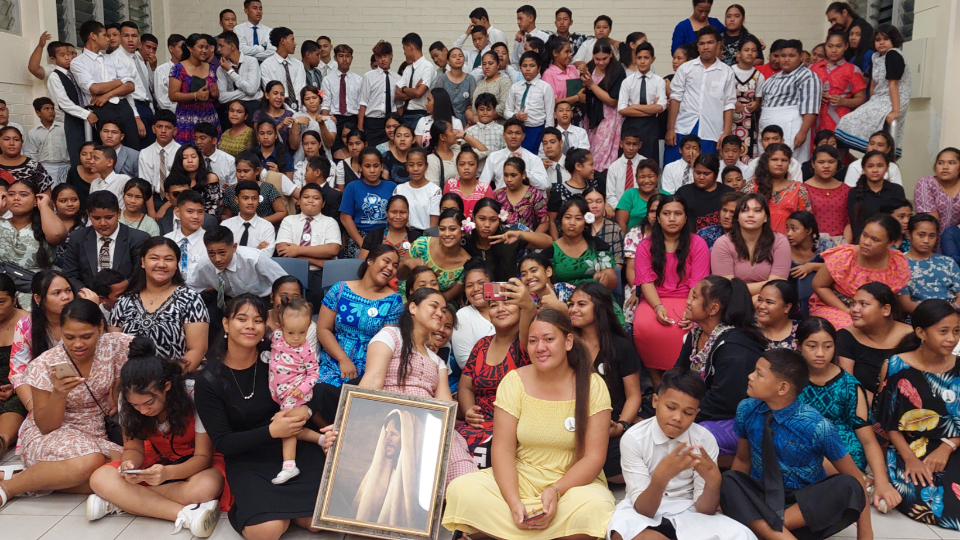 Teens planted trees at the Malololelei Bio-Diversity Reserve, to assist the Ministry of Natural Resources and Environment's (M.N.R.E.) climate change goal to plant one million trees.
Youth enjoyed participating in volleyball and a back-to-school dance.
 
Newsroom contributor: Tina Mata'afa-Tufele Elise