Elder Kazuhiko Yamashita has served in the Pacific Area Presidency of The Church of Jesus Christ of Latter-day Saints for the past three years.
On many of his visits to parts of the South Pacific he was accompanied by his wife, Sister Tazuko Yamashita. They have made friends wherever they have gone.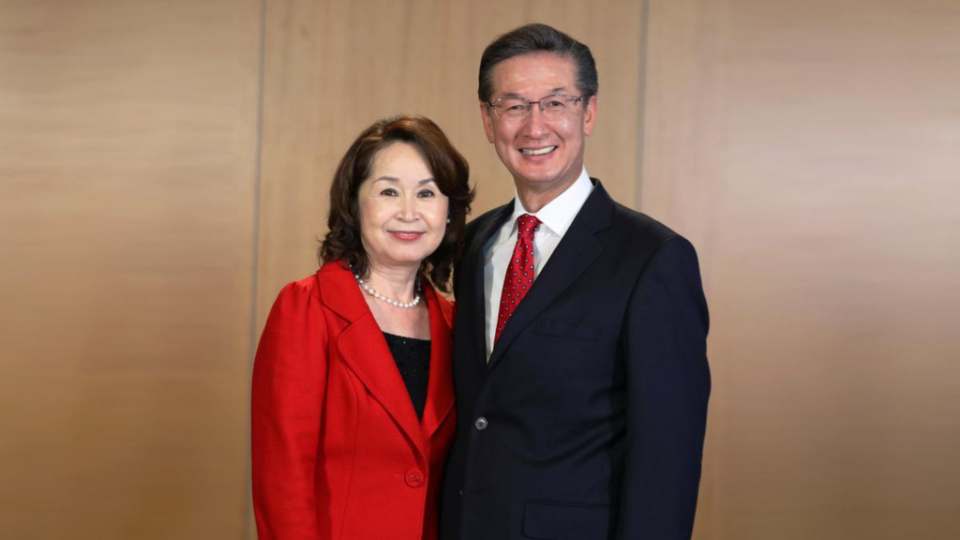 This month the couple will travel to Salt Lake City where Elder Yamashita will continue his service as a General Authority Seventy in the Church.
There has been an outpouring of love towards the couple. Here are just some of the comments shared.
"Elder and Sister Yamashita are amazing examples of Christ-like love. They are genuine, thoughtful and always thinking about others!" 
President Brad Markus and Sister Susan Markus, Fiji Suva Mission
"When we think of our experiences with Elder and Sister Yamashita the feelings of gratitude for their amazing service are always prominent. We have been the recipients of their teaching and training, during mission tours, mission seminars and conferences. Their guidance and counsel always uplifted and inspired us to increase our faith in Jesus Christ. The love they have for the Lord and His great work of gathering Israel is evident in their enthusiasm to reach out to the saints all over the Pacific."
Elder John Higgins and Sister Naomi Higgins, Pacific Area Office of The Church of Jesus Christ of Latter-day Saints
"I have travelled and been in the company of the Yamashita's more than any other Seventy since my call as Area Seventy. They are true disciples of Jesus Christ. They make you feel special, included and most importantly loved of the Lord. They have taught me how to praise others and be complimentary and supportive of others. Elder Yamashita is unique to me as he has been my mentor and friend as he has taken me under his wing and loved, tutored and coached me as a new Seventy. When I first met him before my call to the Seventy, I admired his neck tie he was wearing…he immediately removed it and gave it to me….so I have a special tie that is my favourite and will always remind me of a true and faithful disciple of God. We call each other ten brothers because we have the same crooked pinky finger from basketball injuries. I know we are true brothers in the gospel…I am thrilled to know I will meet them again during General Conference. I will miss them very much."
Elder Paul Whippy, Area Seventy, Fiji
"We send our love and appreciation for your friendship and support as you have both warmly embraced us and been such wonderful examples of true disciples of Jesus Christ. We love you both and wish you the best in your new assignment. You will be missed! God bless you both."
President Garrick Parr and Sister Susan Parr, New Zealand Auckland Mission
Bishop-Graham-Mahit,-Sister-Olivia-Mahit,-Sister-Tazuko-Yamashita,-Elder-Kazuhiko-Yamashita-and-Elder-Paul-Whippy-in-Port-Vila,-Vanuatu.-July-2022
Left-to-right-Sister-Shawna-Nattress;-Elder-K.-Brett-Nattress;-Elder-Ian-S.-Ardern;-Sister-Paula-Ardern;-Sister-Tazuko-Yamashita;-and-Elder-Kazuhiko-Yamashita.-28-June-2022.-Auckland,-New-Zealand.-
Elder-Kazuhiko-Yamashita-visits-with-young-people-after-a-devotional-for-youth-in-Canberra-Australia-on-27-February-2022.
Elder-Kazuhiko-Yamashita,-member-of-the-Pacific-Area-Presidency,-and-Sister-Tazuko-Yamashita-were-guests-on-the-first-Family-History-online-discussion-for-young-people-of-the-Pacific-Area-on-Sunday,-29-August-2021-(NZST).
Elder-Yamashita-talks-about-the-importance-of-getting-a-good-education-at-a-recent-youth-and-YSA-devotional.--New-Zealand,-May-2021
Elder-Kazuhiko-Yamashita-speaks-in-the-George-R.-Biesinger-Hall-adjacent-to-the-Hamilton-Temple-during-the-opening-of-a-new-exhibit-on-labour-missionaries-at-the-church-history-museum-in-Temple-View.-New-Zealand,-May-2021
Hemi-Witehira-points-out-his-photo-to-Elder-and-Sister-Yamashita-about-his-experiences-as-a-Labour-Missionary-at--the-opening-of-the-new-Sacrifice--Consecration-exhibit-at-the-church-history-museum-in-Temple-View.-New-Zealand,-May-2021
Labour-Missionaries-are-joined-by-Elder-and-Sister-Yamashita-at-the-George-R.-Biesinger-Hall-near-the-Hamilton-Temple-in-celebration-of-a-new-exhibit-opening-at-the-Matthew-Cowley-Pacific-Church-History-Centre-in-Temple-View.-New-Zealand,-May-2021.-
Elder-Kazuhiko-Yamashita-discusses-a-point-during-Wellington-region-meetings.-New-Zealand,-March-2021
Sister-Tazuko-Yamashita-speaks-during-a-meeting-in-Totara-Park-during-a-visit-by-the-Area-Presidency.-New-Zealand,-March-2021
Sister-Tazuko-Yamashita-talks-with-members-at-the-Wellington-region-leadership-meeting.-New-Zealand,-March-2021
Elder-Kazuhiko-Yamashita-speaking-to-the-congregation-at-the-Totara-Park-Ward,-in-the-Upper-Hutt-New-Zealand-Stake.--March-2021
Download Photos