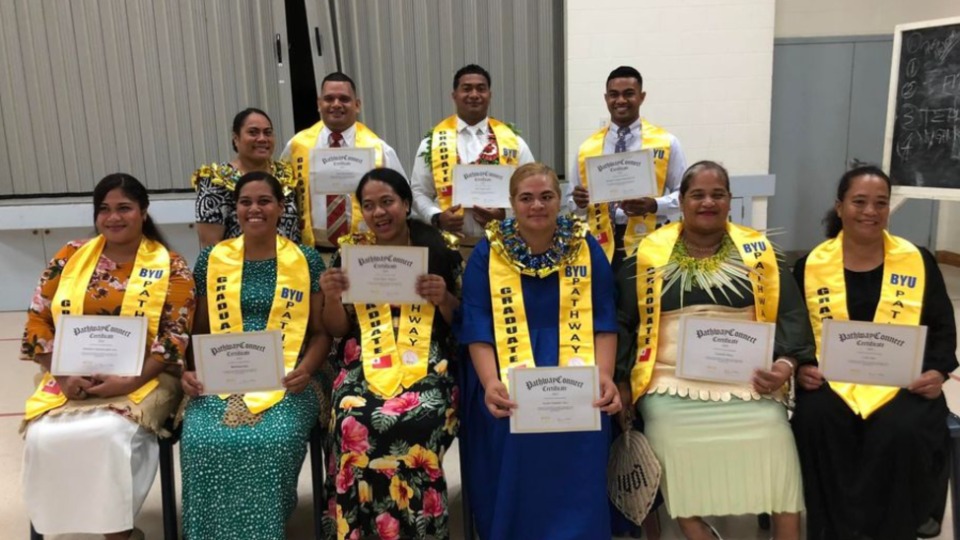 A group of men and women from the Ha'akame area of Nuku'alofa, Tonga were recognised last weekend (7 May) at a special education-themed devotional at their local meetinghouse of The Church of Jesus Christ of Latter-day Saints.
Each of the nine individuals recently completed the BYU-Pathway Worldwide's foundational courses (called PathwayConnect) which will open doors for better employment opportunities and possible future tertiary or vocational studies.
Elder Carl Maurer, Area Seventy (regional leader) in the Church, was visiting Tonga and presided at the devotional.
Local Church leader, Stanley Mafoa, said the Church held the fireside to help their young adults and youth learn that educational resources are available to give them more options in their futures.
President Mafoa said he and his counselors, Sione Ha'angana and Samuela Tupou, believe that witnessing friends and neighbours receive their PathwayConnect completion certificates is inspiring to the other young people in attendance, and will lead them to consider pursuing further education and career opportunities of their own.
Certificate recipients included: Livai Leao, Lavenita Manu, Kanani Roselani `Aho, Nunia Ngalu Tahitu'a, Setefano Valenisia Mafi `Uiha, Kemueli Unaloto ki Maryland Vai, Viliami Kesomi Ma'u and Isileli Foliaki Kaumavae.
BYU-Pathway provides access to higher education for Church members across the world, combining spiritual and secular learning. The program began in 2009 at Brigham Young University–Idaho in Rexburg, Idaho USA, and now serves more than 61,000 students in 180 countries and all 50 U.S. states.
PathwayConnect lasts 21 weeks and included foundational online academic and religion courses that help students see increased success as they matriculate into certificates and degrees from BYU-Idaho and Ensign College, supported by BYU-Pathway Worldwide.