Nikki Estevez arrived in Adelaide, Australia from the Phillipines in September 2019. 
A few weeks after her arrival she was having a particularly hard day, struggling with the language and feeling very low, when she heard a voice saying "I like your hat."
When she turned around she saw two missionaries from The Church of Jesus Christ of Latter-day Saints smiling at her. Nikki noticed their badges and knew they were missionaries because her best friend growing up in the Phillipines was a member of the Church.
The missionaries were serving in the Adelaide city branch (congregation) at the time and as they weren't too far from the branch meeting place they asked Nikki if she would like to have a look where they worship each Sunday.
As Nikki had no plans and was in need of a distraction to lift her spirits she agreed.
One of the first things she noticed when they arrived was a painting of The First Vision, which depicts Joseph Smith being visited by God the Father and His Son Jesus Christ in 1820. As she looked at the artwork, the words "This is My Beloved Son, Hear Him" came to her mind.
Nikki said that at that moment she felt that "all the things [she] had been through in [her] life prepared [her] to join the Church."
Nikki remembered seeing that painting at her friend's home and asking why Jesus was in that picture. Her friend's mother explained the First Vision to her so when Nikki saw that painting again she remembered her friend's mother's explanation and in particular the words "This is my Beloved Son, hear Him."
Nikki said that at that moment she felt goosebumps, which she later recognised as the Spirit speaking to her.
Nikki had the missionary discussions and was baptised in November 2019, three months after arriving in Australia.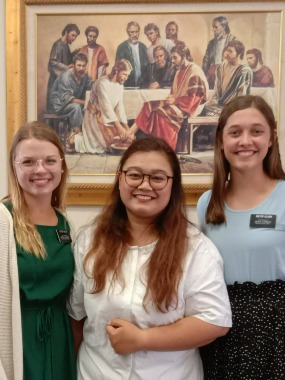 Shortly after Nikki joined the Church she was watching General Conference and a talk by Elder David A. Bednar, titled "We Will Prove Them Herewith," moved her to paying closer attention to what the Lord's apostle was saying.
The part regarding food storage particularly caught Nikki's attention. After conference she was prompted to phone her family in the Phillipines to share what she had learned with them. Her family are not members of the Church and weren't at all happy when Nikki wanted to join the Church. In fact, they were so upset about it that they wanted her to go back home to the Phillipines.
However, her father, who Nikki said "is a very organised man" and strives to be prepared, was particularly interested in what his daughter was saying.
Nikki said that during their previous phone conversations he would always ask her "How's your 'go to' bag?", "Do you have enough batteries?" and similar questions.
What Nikki was sharing with her family was therefore of great interest to her father.
Nikki said he acted immediately and began to buy the items they talked about and also those listed on a Church food storage information sheet which she sent him.
About three weeks later a series of typhoons ravaged through their region. The people of their village could not get out of their homes for about four days and their phone lines were cut off.
Nikki was extremely worried about her parents and sister during this time and became frantic when she wasn't able to contact them. Not knowing whether they were alive and safe was taking its toll on her.
When Nikki was finally able to get in contact with her family she was incredibly relieved to know they were all safe.
Nikki was also humbled and brought to tears when she heard that her family had heeded her words regarding food storage and her mother and father, who lived on a farm, not only had enough for their needs but were also able to help their neighbours with the food storage they had accumulated in that short time.
Nikki's sister who lived by herself on the top level of a two story house was also caught up in the storm. The people who lived on the ground floor were seeking refuge because their home had been completely flooded.
Not only was Nikki's sister able to provide them with safe shelter in her first floor apartment but she was also able to feed them with the food storage she too had built up thanks to Nikki's inspiration to share with her family what she heard from an apostle of Jesus Christ.
The following are excerpts from Elder David A. Bednar's October 2020 address:
"The year 2020 has been marked, in part, by a global pandemic that has proved, examined, and tried us in many ways. I pray that we as individuals and families are learning the valuable lessons that only challenging experiences can teach us. I also hope that all of us will more fully acknowledge the "greatness of God" and the truth that "he shall consecrate [our] afflictions for [our] gain." ………
"Now is the time to prepare and prove ourselves willing and able to do all things whatsoever the Lord our God shall command us" ("We Will Prove Them Herewith," October 2020 General Conference).