Members of several different Christian denominations met with Members of Parliament in Wellington this month to discuss the power of prayer and to pray for the poor, needy and other vulnerable individuals in New Zealand.
Among those in attendance at the 8 June "Prayer at Parliament" meeting were members of The Church of Jesus Christ of Latter-day Saints, Tania Torea, Janet Pinson, Quin Pinson and Paesha Tuttle.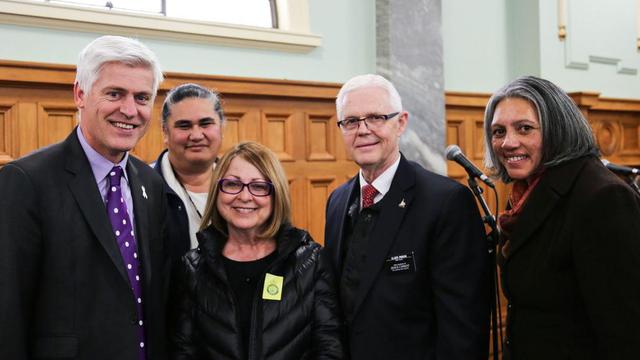 Hon Chester Borrows, MP for Whanganui and Deputy Speaker of the House of Representatives, welcomed fellow Members of Parliament and other guests.
Minister of Customs, Associate Minister of Transport and Associate Minister of Education, Hon Tim Macindoe (MP for Hamilton West), told attendees, "There is much that we can and should pray for."
He invited others to participate in "intelligent engagement, servant leadership and fervent prayer." 
Andrew Coster, Assistant Commissioner of Police, also spoke to the group.
"God's desire is for harmonious family relationships. There is a big gap between reality and what is desired. We need to seek God to move in His power and authority in this area. He is able.  Miracles can occur. Let us seek Him."
Director of Public Affairs for The Church of Jesus Christ of Latter-day Saints for the lower half of the North Island and the South Island, Mrs Tania Torea, said she enjoyed attending the meeting.
"It is a privilege to pray together for the government leaders of the nation and for individuals and families in need. I know Heavenly Father hears our prayers and songs of praise," Mrs Torea said.
The closing song at the meeting was "How Great Thou Art."