Kaye M. Davies is the first female member of The Church of Jesus Christ of Latter-day Saints to be appointed to the Judiciary in New Zealand.
Justice Davies has been serving as a community magistrate since 12 December 2022. Her appointment was later confirmed at a Special Sitting held at the Manukau District Court, Friday, 17 February 2023.
The Hamilton resident's appointment covers all of the magistrate courts in New Zealand, with Justice Davies having already sitting in Manukau, Waitakere, Auckland, and North Shore courts on the North Island.
She has also been sitting served in Christchurch, with sittings scheduled in Dunedin, Nelson, and Blenheim Courts on the South Island later this year.
"I am humbled and honoured to serve as a community magistrate in New Zealand," Justice Davies said. "My journey to the judiciary has been one of perseverance and dedication, and I am grateful for the opportunity to contribute to the justice system.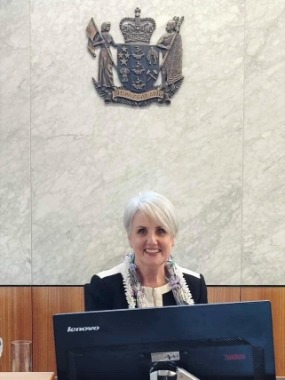 "My aim is to ensure that everyone who appears before me is treated with dignity and respect while upholding the principles of justice," she continued. "Mercy is essential, but it must never undermine the pursuit of justice."
Justice Davies' remarkable journey to the judiciary is an inspiration to all. After raising her children and dedicating herself to her family, she embarked on a new path, pursuing her passion for law at the age of 46 years.
Overcoming challenges and barriers, Justice Davies pursued her law studies with determination, and at the age of 50, she successfully graduated and was admitted to the Bar.
Before her appointment, Justice Davies built a successful career in criminal law, bringing her experience and a deep understanding of the legal system to her new role as a community magistrate. Her commitment to justice and her passion for making a positive impact on people's lives shines through in her work.
Justice Davies is a member of the J. Reuben Clark Law Society, members of which congratulated her on her appointment.
"Justice Davies' appointment serves as an inspiration to women, members of the Church, and all individuals who strive to pursue their dreams and make a difference in their communities," said Dan Harrison, chair of the Hamilton New Zealand chapter of the J. Reuben Clark Law Society. "We are thrilled to celebrate Sister Davies' appointment to the New Zealand Judiciary."
He added, "Her dedication and commitment to justice exemplify the values we hold dear, and Sister Davies' achievements reinforce our belief in the importance of service and making a positive impact on society."
"We commend her for her accomplishments and wish her continued success in her new role."